Sunlight streams into Kristin Coady's Lovernich bedroom with her pictures hanging above her bed Feb. 20. Coady said she likes to add pops of blue to the space. Photo courtesy of Kristin Coady
Picking the color of a rug, thrifting art pieces for a dorm room wall or going to Target to choose a bed comforter can all make up the experience of college students decorating their new spaces.
As Pepperdine housing application season comes to an end this month, something that may be on students' minds is how they will decorate their future dorm. Students living on campus said they find joy in decorating their bedrooms and common spaces during their time at college.
"My dorm is a home away from home," first-year Kyla Randle said. "So being able to decorate whenever I can, add this or that piece, is a chance to be able to create that environment where I know I feel safe."
How Students Decorate
For many students, dorms serve as the first place they live independently from their parents, according to Dorm Decor. Moving into a new and independent space can be as daunting as it is exciting.
"It was a mix. I was scared of like, 'How does it work putting your whole life in a box for nine months away from home?'" Randle said. "And I was also excited too because it's a new place."
Key pieces of Randle's room include her pink comforter, a collage of pictures featuring her family and friends, and pink decor on the walls and her desk. Randle said one of her priorities was making her room a welcoming space for her friends.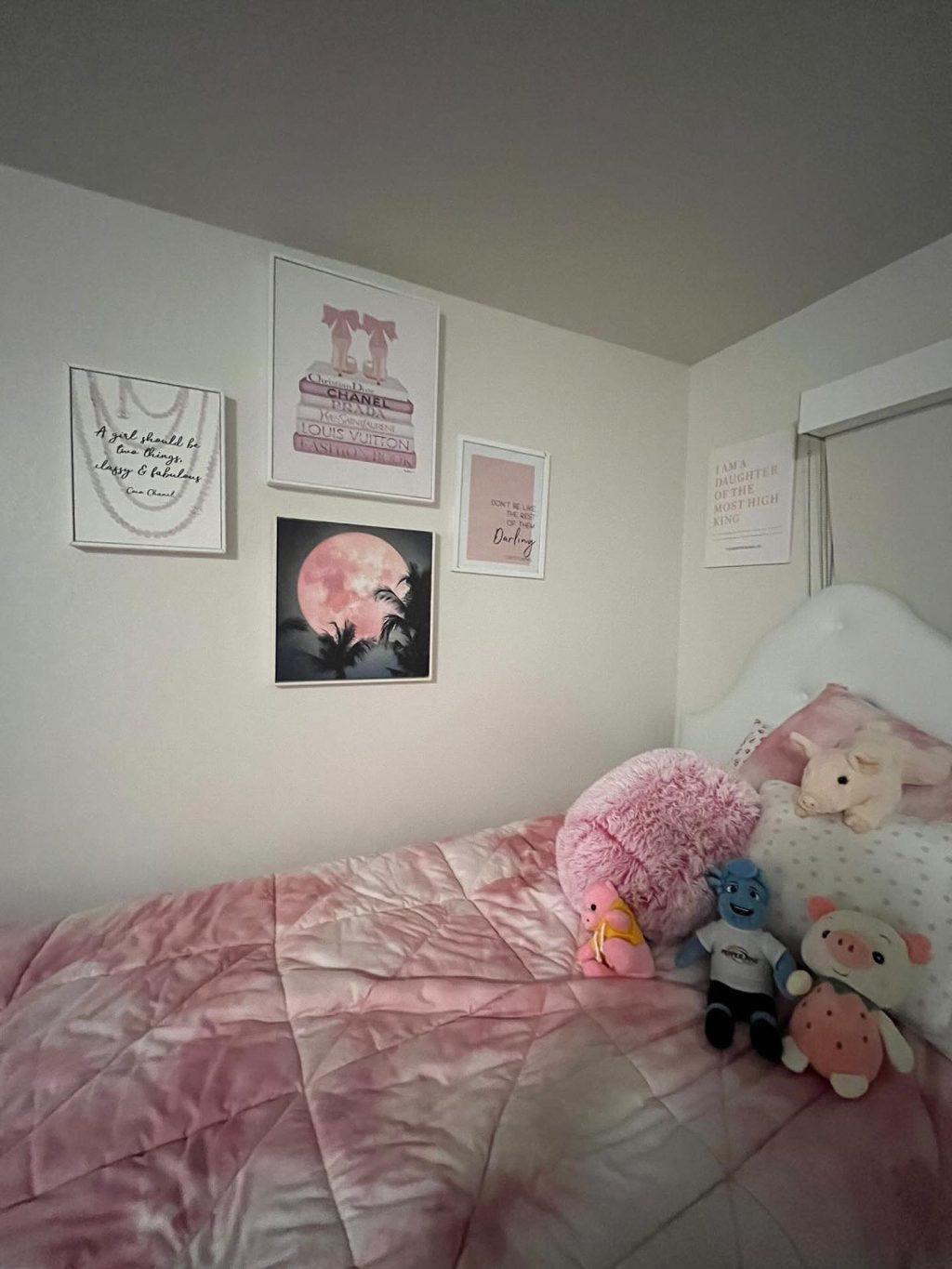 Kyla Randle's first-year dorm room with pink decor at White House on Feb. 21. She put up inspirational quotes and pictures to match her pink comforter and stuffed animals. Photo courtesy of Kyla Randle
"My idea was to bring joy — I see the color pink as happy and inspirational," Randle said. "So the main thing was being able to bring people over and feel at home."
Although using a different color palette such as blue and grey, first-year Kristin Coady also put up photos of her loved ones on her wall along with other accessories in her room at Lovernich. Between her posters, artist merchandise, hanging tote bags and photos, Coady said her room speaks to her personality.
"It [Coady's photos] would tell people that I'm pretty sociable, I like to hang out with my friends a lot," Coady said. "I also have some Taylor Swift albums so obviously that shows I love Taylor Swift. And I also have a poster for my sorority, so it's a part of me too that people can recognize when they come into my room."
Junior Chloe Norton lives in Lovernich as well and describes her decor style as "eclectic." Pieces from her room come from a variety of places including flea markets, her time abroad in Buenos Aires and even artwork she made herself.
"My mom's an interior designer, so interior design has been a part of my life my whole life," Norton said. "Valuing your space and all that has always been something that I have taken very much to heart."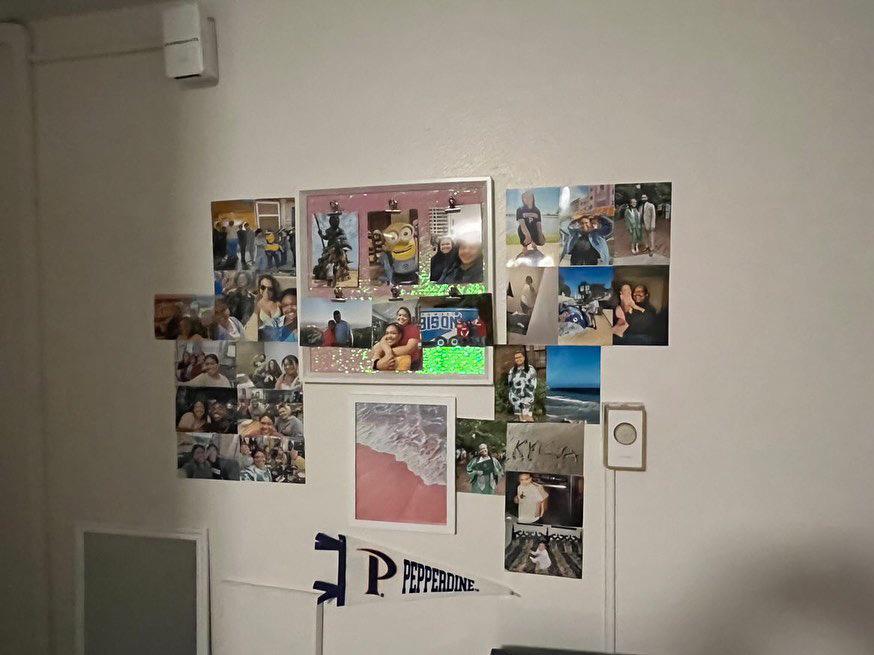 Rooms Serve as a Safe Space
Coady said it is important for her to feel safe and happy in her dorm. Creating a comfortable space to come home to and the decor someone chooses for their room has an impact on one's mental health, according to Lonny Magazine.
"When I'm stressed out from a long day of classes and homework and everything, coming back to my room and having that space to relax and debrief with my roommate or just having time to lay in my bed for a little bit is so nice," Coady said.
More Than Just Decor
Coady said cleanliness is important to her within both her room and her shared common area. A recent study found 92% of college students reported they feel better mentally and physically in a clean space, according to Cleaning Institute.
"I cannot work in a room that's dirty or messy," Coady said. "I'll procrastinate my homework until it's [her room] clean and it looks nice. And I just love having a space that feels clean and that I'm able to work in productively."
Besides cleanliness, a challenge college students may face in their apartments or dorms is having to collaborate with their roommates about common space themes and decor. Norton said she is excited to be moving in with one of her best friends in the fall and is already thinking about how they will decorate their space since the two have differing styles — eclectic and minimalist.
"We know that we want a very neutral, warm-colored base and like pops of color added in," Norton said. "Both of us have agreed that's where we can compromise."
Looking ahead to the fall and new housing, Randle said she's excited to see what things she can find to add to her next space.
"There's so much more I can add," Randle said. "So many other things with pink — I can add LED lights. I'm definitely going to shop over the summer to see if I can find some more."
Picking room decorations is a form of self-expression. At the end of the day, it is a space for oneself, and creating the right space is important to Norton.
"Designing a space that you are going to live in I think is really important [so] that you feel your best and you feel most comfortable in it because you're going to be the one living in it," Norton said.
______________________
Follow the Graphic on Twitter: @PeppGraphic
Contact Jackie Lopez via email: jacqueline.lopez@pepperdine.edu