Photo courtesy of Drey Lubin
Almost anyone can become a DJ with a laptop and the proper software, according to sophomore Justin Rorick. With the industry so saturated with new talent, two Pepperdine student DJs, junior Daniel Lee and sophomore Justin Rorick and University of California Santa Barbara freshman Drey Lubin, are trying their hand at mixing digital sounds to create music and finding their unique styles.
Pepperdine junior Daniel Lee, who did not become a DJ until the beginning of May 2018, said he is in the process of figuring out what his style is. Although he is still very new to mixing, Lee said he has already learned some valuable lessons.
"You don't play the music you want to play, but the music the audience wants to hear," Lee said. "Being on the AUX cord in the car with your friends is DJing at its most stripped down, basic form. Turning knobs, pushing buttons and having expensive hardware doesn't make you a better DJ than the next, it's all about knowing how to read a crowd."
Before becoming a DJ, UCSB freshman Drey Lubin accumulated pages of playlists on Soundcloud and Spotify, each having at least 200 songs. Lubin said mixing became a way for him to record some of his favorite songs. He does this by having them play together in one 30 minute long recording.
Lubin said his journey as a DJ came solely from his love for music and the soulful jazzy 80s house music scene, which has always been his niche. However, it was not until sophomore year in high school that he was introduced to mixing through a friend who had been a DJ for a year.
"At first glance, mixing looked impossible because of the sheer technical complexity of it," Lubin said. "However, I had discovered something that could challenge me. After months of going over to my friend's house and practicing, I finally decided to get my own mixer, DJ events and making it a goal to get better every day."
Pepperdine sophomore Justin Rorick said he used to be intrigued with hip-hop music and networked with music producers such as Young Thug and his team. Rorick said he realized he preferred the music production part which drew him into the electronic music scene and ultimately creating his own mixes.
"The production part is actually making songs," Rorick said. "Electronic and hip-hop songs require at least 50 hours of work per song. That's if you're doing it right. Of course, I could do something in two hours, but it would sound terrible."
Rorick explained how each artist has a unique sound because each one has their own production pack, which is essentially a producer's "go-to" when it comes to producing music. According to Rorick, a production pack is a grouping of sounds such as different claps, presets, drum pads and piano keys that can be changed and distorted."
"My process is funny," Rorick said. "I use voice memos on my phone. I'll just be walking around school or in class and I'll think of a melody progression. I'll hum that melody into my phone, come back to my dorm, find that melody and then I'll put that sound through my synthesizers. I'll picture a bass drop and then I mess with it so it matches my vision."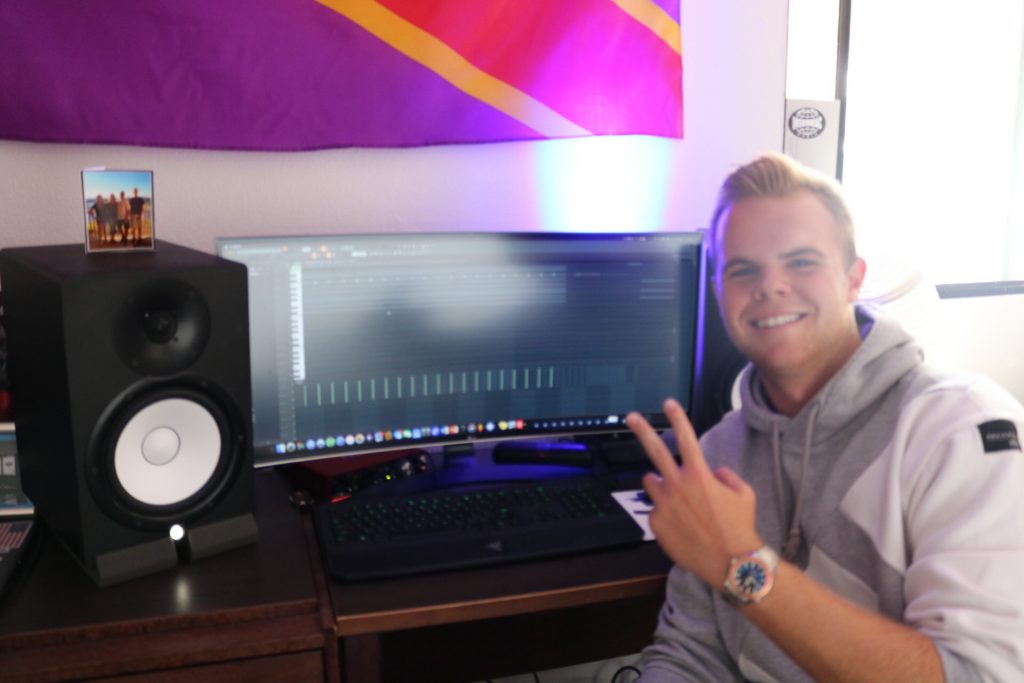 Photo by Anastassia Kostin
Rorick and Lee both said they see new DJs spend a lot of money on equipment in order to be successful, but agreed that's a rookie mistake.
"Don't spend the money on the hardware, spend the money on the music," Lee said. "People think, 'if I buy the more expensive controller, I'll be a better DJ.' No, you could get the cheapest equipment and throw the biggest banger. The hardware should be the smallest investment in that facet of DJing."
Rorick agreed that one does not need to spend a lot of money to create good sound.
"All you really need is the software and the laptop," Rorick said. "The information is on YouTube for every single button on the software. Honestly even the best producers probably don't know 80 percent of the stuff on the program. The most valuable time is spent in front of the computer, messing around. That's the only way to learn."
Lee said back in the 70s and 80s, DJs had to know the tracks in their music set from front to back. Today, the hardware is pretty much the same across the board, Lee said.
"Today you have all that information on your computer," Lee said. "In this way, everyone's on the same playing field. But even though equipment has become standardized, you can always add a personal touch to your mixes no matter what."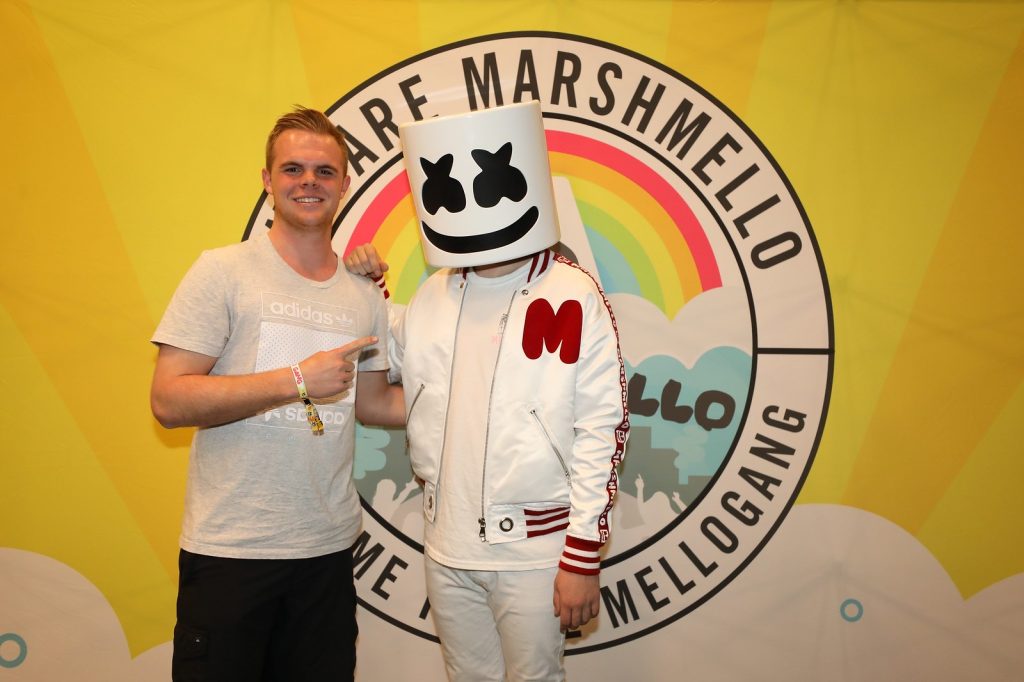 Photo courtesy of Justin Rorick
Although the industry has become more accessible, female DJs still face challenges as women in the industry. For example, Beyond Wonderland festival in Southern California had the lowest number of female DJs at its event at 3.2 percent, or two out of 63 artists total. CTM Berlin festival had the highest, at 45 percent out of 100 artists, according to statistics by Vice.
The DJs that dominate the music charts and appear in headlines and lineups are overwhelmingly male. Looking at Forbe's list of the World's Highest-Paid DJs of 2018 attests to this, with the top 15 DJs all male.
"I had not met a single female DJ in person," Lee said. "It makes me furious. There's so many good female DJs out there, better than some of the guy DJs I idolize, but guy DJs are not held to the same standards."
Rorick pointed to the founding of the Electronic Dance Music (EDM) genre as the root cause of there being a lack of female DJs in the industry.
"EDM is a new genre and it was founded by a lot of dudes like Carl Cox, Tiesto, etc.," Rorick said. "I compare it to golf. It was a dude sport and now women are just now getting into it. Female DJs like Alison Wonderland are starting to emerge. I feel like they, and everyone, should be encouraged to start messing around. Anybody can make a dope track, so why not women?"
What unites the many different kinds of DJs out there, whether they play House, Trance, Techno, Bass, Dubstep or EDM music, is their love for making, sharing and spreading music, Lubin said.
"I've seen too many DJs who are only doing it for money and are skipping the basics," Lubin said. "I don't do this for money, I do this for my love of music and so should everyone else."
Rorick said that as of now, his goal is just to get people into the music scene.
"Right now I'm just going to keep producing," Rorick said. "I do a Soundcloud show every week where I'll throw in my own music but don't tell people it's mine. I just hope people listen to it, like it and get into EDM."
For students wondering about where to begin when it comes to becoming a DJ, Rorick said he has a simple recommendation.
"Download FL studio and make a free YouTube account," Rorick said. "If you love it enough the information is all online—100 percent of it. Do whatever you wish. Find your sound."
________________________
Follow the Pepperdine Graphic on Twitter: @PeppGraphic