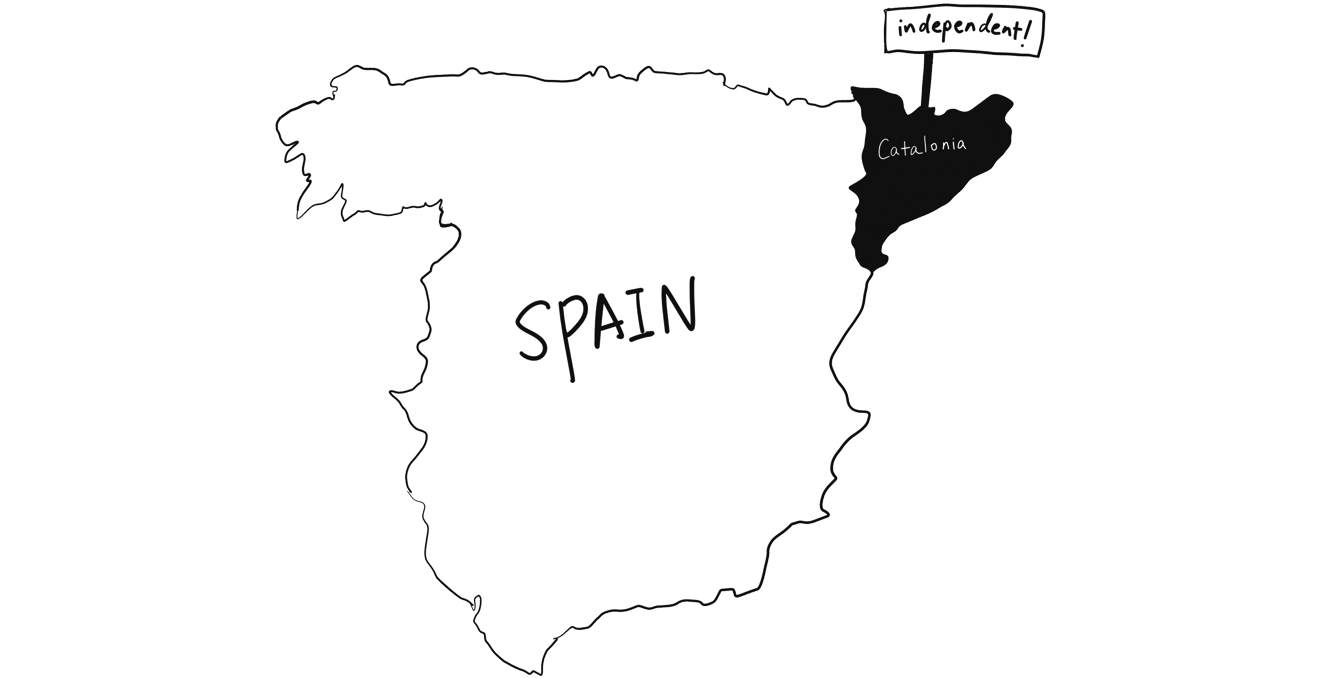 Art by Sybil Zhang
Spain is dangerously close to civil war. Key politicians like Charles Puigdemont, first minister of Catalonia and leader of the independence movement, and Mariano Rajoy, Spain's conservative prime minister, need to seriously consider whether sticking to their extreme stances is worth the violence this path inevitably leads toward.
Violence erupted Oct. 1, as Catalonians attempted to participate in an independence referendum which was declared illegal by Spain's highest court. Madrid dispatched a large police force in advance of the vote that raided ballot boxes and acted with brutality against peaceful voters, dragging people by the hair, hitting them with batons and firing rubber bullets into the crowds. More than 800 people were injured, according to Sam Jones and Stephen Burgen's article "Catalan referendum: preliminary results show 90% in favour of independence," published Oct. 1, by the Guardian.
This aggressive show of force was unnecessary and wrong. The Spanish government should have let the vote go through and given the chance to be rejected, much like Scotland's independence referendum in 2014, rather than acting with such hostility. Madrid has gained no sympathy through this action and dug themselves a hole by radicalizing many Catalonians who previously felt no antipathy toward the Spanish government.
By attempting to prevent the voices of the people from being heard Spain acted in a totalitarian way and attempted to dismantle the democratic process.
However, Puigdemont might also end up acting in an undemocratic way if he chooses to push independence through when it is not the desire of the majority of Catalonians.
The results from the referendum show that 90 percent are in favor of independence, but these results are skewed as voters who wish to remain a part of Spain would likely not have bothered to fight their way through the police to vote. Additionally, many of the ballots were stolen by the police, leaving many votes uncounted. Puigdemont cannot act as though this poll were representative of the majority of Catalonians.
These leaders are meant to represent the people as a whole and not just the most radicalized factions. Demonstrations this past week have shown that many Catalonians wish for peaceful negotiations and not bold reckless moves.
"The widespread slogan "Let's talk" epitomizes the desire of most citizens to see their leaders engage with each other, rather than doggedly holding rigid positions," writes the Irish Times in their editorial "Catalonia: time to step back from the brink," published Oct. 9, 2017.
Luckily, Puigdemont has held off on making his move so far, reiterating Catalonia's right to secession in a confusing speech on Oct. 10 but suspending immediate action "to allow for more 'dialogue' with leaders in Madrid," according to Raphael Minder and Patrick Kingsley's article "A Declaration of Independence, Sort of, for Catalonia," published Oct. 10, 2017 by The New York Times.
Puigdemont seems to be taking a step in the right direction and listening to what the people want, although it is clear that independence is still his first priority, and he will likely go back to a harder stance if negotiations fail.
Now it is up to Madrid. They have the power to suspend Catalonia's parliament and take full administrative control over the area, but such a move is just as likely to provoke war as Puigdemont's declaration of independence.
Rather than escalating the situation further with bold moves, these politicians need to consider what is in the best interest for their people, and it is not war.
______________
Follow the Pepperdine Graphic on Twitter: @PeppGraphic