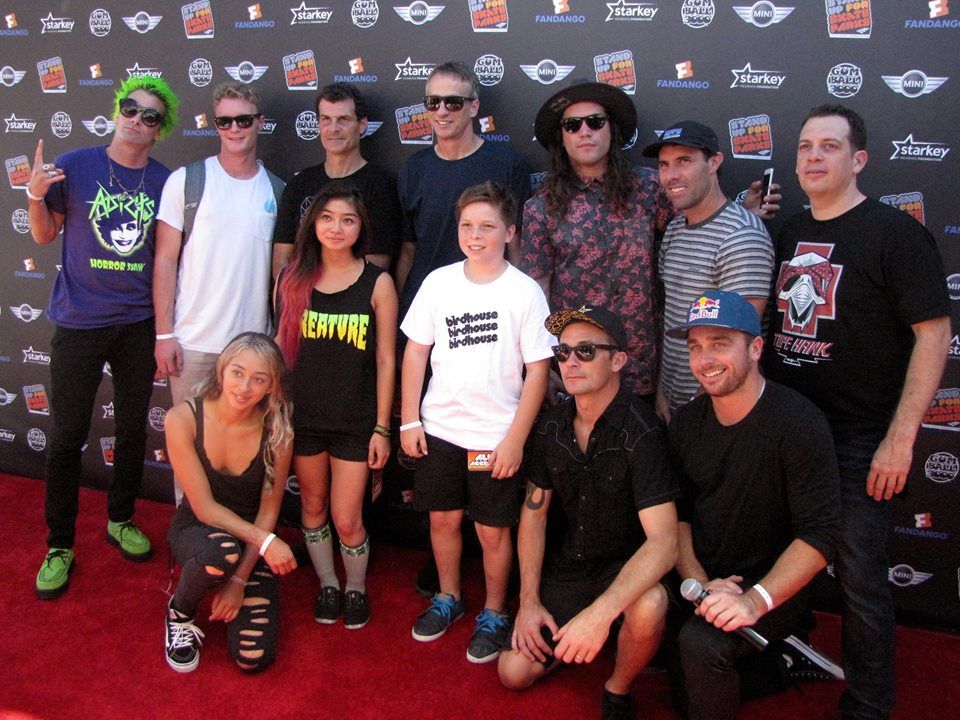 Photo by Nicola Wenz
Tony Hawk's fundraiser Stand Up for Skate Parks brought an array of famous faces to Beverly Hills Sunday afternoon.
The Tony Hawk Foundation threw the 12th annual Stand Up for Skateparks fundraising event last Sunday in order to raise money to build skateparks in low income neighborhoods. Stand Up for Skateparks currently impacts more than five million visitors per year, providing kids a healthy physical outlet in countries like the United States, South Africa, Cambodia and even Afghanistan.
It was 11 a.m. and the sun beat down on the photographers lining the red carpet outside of Ron Burkle's massive Beverly Hills mansion, donated for the day to the Stand Up for Skateparks benefit. Three Ferrari's parked in the driveway contributed to the impressive setting, matched only by the equally impressive enthusiasm brought to a charity that works to keep kids active and off the streets.
As the cameras snapped and the microphones crackled to life, esteemed guests, including Verne Troyer, David Spade and Chuck Liddell started to filter onto the red carpet. Accompanied by his wife Heidi and three young kids, Liddell, a former UFC Light Heavyweight Champion, began to open up about the importance of Stand Up for Skateparks.
"I've been doing [this event] a long time," Liddell said "But for me, I'm about anything that helps keep kids busy, out of trouble and motivated."
Informally known as 'The Iceman', Liddell said that finding his passion in fighting was what kept him occupied and driven.
"I did martial arts my whole life." He said. "I trained six days a week and it was never a chore for me. It wasn't like 'Oh man, I have to go do karate today.' Actually, they wanted to kick me out of the gym 'cause I kept waiting around for people to spar with me. That's the thing — you find something you love and you go after it. And that's what Tony's encouraging here."
A couple minutes later, well-known Internet personality Andrew B. Bachelor, a.k.a. King Bach, walked onto the scene. With more than 14 million followers on Vine, Bach expressed his excitement at being able to make a difference in the lives of those in need.
"I love giving back," he said. "I feel like we're all blessed to be in this position that we're in. To be able to give back to the less fortunate is amazing."
When asked if he skateboarded, he grinned and said, "No, not really."
Trail blazers in the skateboarding world, including Lizzie Armando, Allysha Bergamo, and Kevin Staab expressed similar sentiments: they were excited for the chance to make a difference and give back to the next generation of skaters.
For some, like Brazilian BMX rider Coco Zurita, organizations like Stand Up for Skateparks hit closer to home. "It actually means a lot." Zurita said, "I grew up riding in South America, and we didn't have that many skate parks. I see how kids can feel in some places of the United States where there are no places to ride. So having events like this to raise money for a good cause, to build skate parks is definitely giving kids opportunity, especially kids at risk."
Later in the afternoon, the emcee announced a group of young teenagers onto the carpet, mentioning that they were a few of the hundreds of kids who benefited from one of the skate parks built in LA. The emcee continued by saying how the most prominent positive affect that these parks were having on the youth in low income neighborhoods was that they were helping keep these kids these in school and out of gangs.
After posing for a few pictures with the foundation's teenagers, the man himself, Tony Hawk stepped up for an interview. Upon being asked if there was a specific kid or event that provided the motivation for him to create this organization, Hawk shook his head.
"It was quite the opposite actually," Hawk said. "I went to a skate park grand opening in a nice neighborhood outside of Chicago in 2001, and the city was so proud to have created this skate park. They thought they were being really progressive. But when I went to the park, it was terrible. Like it wasn't any better than, say, a mall parking lot. There were no skaters involved in that process. And it made me realize that there was this disconnect between the people they're providing these places for and the people who are actually making them."
In light of this need, Hawk said he was inspired to create a foundation where skate parks were designed by skaters, for skaters, providing kids with the best possible means to alleviate boredom and have a physical outlet.
"Kids in low-income neighborhoods are put in more challenging positions and really need positive outlets," Hawk said. "The trip to Chicago started it, and I thought, 'I want to be able to bridge that gap between the cities and the skaters,' but also to make sure that people know that this is a healthy option for kids to participate in and that [the kids] should be looked after and should have a facility."
Stand Up for Skateparks has actively changed the lives of kids in more than 569 communities around the world, having raised over 5.2 million dollars since its inception. Little by little, Hawk is actively working to expand his organization's reach in order to bring more kids the opportunity to use their time constructively within the confines of an expertly designed skatepark.
For more information about the organization visit the Stand Up for Skateparks' website.
__________
Follow Pepperdine Graphic on Twitter: @PeppGraphic