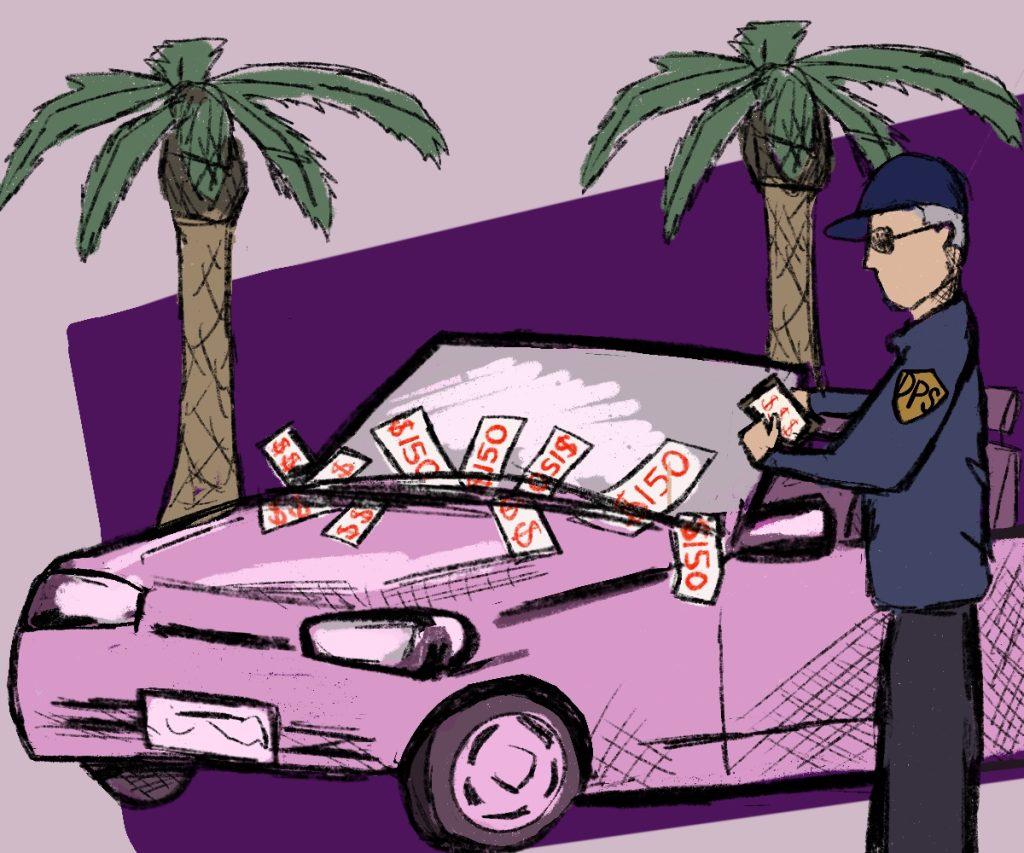 Editor's Note: PGM staff members decide on the topic of a Staff Ed together. The staff as a whole provides opinions and content included in this Staff Ed to provide thoughts about and shed light on solutions for happenings at Pepperdine.
Pepperdine University's picturesque campus is undoubtedly a sight to behold. However, the campus is not without one big drawback — there is simply not enough parking to accommodate the needs of the students, faculty and staff. As enrollment numbers have grown, and with the ground breaking of "The Mountain" construction project, the available parking spots have failed to keep pace, leading to an ongoing nightmare for those seeking a place to park.
The Soaring Cost of Fines
The fines for violations have skyrocketed from a reasonable $10 to a staggering $150. Even though DPS rarely gives $150 tickets to students, the average parking ticket of $50 is still a huge increase from $10.
Such a steep increase seems more punitive than corrective, especially when students are struggling to find legitimate parking spots. It's time to reconsider these fines and their impact on the student community.
General parking violations, such as parking in an area "designated for others" is a violation worth $50, except in case of an event where the fine is $65, according to DPS's fine schedule. For parking in fire lanes, the fine is $75, and for fire hydrants, it is $100.
If a vehicle is impounded, the cost, which DPS passes on to the owner of the vehicle, can be anywhere from $200 to $400, according to DPS.
DPS updated the fine schedule June 1, 2022, Chief of DPS Britta Steinbrenner wrote in an Oct. 10 email to the Graphic. Typical parking tickets for "general parking penalties" are $50.
$150 violations are for driving violations, not parking, according to the fine schedule.
"There are a few $150 violations which are reserved for egregious safety or moving violations (excessive speed, driving through a crosswalk when a pedestrian is crossing, etc)," Steinbrenner wrote.
Inadequate Maps and Directions
Navigating the maze of parking restrictions on Pepperdine's campus can be a daunting task. The school's maps and directions for parking permit holders are often unclear and misleading.
Students find themselves parking in the wrong spots unwittingly, only to return to hefty fines. Clear, up-to-date maps and signs are crucial to preventing unnecessary parking violations. For example, providing signs letting students know the upper baseball field lot will be closed due to a soccer game in advance.
When the University needs a parking lot cleared, DPS places signage with a 72-hour notice minimum, Steinbrenner wrote. Enforcement will not occur until the date when the space needs to be clear arrives.
"There are times when departments reach out to DPS with less than a 72-hour notice," Steinbrenner wrote. "In those instances, DPS does not cite the vehicles, and the cost of relocation would be borne by those departments."
However, DPS places daily visitor or single-space reservations for named individuals or groups the night before the reservation, Steinbrenner wrote. These violations are enforced at the notification of the requesting group that someone not in the reserved party is in the space.
However, what if a student leaves a car on campus during the weekend? Students shouldn't worry about their car not being there when they get back.
Rising Gas Prices in California
California is known for its high gas prices, and students are already feeling the pinch. The constant need to circle the campus in search of parking not only wastes valuable time but also drains already stretched budgets.
The parking situation at Pepperdine only exacerbates the financial strain on students.
Students report spending up to 30 minutes circling campus in search of a parking spot, often giving up and returning home in frustration. This not only affects their academic performances but also their mental well-being.
The university should prioritize the efficient use of students' time.
Confusing Dispute Options
In a world where democracy exists, individuals have the right to dispute unfair charges. Unfortunately, Pepperdine's students no longer have this option when it comes to parking tickets.
Allowing students to challenge their tickets is essential for a fair and just system.
Steinbrenner wrote there have been no changes to the appeals process, and the instructions are on the printed ticket.
"Certain violations are not able to be disputed, such as Fire Life Safety/red zone violations or parking in a space reserved or designated for others (guests of the University or certain departments such as Facilities)," Steinbrenner wrote.
Construction: The "Mountain" Project
The ongoing construction for the "Mountain" project at Pepperdine has further complicated parking. Students are left with dirty cars, limited parking in the baseball lots and the frustration of not knowing where they can park.
The burden on students during construction periods should be acknowledged and addressed, not ignored.
Towing Students
Towing students' vehicles should be reserved for severe violations such as parking in handicap spots or blocking fire hydrants. Students are already under financial stress, and the threat of towing only adds to their anxiety.
Towing should not be a solution when parking options are so limited.
"If a vehicle is parked in a no parking zone or space, DPS attempts to call the registered owner and have them move their vehicle before it is towed," Steinbrenner wrote. "If a vehicle is not registered, that limits the ability to contact the owner. As a last resort, the vehicle will be towed, and the owner is charged for the tow fee of $275."
While calls are appreciated, DPS could be calling while a student is in class —interrupting the student's education.
Shuttle Service
The University's shuttle service, meant to alleviate parking woes, can become overloaded during rush hour, and in some cases not have the space to pick up all students at the stop. Students should not have to rely on a shuttle service that doesn't meet their needs when rushing to class after circling for parking.
In the face of these challenges, it is essential for DPS to show compassion and understanding. Crackdowns on parking fines and towing should be reconsidered, especially as the parking situation deteriorates.
Solutions for a Brighter Future
To rectify this dire situation, Pepperdine should:
Significantly Decrease Ticket Prices: Reduce parking fines to a more reasonable level to ease the financial burden on students.
Implement Parking Lines for Parallel Parking: By creating parking lines, the university can maximize the use of available space and accommodate more vehicles.
Revise Parking Regulations: Reevaluate the placement of red lines and other parking restrictions to provide students with clearer guidelines.
Reinstate the Right to Dispute Tickets: Allow students to dispute parking tickets, fostering a fair and just system.
Improve Planning: Pepperdine must plan better for parking options that can accommodate its growing population.
The parking crisis at Pepperdine is reaching a breaking point, and Pepperdine needs to take immediate action. By reducing fines, improving maps and implementing fair policies, the university can alleviate the burden on its students and create a more positive campus experience for students — it is their home, after all.
It's time for Pepperdine to prioritize the well-being and convenience of its students in this parking predicament.
___________________
Follow the Graphic on Twitter: @PeppGraphic