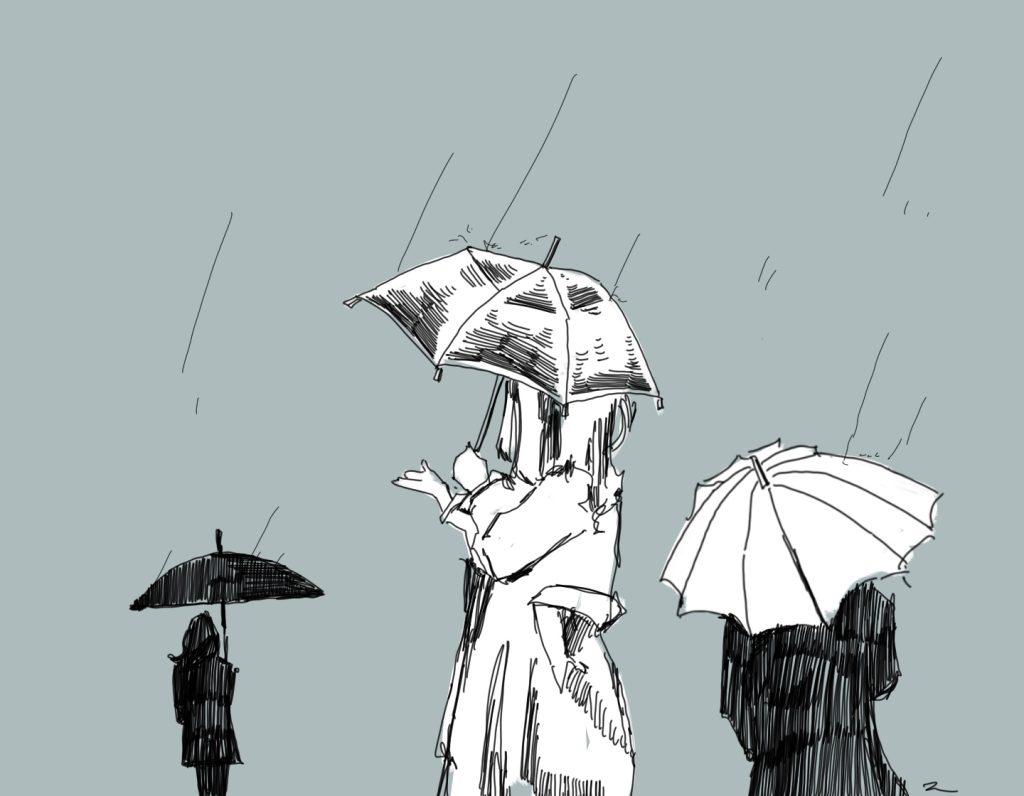 Art by HeeJoo Roh
Editor's Note: PGM staff members decide on the topic of a Staff Ed together. The staff as a whole provides opinions and content included in this Staff Ed to provide thoughts and shed light on solutions for happenings at Pepperdine.
Rain, rain, please go away.
On Jan. 9, Calabasas and Agoura Hills witnessed between 4.16 and 4.19 inches of rain — almost a third of Weather and Climate's projected yearly total of 14.9 inches , according to the L.A. Times. Pepperdine students slogged to class through rainy skies, muddy sidewalks and rocky commutes.
Pepperdine — and, to be fair, most of its student body — is ill-equipped to handle weather that is not sunshine, some wind and overall mild conditions. There's a reason for this. On average, there are 329 sunny days in Malibu each year, according to The Weather Channel Compare this to western Washington, where cities get around 165 days of sun each year, according to Groundworks.
The rain that falls in Malibu is concentrated in a 6-month period, according to Weather and Climate. February — the wettest month, with an average of 3.8 inches of precipitation — is still to come.
The rain the University is seeing right now is not just the usual wet season, rather the burning of fossil fuels results in warmer atmospheres, which can hold more moisture, according to The New York Times. This wetter atmosphere makes California storms more intense.
What is a fair-weather University, and its students, to do?
Rain-Proofing the Community
Students who decide to skip walking in the rain have to rely on shuttles, which could run late — because of inclement weather and a tracking app that occasionally does not work — leaving students stranded.
One option is adding infrastructure to make students' lives easier in the rain. By putting shades over shuttle stops, those who choose to shuttle around will be protected from the weather. Whether this is for the rainy days or the much more frequent sunshine, shades can keep students dry and cool in the face of more extreme weather.
Pepperdine could also provide umbrella bins, stocked with umbrellas for community use. Students and faculty braving the storms on foot can borrow an umbrella on their way out, and drop that same umbrella in a bin at their destination.
Pepperdine could also move classes to Zoom during inclement weather conditions. After a year on Zoom, the University has the online capabilities set up to move classes online for a day.
Driving in the Rain
Individual action can also partially assuage the problems of rain, especially when it comes to driving.
Leaving at least five seconds of stopping distance can decrease the risks of accidents, according to Geico. In the case of hydroplaning, turn the wheel the direction you want to go.
Of course, slowing down also helps.
"The speed [listed] on the side of the highway is the maximum speed for perfect weather and perfect road conditions, so if the road is wet, it could be too fast for existing conditions," said James Soloman, expert of driver safety for the National Safety Council. "If other people don't like it, they can pass you."
Driving with headlights on is also vital, according to Geico. Turning on your high-beams in the rain, however, is less advisable. The bright light can bounce off wet surfaces and the falling rain, posing additional problems.
While the rain may be a more prominent part of southern Californian life in the coming years, there are steps both Pepperdine and individuals can take to manage some of the effects.
When it rains, it might pour, but if we work together, we can stay drier.
___________________
Follow the Graphic on Twitter: @PeppGraphic