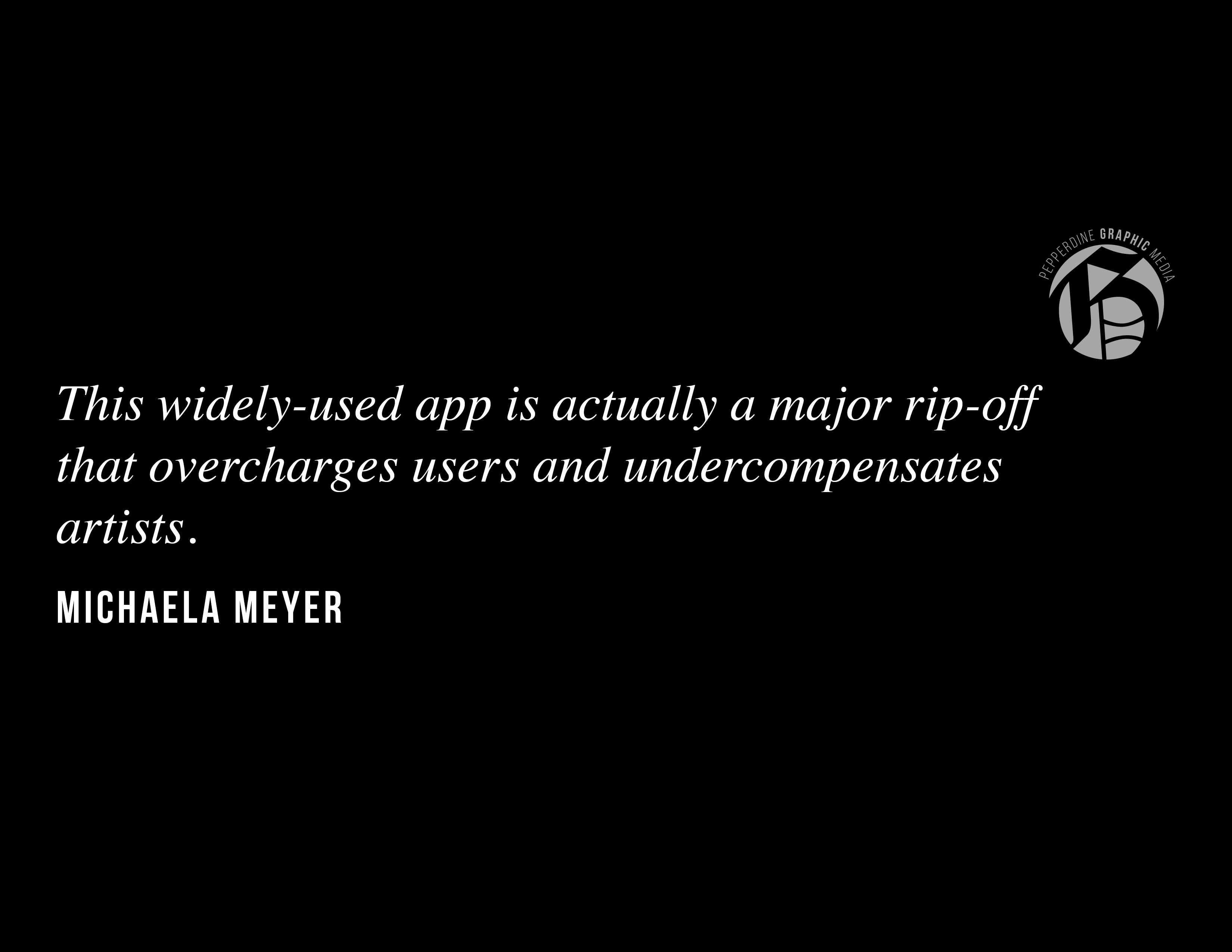 Graphic by Nate Barton
Spotify may seem like a music lover's dream come true. Users can access an undeniably huge library of music for one monthly fee, and streaming music means they no longer have to worry about the space taken up from downloads. But this widely-used app is actually a major rip-off that overcharges users and undercompensates artists.
Spotify has been criticized on numerous occasions for their failure to compensate artists. Spotify only pays $0.0038 per stream, which is well below competitors like Apple Music ($0.0064) and Tidal ($0.01), according to Daniel Kreps's article "Wixen's $1.6 Billion Spotify Lawsuit: What You Need to Know," published Jan. 3, 2018 by Rolling Stone. Having previously reached a $43 million settlement on a class action lawsuit filed by songwriters Melissa Ferrick and David Lowery, Spotify is now up against a $1.6 billion dollar lawsuit filed by Wixen Music Publishing.
Not only does Spotify not pay creators their fair share, their biased recommendations also remove the natural discovery process, making popular artists more popular and leaving others in the dust. "Spotify's editorial tastes and recommendations lean toward corporate-funded labels at the expense of the little guy," wrote Randall Roberts in his article "Grading the Streams," published Jan. 15, 2016 by the LA Times.
Successful artists might be able to take the hit, but for anyone just starting out in the business, the money made with Spotify will not be enough to make a living, which means fewer new bands and less variety of sound.
If those facts alone are not enough to turn users off the app, here is some basic math. Spotify costs $9.99 a month, or $4.99 with the student discount. This means people are paying between $60-$120 a year for Spotify. Now, someone who buys their music and pays full price for it will on average spend between $45-$65 a year, according to David Pakman's article, "The Price of Music," published Mar. 18, 2014 by Recode. "And these numbers have remained consistent regardless of music format, from CD to download," wrote Pakman. This means people are spending two or three times as much on music with Spotify than they otherwise would.
One may argue that because of Spotify's large library this is still a bargain. Users can access almost any song they want. However, people do not necessarily take advantage of this fact. Most people have a set library of songs that they know and like and regularly listen to, which is made up by their playlists. This library changes as tastes change and constantly expands as new music is discovered.
Spotify's $10 a month is about the equivalent of the cost of buying a new album every month. Therefore, in order to make Spotify cost-effective, listeners would have to add an album's worth of songs to the music they regularly listen to every month. This is a rate only a few music aficionados might be able to keep up with. And anyone at the opposite end of the spectrum, who listens only casually and rarely branches out from their set library, would essentially be paying over and over again to listen to the same songs.
Fans who download their music will pay for it once and be able to listen to it as much as they want for the rest of their lives. Not only will they be paying less than they would with Spotify, but more of that money will go directly to the artists, instead of corporate in-betweens. It's time to stop letting Spotify leech off of the music industry.
_________
Follow the Pepperdine Graphic on Twitter: @peppgraphic