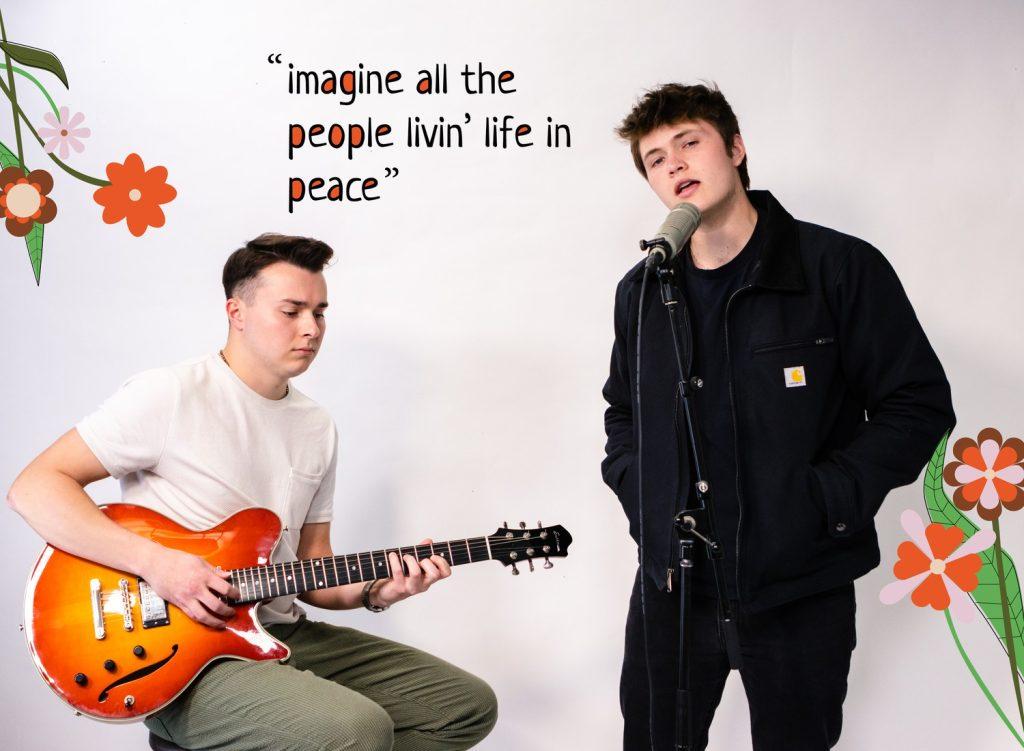 Nolan Harvel (left) and Oliver Westover (right) play guitar and sing. Photos by Lucian Himes. Graphics by Haley Hoidal
Music can be about anything.
It can be about political issues, first love, friendships, faith, the human condition and any and all types of emotions many individuals — or even just one — may find important.
These can be songs of past generations protesting war, such as Bob Dylan's 1963 "Masters of War" or, more recently, Lana Del Rey's 2019 single "Looking For America," combating gun violence while donating profits to those affected in the Gilroy, Dayton and El Paso shootings.
Del Rey's song is one of many about the "terrifying search to find a place in our country, where you can feel safe from violence, free to fulfill the promise of your own dreams and desires without fear," according to Rolling Stone.
While music is a valuable and predominant part of culture — by moving, teaching and entertaining many — it can also be effective in relaying different types of messages. When mass amounts of people hear music, it creates group mentality and affects emotions, according to the U.N. magazine Africa Renewal.
"It is important we have all these genres; it forms us in a way that we can all be unique individuals," said Scott Woeckel, Caruso School of Law audio visual production and instructional systems manager. "It makes the art grow, makes us grow and makes society grow. The artists and music that is important to our lives is important to our lives for a reason."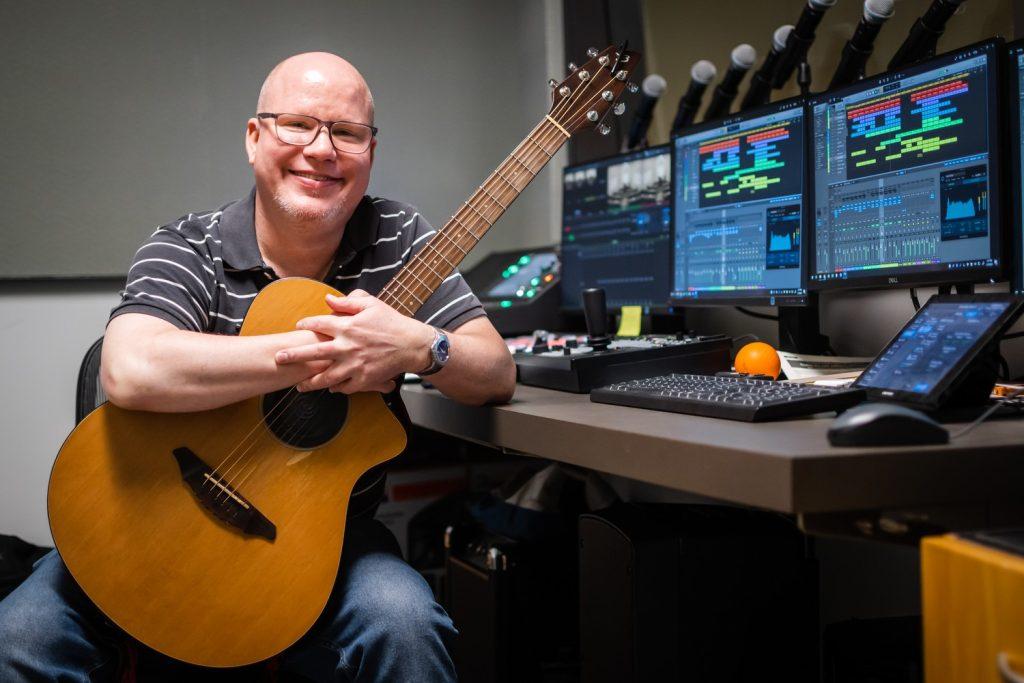 While popular messaging can be implemented through social and mass media, fame, gatherings and more, the right combination of lyrics and rhythm can build a group identity, according to Africa Renewal. It can also stir strong emotions and encourage audiences to take action — making music integral to social development.
While much of social development is the importance of perspective, Sean Bierman of L.A. rock band "Familiar Faces" said when he sits down to write a song, he thinks about first person, second person and third person. He said perspective has led him to songs of experimentation while his favorite artists of the past influence him.
"If a song resonates with someone and helps them tell their own story, then it probably has more meaning to them," Bierman said. "Music is cultural expression, all these genres are really different cultures sharing their music with the world."
Stories of Passion: Jazz Music
Woeckel has a degree in Ethnomusicology — the study of the cultural background and social impact of music throughout the world. He describes jazz as American blues and gospel combined with western classical music. This genre of music started when enslaved people were brought into various parts of the world, for example, Latin jazz, Cuban music and more.
This led to the commingling of African musicians and Cuban natives to create all different types of music, which transferred around the world, Woeckel said.
Blues, as a genre, brought in spirituality. Their lyrics were intended to serve more narratively, telling stories of love, oppression and life's difficulties with immense emotion — without drums, as they only had western instruments, Woeckel said.
Featured notes were often not on the normal scale, or what are called blues notes. For many, jazz and blues served as the beginning of music's unification of people and resonated with those struggling to repair their oppressive and often violent communities, according to Folklife Today.
"From all ways of looking at it, whether it's [music] to incite real specific change, music is an editorial," Woeckel said. "There is a validity on all sides of that to create positive change."
Music can serve as a snapshot of history and young musicians today said music from the past helps them with their everyday creations.
Beyond the Story

What did the reporting and research process look like for this story?

I have spent so much of my free time researching the impact of music on others for my YouTube channel, projects, work and leisure time. Whenever I listen to a really meaningful song I want to deep dive into, I look up an analysis, just like when I search "ending explained" for almost every film I see. I knew I wanted the first story of this edition to speak on the political, social and personal power of music — it is such an important aspect of society and I greatly enjoyed my research in academic journals, the United Nations, Rolling Stone and speaking with my incredibly qualified sources. They include local, young, up-and-coming musicians and a Pepperdine staff member with a degree in Ethnomusicology. I listened to countless songs for this story analyzing the lyrics, researching artists speaking on their own work, analyses of social commentary from artists such as Jimi Hendrix, as well as the history of the United States during certain key musical movements. I also have had much interest in music history due to attending a music academy and music history classes. My family is also knowledgeable in music and they've shown me many Woodstock, Beatles and other music documentaries growing up, followed by discussion usually with my dad and maybe a museum trip. One of the best memories of my life was visiting Liverpool and seeing handwritten John Lennon lyrics.

Can you speak a little bit about your sources and your process searching for them?

One of my best friends who works at Caruso School of Law spoke very highly of Scott Woeckel's musical credibility and knowledge due to his talent and degree in Ethnomusicology— the study of music and its cultural context. He was a pleasure to speak to and was very knowledgeable about musical movements and the origins of certain genres. I also spoke to local Long Beach artist Sean Bierman from rock band "Familiar Faces," formerly known as "The Bierman Brothers." I know him through a mutual musician friend. Their songwriting and desire to take influence from some older music has always inspired me, as well as their ability to be 100% authentic and true to themselves — something that has always drawn me to people. To localize my story and highlight Pepperdine musicians, I interviewed Cross Garabedian and Matthew Harrison, another local IE musician. They spoke very highly of how music has created their new found friendship and band. I also reached out to one of my favorite artists', Sophie Cates, manager not expecting a response. I was lucky enough to interview a musician I look up to. Cates' honesty, such as in her song "Crowd," has always meant a lot to me. Hearing her story as a working recording artist made me excited to write about music's ability to change lives.

What is a practical example you have seen in your everyday life where music has greatly impacted someone or their situation?

I have been lucky enough to see music directly impact people's lives. Some of these moments include me singing my uncle's favorite song at his memorial for my family and singing a song I wrote for my cousin's baby shower when she was expecting her first child. Music has also impacted me. I grew up religious but never took it seriously until I experienced worship music. I felt a new sense of understanding and immediately felt comfortable exploring my faith. I have seen those in my life turn to music for comfort, such as a teacher who turned to his love of playing the guitar after surviving one of America's largest mass shootings in 2017. Music is also an anchor in many of my friendships. My friends — specifically my friend Z'aree — and I often come together to play music and sing as a way to find comfort in the midst of stress. Music has single-handedly changed my life, and throughout my time in music journalism, I have seen the scope of how many other lives it has changed. I am beyond excited to see the global scale of positivity and love through music throughout the rest of my career.
"All music, for the most part, is recycled," first-year musician Matthew Harrison said. "You can have so many backgrounds of music that you like. You take a little piece of country or blues and make it your own. You can keep going on for infinity with all the different sounds you can make."
Folk and Rock Music
"Music is powerful. As people listen to it, they can be affected. They respond," Ray Charles said in 1993.
Woeckel said music is ceremonial, and while there are literal examples of music bringing people together — Woodstock 1969 — a lot of music is reactionary. This means it serves as a response to social events that affect groups of people, Woeckel said.
Guitarist Jimi Hendrix ended his two-hour Woodstock set with the "Star Spangled Banner" as a way to protest moral inconsistencies from his nation's involvement in the Vietnam War — such as distortion mimicking bombs and using his Stratocaster guitar to create uncomfortable sounds.
In British music journalist Charles Murray's book "Crosstown Traffic," he said the performance was "probably the most complex and powerful work of art to deal with the Vietnam War and its corrupting, distorting effect on successive generations of the American psyche."
Folk music has a long history of being tied with social justice issues, such as struggles for universal suffrage, war, anti-imperialistic messaging and human rights, according to "Music and Social Justice" by Tracey Nicholls. This can be tied back to musicians such as Woody Guthrie, Bob Dylan, Leonard Cohen and more, who sang about ideology and human nature.
The term 'Protest Song,' is defined as "a song that expresses disapproval, usually about a political subject," according to Cambridge Dictionary.
One example could be songs about poverty and oppression, such as reggae hit "Get Up, Stand Up" in 1973 written by Bob Marley and Peter Tosh after witnessing life in Haiti. Its purpose being to help the oppressed resist their oppressors, in many places and different capacities. Martin Luther King Jr. said in 1963, "freedom songs serve to give unity to a movement."
"Those songs are so endearing and beautiful, it is hard to deny that musical genre," Woeckel said. "It's simple, it's direct, it's good."
Those messages, and at least the ethos, have seemed to stand the test of time, Woeckel said. He said kids 20 years from now will be able to listen to a Bob Dylan record from the '60s and be able to get a sense of what life felt like for him — in that time and in that context.
Contemporary/Modern Music
While the world evolves, so does music. Artists said music has an honesty, and while some struggles change and stay the same, the fundamental rights to equality, fairness and love will never fade.
L.A.-based recording artist Sophie Cates said she approaches writing spontaneously — speaking from her heart and from personal experience.
"I don't think I could do it any other way; it's kind of the only way to make it feel real for me," Cates said.
Bierman said he feels being a current musician and reflecting on our world is a gift, while Cates said music is universal and crucial in remembering and reflecting.
For her, Cates said English pop band The 1975 has remained important, lyrically and sonically. She said she admires their production and how experimental music can be.
The 1975 has a few songs speaking about gun violence, following many mass shootings in the U.S. this past year alone.
On Spotify's storyline, under their song "Looking For Somebody (To Love)" it says, "Looking For Somebody (To Love) is about school shootings. For me as a British person, school shootings are an abstract phenomena I don't understand. These shootings have reason and cause, and that's what I'm trying to figure out."
The 1975 singer Matty Healy said of their 2018 song "I Like America & America Likes Me" on Spotify that "it channels the frustration and fear felt by young American students."
"I think the more that songwriters are honest about the world, then other people will find it and be able to relate — they won't feel alone," Bierman said. "That is enough to really be a powerful tool to make the world a better place."
Much new music has had cultural impact, Woeckel said, such as hip-hop, punk and R&B. All music, lyrically or not, is trying to say something. He said we have the choice to listen.
"Music has always been at the forefront of being more progressive than most other aspects of society," Woeckel said. "We have always been more open to not caring where you're from, what the color of your skin is, what language you speak or what religion you practice. We have a common language that brings us together in a way that no other aspect of culture does."
Listen to the Special Edition Peace Through Music Playlist here.
____________________
Follow the Graphic on Twitter: @PeppGraphic
Email Beth Gonzales: beth.gonzales@pepperdine.edu
About the Author

Beth Gonzales is a junior Journalism major, with a concentration in Creative Writing. She is the special edition editor and has been on the Graphic since her first semester at Pepperdine, serving previously as the previous Life & Arts editor and more. Gonzales is from Rancho Cucamonga, Calif., and loves to write music, listen to Harry Styles, play her guitar, style fun outfits, travel and cuddle with her poodle, Sammie. Gonzales interns at Atlas Entertainment and hopes to continue working in the entertainment industry after graduation.