Photos by Zach Le
This year's Songfest theme, Happy Holidays, certainly struck fear into the heart of this author, who is less than keen on Christmas-themed music and its ilk. Thankfully, however, the various groups largely averted the obvious song choices, making for an unpredictable and exciting night of entertainment.
For those not in the know, Songfest is a Pepperdine tradition that happens once a year, where teams of students have a little more than two weeks to put together a musical performance. There are strict rules requiring how much of each performance has to be vocal harmonies and how much money can be spent on sets and costumes. Considering the limitations, it's almost a wonder that the show turns out as well as it does each year.
This year's show starts with Chi Alpha Kappa Epsilon, or CAKE for short, and their Earth Day-themed performance. The group gave it their all; unfortunately, their all was underwhelming. Luckily, the next act, Eta Theta Tau, came to the rescue with their delightful take on St. Patrick's Day. Eta Theta Tau is easily the largest group performing, and having that many people on stage has the potential for all sorts of disaster, but the group pulled through and delivered what was easily the funniest performance of the night.
Next up was Gamma Ghkkkkket Sigma and Friends, and their version of Mardi Gras. The performance was, for lack of a better word, precious, and the bold move of having a song without any lyrics definitely paid off. After intermission, Pi Delta Friends tried their hands at Chinese New Year. The dancing was well-executed and the music choice was strong, but unfortunately the racial insensitivity really took away from the otherwise well-done piece. Word of caution: Don't dress up as other races. Not even if your holiday involves another race. Just don't.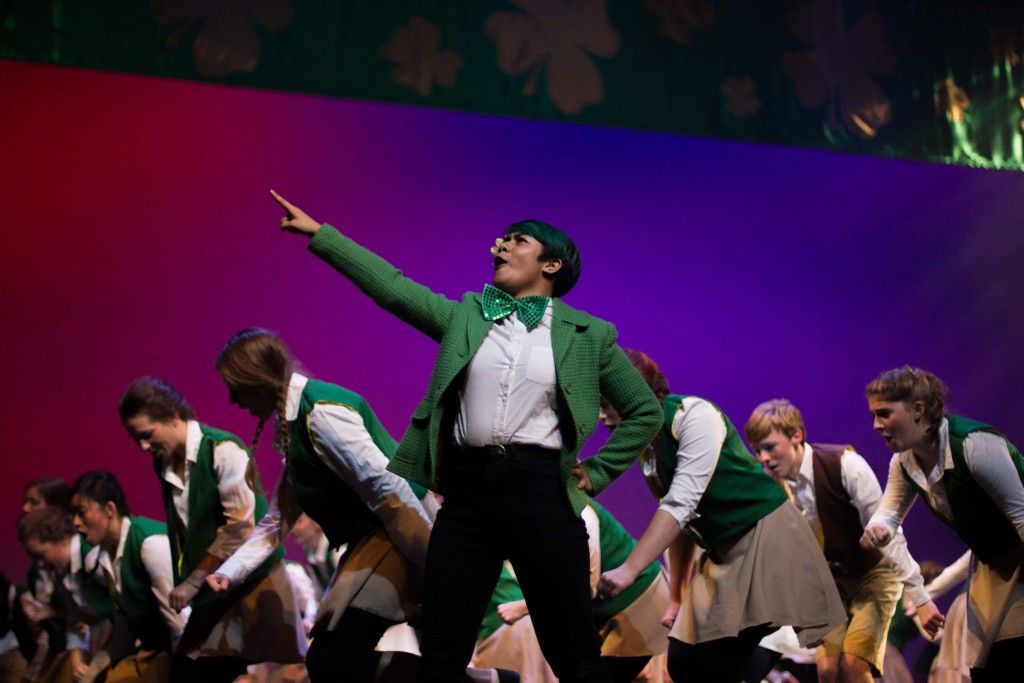 Following Pi Delta Friends was Delta Psi Theta and GreedStorm, whose theme was Independence Day. The script took a turn to the subversive, and neatly summarized the issues with modern-day political discourse. The clever writing made up for otherwise run-of-the-mill song and dance, and made the piece one of the more memorable of the evening. The best performance of the night came last, with Alpha Beta Delta and Company. Their holiday was Halloween, and they did an amazing job with both song choice and choreography. All of their numbers were spot-on, and while their script may not have stood out, the rest of the performance more than made up for any writing weakness. It was a thoroughly impressive performance.
Overall, this was a very enjoyable Songfest, with even the weaker numbers still being amusing. A special mention should go to this year's hosts Laura Howard, Jenna Pautsch, Madison Shearer, Mallorie Urban and Amanda Wexler who pulled off several impressive interlude numbers, including a Pi song that has to be seen to be believed. Everyone involved should be proud of the product that they are presenting to audiences, because it is quite stellar. Happy Holidays, indeed.
Songfest runs Tuesday March 15 through Saturday March 19.
______________
Follow Jessica Kerner on Twitter: @The_Kernster