Graphics and Photo by Jackson Hogan
Torin Wile and Stasia Demick are in a three-year relationship. Wile is a senior at Pepperdine University, while Demick just graduated from the same school this spring. Jonathan Lewis and Kalina Thornton are in a similar situation: They're in a 21-month-long relationship, and Lewis just graduated Seattle Pacific University, while Thornton is a senior at SPU.

On the surface, these two couples have some similarities, such as their ages and education at small, private, Christian universities, but there's one crucial difference setting them apart. Thornton and Lewis are engaged and plan on getting married this summer, and they said they're ecstatic to spend their lives together.
"We're excited to be doing the little things of life with each other, and we didn't want [to wait] for an extended period of time after we graduated," Lewis said. "So because of that, I felt like I should propose sometime while she's still in school."
Meanwhile, Wile and Demick said they vow not to get married anytime soon, or possibly ever.
"[Marriage] just sort of feels like a social construction that I don't necessarily fit into. I also think a big thing is where I'm at in life," Demick said. "I don't know if it's a maturity thing, but it doesn't feel like something I necessarily need to do."
These two couples represent two of the main outlooks on marriage for young couples, and it seems the university that a couple attends may impact which view they side with.
Although the majority of Americans wait until their late-20s to get married, according to the U.S. Census (27 for women, 29 for men), it seems that the idea of couples getting engaged while in college, or immediately after, remains prominent on small Christian college campuses.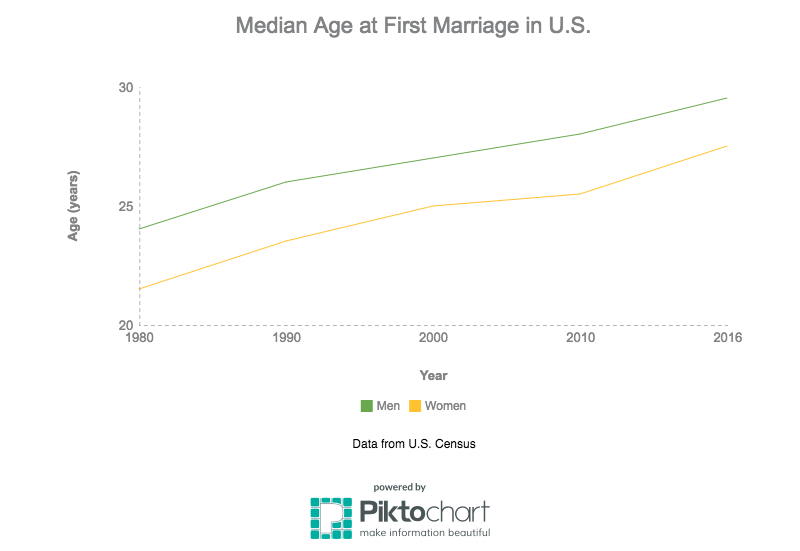 A 2013 study conducted using Facebook data found that around 28 percent of married college graduates attended the same school as their spouse, according to Facebook Data Science Team researchers Sofus Attila Macskássy and Lada Adamic. Furthermore, many of the schools where both men and women had high rates of sharing the same university as their spouse were small Christian schools, such as Harding University, Kentucky Christian University, and Bob Jones University. This also applied to other religious schools, such as BYU and Yeshiva University.
Many of these schools even have a semi-facetious nickname for this: "ring by spring," due to many of these engagements occurring in the spring semester of school. Even websites such as Business Insider have listicles detailing "50 Colleges Where You're Most Likely To Meet Your Future Spouse." This sharp divide in marriage age between the "mainstream" public and Christian students makes one wonder: what are the benefits of marrying so young? Does it have any impact on the marriage itself?
Marina Edelman is a Marriage and Family Therapist in Westlake Village, and she said that regardless of where a couple might be in their studies, getting married before the age of 25 isn't a smart idea.
"Your frontal lobe is not formed until you're 25, and your frontal lobe is responsible for basically assessing danger, which is why most foot soldiers are under that age. So because there's a significant part of your brain that hasn't yet been formed, the decisions you're making are not the most well-informed decisions," Edelman said. "Your assessment of the person and if that person is a good fit for you or not for the rest of your life, you just don't have the tools to be able to make that decision, just because that part of your brain is not developed."
A study conducted by the University of Utah sides with Edelman on that claim, as professors found ages 28 to 32 are the prime years to get married, and tying the knot earlier than that results in greater chances of divorce, according to Global News.
However, Edelman also mentioned that every potential married couple is different, and there are other contributing factors, such as how much support the couple might have from their community.
Nathan Stump also recognizes that the strength of a couple's community can help build a marriage. Stump, an administrative coordinator at Pepperdine's Student Affairs offices, got engaged to his wife, Hilary, in their first year of grad school after only dating for seven months prior at Regent University, a small, private Christian school in Virginia Beach. He said that his group of friends and family were a major factor in the success of his marriage.
"I'm a big believer in that the community should be a springboard for how much they encourage you," Stump said. "We had the blessings of our parents, we were being mentored by several couples — marriage is the celebration of a community, so you don't do it solo. I don't think any marriage can work very well solo."
Another factor in marrying young might be simply being surrounded by other young couples getting engaged nearby. Stump mentioned that many of his friends at Regent were engaged or even married in their undergrad years. When asked about the situation at Seattle Pacific, Thornton and Lewis quickly listed off a large number of friends who attend the school, including their own roommates, who were also engaged.
Kayla Prewitt, a senior at Whitworth University, a Christian school in Spokane with a culture similar to Regent or Seattle Pacific, said that the presence of engaged young couples at her school is constant.
"I think this year alone, I've probably seen about 15 engagements in my graduating class, just in the fall," Prewitt said. "Without exaggeration, it's almost like every other time I open my Facebook app, there will be something at the top of my page saying someone's getting engaged in my graduating year."
Prewitt said that this environment is prominent despite a significant part of the university poking fun at the "ring by spring" culture.
"It's the butt of a lot of jokes; our school president will joke about it, and our professors will joke about it, and people know about it, but that still doesn't change the fact that it still happens all the time," Prewitt said. "It's talked about in this ridiculous way, 'oh, ring by spring,' but you still see much higher rates of engagement and proposals."
However, not all private Christian schools have the same environment. Despite seeing a few friends become engaged, Wile said that Pepperdine doesn't share a similar vibe as those schools listed above when it comes to young married couples.
"I feel that Pepperdine hasn't put any pressure for marriage," Wile said. "So when I see people getting married, I feel more open to seeing it's their choice, because there's no pressure on me, so why would there be pressure on them?"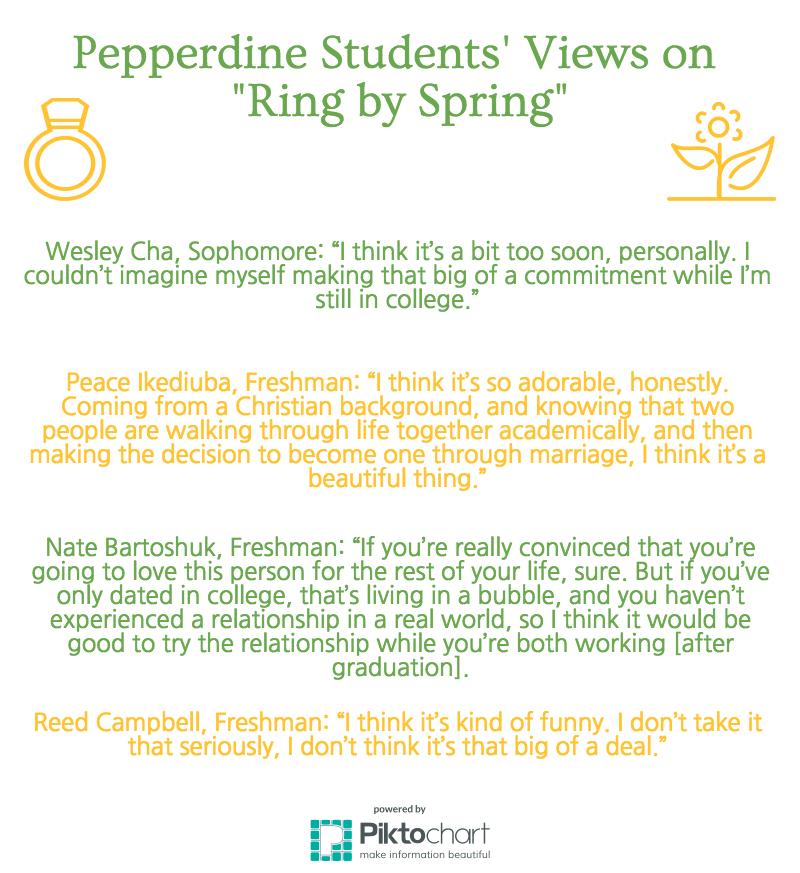 Marriage statistics for individual universities are hard to come by, so there isn't any data available on the difference in "ring by spring" occurrences between public and private schools, or secular versus religious schools.
Thornton said that one major reason for getting hitched almost immediately after her graduation was because she and Lewis already knew they were perfect for each other.
"We both know we want to spend the rest of our lives together, so there's no point in waiting to do that," Thornton said. "We couldn't think of a good-enough reason to lay off that. Why not get married right after I graduate?"
Lewis echoed that statement, as he said he had a similar mindset when he chose to move up their engagement earlier than expected.
"The plan was to get engaged sometime in December, and I decided I just wanted to do it earlier," Lewis said. "One, to surprise her, and two, I realized, why would I wait any longer? I didn't really know why I would wait to get engaged if I knew when I wanted to get married."
Meanwhile, Stump said his faith was a major factor in choosing to marry at a younger age than the national average. He said he felt a spiritual motivation to pop the question after only dating seven months, and their relationship with God would carry them through any possible ensuing financial struggles.
"We both value family and marriage more than career, we view that as our first ministry, and then God blesses you with a career, so we view that as the most important calling," Stump said. "A lot of people wait, but we felt that God was calling us to get married. If he calls for us to get married, he'll make a way for the finances and education to come through, and so we were able to get housing for a really good price."
He also said starting a family was a major motivation for starting the nuptials quickly.
"I had dated a good bit of people, and it didn't work out, but once I met my wife, we felt like we wanted to start a family," Stump said. "She wants to start having kids once she graduates. We're very eager to start. We view family as a ministry to help spread the Gospel, and we'd like to start doing that as soon as possible."
Thornton and Lewis also said that their Christian faith influenced their choice to get engaged. Thornton said that since the couple was waiting to live together until after marriage, they wanted to get married soon to begin that portion of their lives as quickly as possible.
"The stirring point was the sacredness of marriage, but also we want to do life together," Thornton said. "So for both of us, we feel like living together, that's something you do when you're married. So we want to not just live together, but do life together, and we think the easiest way to do that is when you're married."
Edelman said that although she believes that normally, younger marriages have difficulty surviving, she believes religious couples have a better shot.
"I feel that the more religious you are, the higher chances you have of staying married," Edelman said. "Not necessarily staying happily married, but staying married. There's a lot of elements to it."
Wile and Demick have different views on young marriage than Thornton and Lewis, or the Stumps. Demick said that although she totally respects other young couples' desire to get married, she feels that marriage wouldn't be the right decision for her, due to a lack of desire to have kids.
"One thing I really understand is that people choose to have children and families, which is also something I don't plan on having in the future, which probably influences my decision because then I don't feel compelled to provide a structure for a child that's more conventional."
Demick also said she values her autonomy, and she's worried that marriage might compromise that, despite the valid reasons for marrying young.
"Marriage has significance in multiple circles: It has a religious importance, so I understand why people do it for religious reasons, it has economic benefit, which I think people do it for," Demick said. "But for me, those things don't outweigh the importance for independence and figuring out my life with a partner, in co-dependence, but also independently and pursuing my career and other things."
Wile's reasons for being disinterested in marriage at the moment are a bit different than Demick's. He said he feels unmoved by what he perceives to be a societal pressure to get married.
"Working in the advertising industry, after a few months, I realized how much companies and brands really try pounding it into your head what they want you to buy and what they want your lifestyle to be," Wile said. "So my opinion is, a long time ago, way before we were here, almost before our grandparents were here, the wedding industry and diamond industry pounded into media and into entertainment that you have to be married to be happy. You have to buy rings to be happy, you have to buy party supplies to be happy, you have to buy alcohol, and I just don't find that true."
Wile also pointed out that divorce rates are high — he claims around fifty percent in the U.S., which is accurate according to the American Psychological Association — and that he finds that to be proof that marriage isn't necessarily for everyone.
So while Wile and Demick might not feel that marriage is right for them at this point in their lives, Thornton and Lewis seem thrilled for their future as a legally bound couple, and the Stumps have already been living out that reality for four months. Will these marriages work? Like with any marriage, young or old, only time will tell.
______________________
Follow Jackson Hogan on Twitter: @JacksonHogan