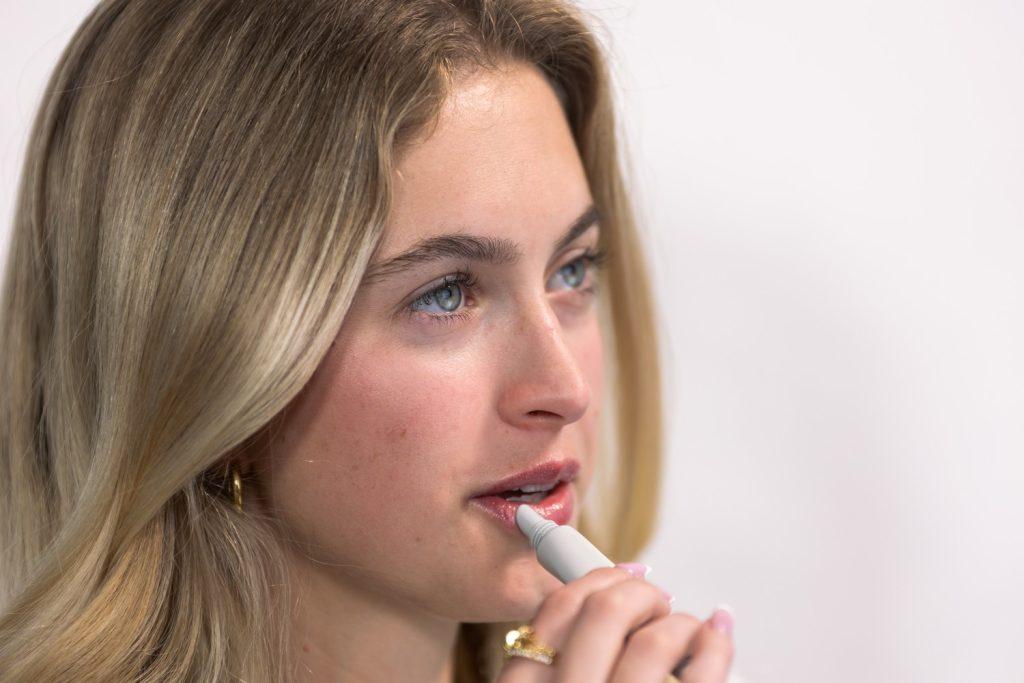 Loren Eastman applies her favorite Rhode lip treatment. Eastman said this is one of her favorite products. Photos by Lucian Himes
Skin care varies from person to person — three Pepperdine students said their skin-care habits and products are important to them in many ways.
Loren Eastman and her love for The Ordinary
Senior Loren Eastman said she started using skin care in middle school when her mom gifted her a Proactiv skin-care set. As she grew up, she began learning skin-care tips from social media, and she said TikTok trends are her main influences. She said she built her skin-care collection around products from The Ordinary brand.
"What we forget about a lot is that your skin is an organ," Eastman said. "It's the outermost protective layer of your body, so it's not only the thing that people see first, but it's the thing that your body interacts with the environment first."
Eastman said she first started using The Ordinary because she was drawn to the packaging, but she ended up liking the products too. Niacinamide, Zinc PCA and Sodium Hyaluronate are used in their formulas, according to The Ordinary's website.
"Those [ingredients] are pure extracts and compounds that are derived from vitamins that are the raw ingredients that your skin can really use," Eastman said. "It's not like you don't really know what you're putting on your face."
Some TikTok trends Eastman said she has tried are using a dry brush on her skin to exfoliate. This unclogs pores, according to the Cleveland Clinic. Eastman said she consistently uses her dry brush for her face and the rest of her body to exfoliate.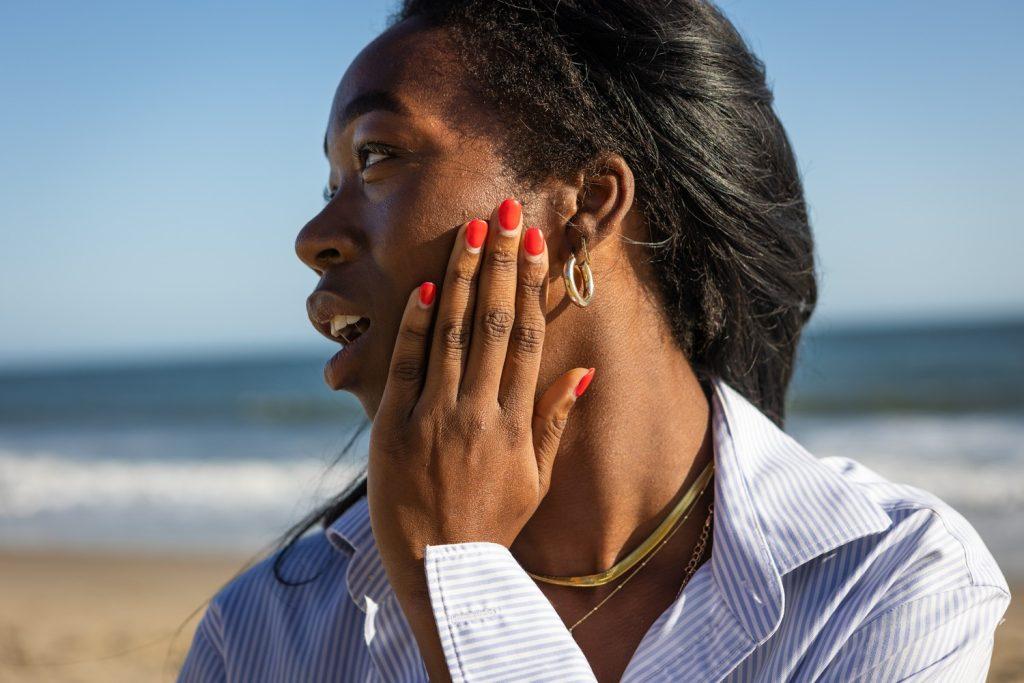 Deslyn Williams and her love for slugging
Junior Deslyn Williams said she uses TikTok for a lot of skin-care inspirations. If she and an influencer have similar skin-care goals, she said she will listen to their recommendations and later look through reviews of the products on Sephora to determine if the product is right for her.
One skin-care trend TikTok introduced her to is slugging. Williams said she now does this five to six times a week.
Slugging is applying a generous amount of petroleum jelly on one's skin as the last step of an evening skin-care routine, according to The Washington Post. It moisturizes, protects the skin barrier and helps dehydrated skin, according to Healthline.
For Williams, skin care isn't just taking care of her skin — she said it is a form of self care.
"Once you find your routine you feel like you're really in tune and know what is going on with your body," Williams said.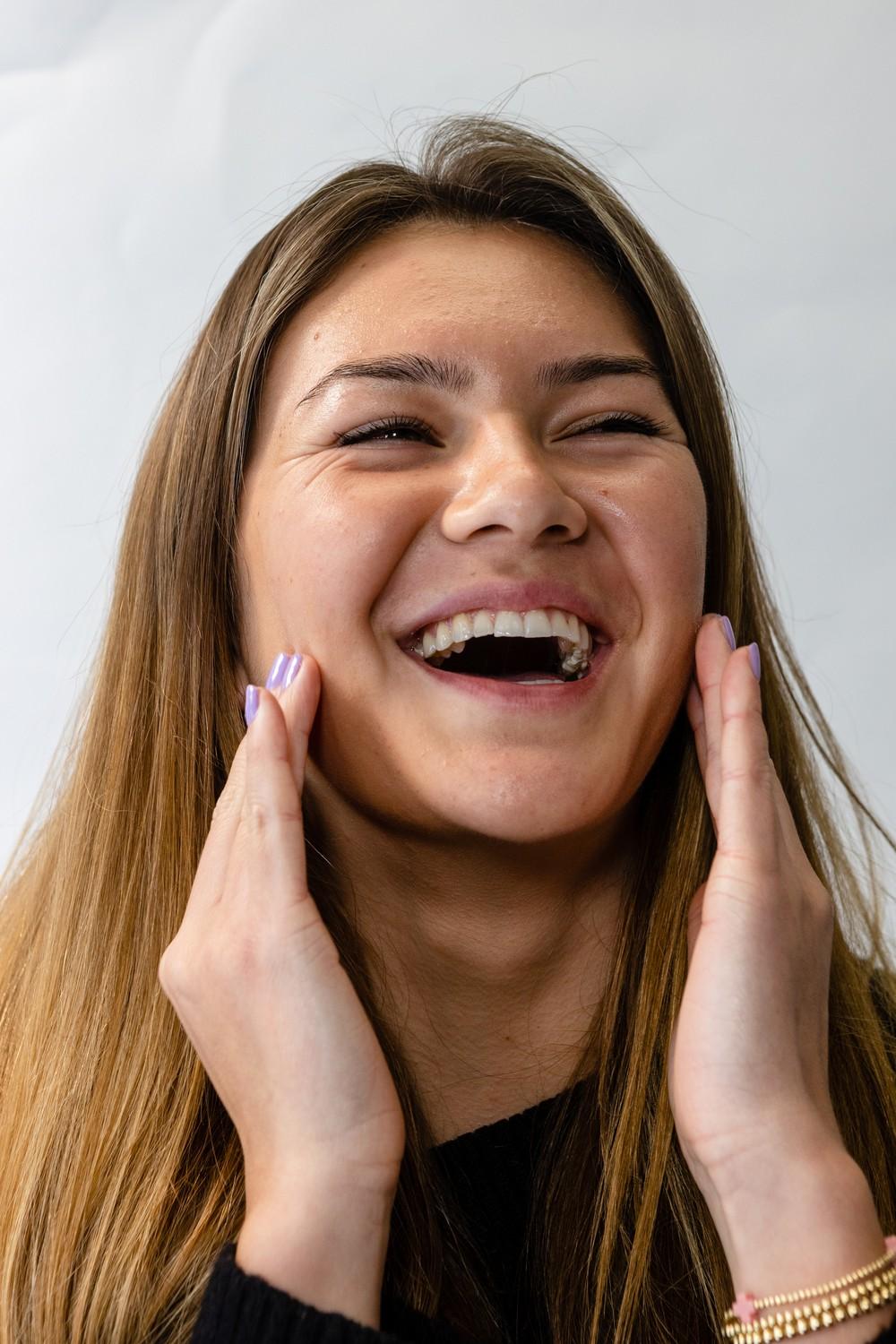 Lily Vu and her love for her routine
Sophomore Lily Vu said she has a set daily skin-care routine. The routine has multiple steps depending on the time of day.
"In the morning, I would say that I don't wash my face with any cleanser because it's good to leave natural oils on your face," Vu said. "You don't want to strip your face [of] natural oils because that can also cause acne."
After rinsing her face with water, Vu moisturizes and uses her Super Goop sunscreen. In the evening, Vu said she uses her CeraVe cleanser, Sonya Dakar serums and a tretinoin cream her dermatologist prescribed.
Vu said she usually gets her skin-care recommendations from social media, YouTube and her roommate, sophomore Colleen Ballatore.
She said she uses Sonya Dakar because she saw Maddie Ziegler use it on social media, and she ended up really liking it.
______________________
Follow Currents Magazine on Twitter: @PeppCurrents and Instagram: @currentsmagazine
Contact Anežka Lišková via Instagram @anezka.liskova or email: anezka.liskova@pepperdine.edu