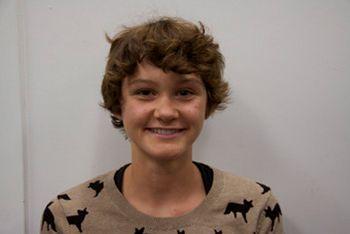 Assistant Professor of Decision Science Robert Shearer was traveling with his son when he discovered Pepperdine. Will, Shearer's only child, was being recruited to run for the university, and Shearer and his wife Luisa were wandering the campus, not wanting to "hover."
It was then that Shearer chanced across Jere Yates Professor of Organizational Behavior and Management within the Business Administration Division. Shearer and Yates talked, and Shearer was invited to teach over the summer given his extensive history in engineering, statistical analysis and operations research through the U.S. military.
Shearer, a lieutenant colonel, was in his 22nd year in the military and facing retirement. When offered the position at Pepperdine, Shearer was interviewing with FedEx, Disney and Wells Fargo.
Shearer accepted the summer position and stayed in the Drescher apartments with his wife and son. At the end of the summer, he thanked Yates and prepared to move to Memphis, a week away from accepting the position at FedEx. Then a professor within Business Administration unexpectedly quit.
"I think I was a panic hire," Shearer said. "If you'd asked me years ago if I'd become a teacher at Pepperdine, I'd have said it was more likely that I'd be an astronaut."
Perhaps the probability was small, but Shearer accepted the position and began teaching full-time at Pepperdine for the fall semester of 2012.
Shearer entered the field of higher level education at the United States Military Academy at West Point, where he studied engineering management. His father and grandfather had both served in the military and Shearer said that entering the service seemed like the natural option.
After graduation, Shearer spent a year in Georgia to receive his initial training, where he met his wife.
"My aunt was head of a dance department down in Georgia," Shearer said. "I contacted my aunt and told her… 'I want to meet some of your dancers.' She gave me a list of about ten names, and the first one was my wife's."
Shearer's aunt also gave him a photo of Luisa, who was not a dancer but the daughter of his aunt's friend. Two years later, after Shearer and his wife were married and Shearer had been deployed to Sinai, he wore the photo in his helmet.
After six years and two months of serving as an infantry officer in the U.S. army, Shearer returned to Georgia to receive his Masters of Science in industrial engineering. Three years after that, he earned a doctorate in operations research from George Washington University.
"I never thought I'd go back to grad school," Shearer said. "It's more like I stumbled into my majors. The army offered for me to go to school for free, so I said okay."
It wasn't until three years after earning his doctorate that Shearer was deployed to Baghdad.
"I was a lieutenant colonel. I'd spent 18 years in the army. I'd thought that was going to be it — that peace keeping mission in Egypt — and then 9/11 happened." Shearer said. "I was deployed at the beginning and end of my career."
Shearer's six month tour in Iraq was a time of worry and uncertainty for Shearer's wife and son, but when Shearer returned home, the army offered him the opportunity to move west: a list detailing places and positions throughout the U.S.
"My wife went through by location and said 'I want to go to Monterrey,'" said Shearer. "I don't think she even looked at what the position was."
Shearer spent the next four years as the Assistant Professor of Operations Research at a Naval Postgraduate School in Monterrey, where he and his son learned to surf and were first introduced to the prospect of Pepperdine. Will chose to attend UC Santa Barbara after that summer, but through a series of perfectly aligned probabilities, Seaver accepted a new professor.
Now Shearer uses what he learned throughout his 22 years as a U.S. army man to make statistics and faith interesting and applicable to undergraduate students.
He has an emphasis on taking his students outside of the classroom and providing them with innovative opportunities to collect data.
"I have three Nerf guns and a small class of about twenty students," said Shearer. "In one exercise, we run tests to see what percentage of the Nerf darts hit the target, though they usually end up shooting each other."
Shearer also partners with Habitat for Humanity, located in Ventura. He sees work with the non-profit organization as a rewarding way to tie research, student involvement and Pepperdine's mission of service together at once.
"Non-profits are interesting from a business standpoint: the workers tend to have big hearts and be horrible at business. They make the worst decisions with the best intentions," Shearer said. "[This partnership] gives me an opportunity to unleash [my students] on Habitat, and they quickly see things they can fix."
Shearer also leads house groups with his wife on Monday nights from 6-8 p.m., and takes students out on Wednesday mornings to surf at Zuma as part of an outdoor club Convo.
"You need to look out for people and you need to push them, and you'll find that they rise to the occasion," Shearer said. "There. That's 22 years of distilled military wisdom."
_____________________________________________________________________________
Follow Alex Free on Twitter: @alex_pepperdine
As published in the Nov. 7 issue of the Pepperdine Graphic.