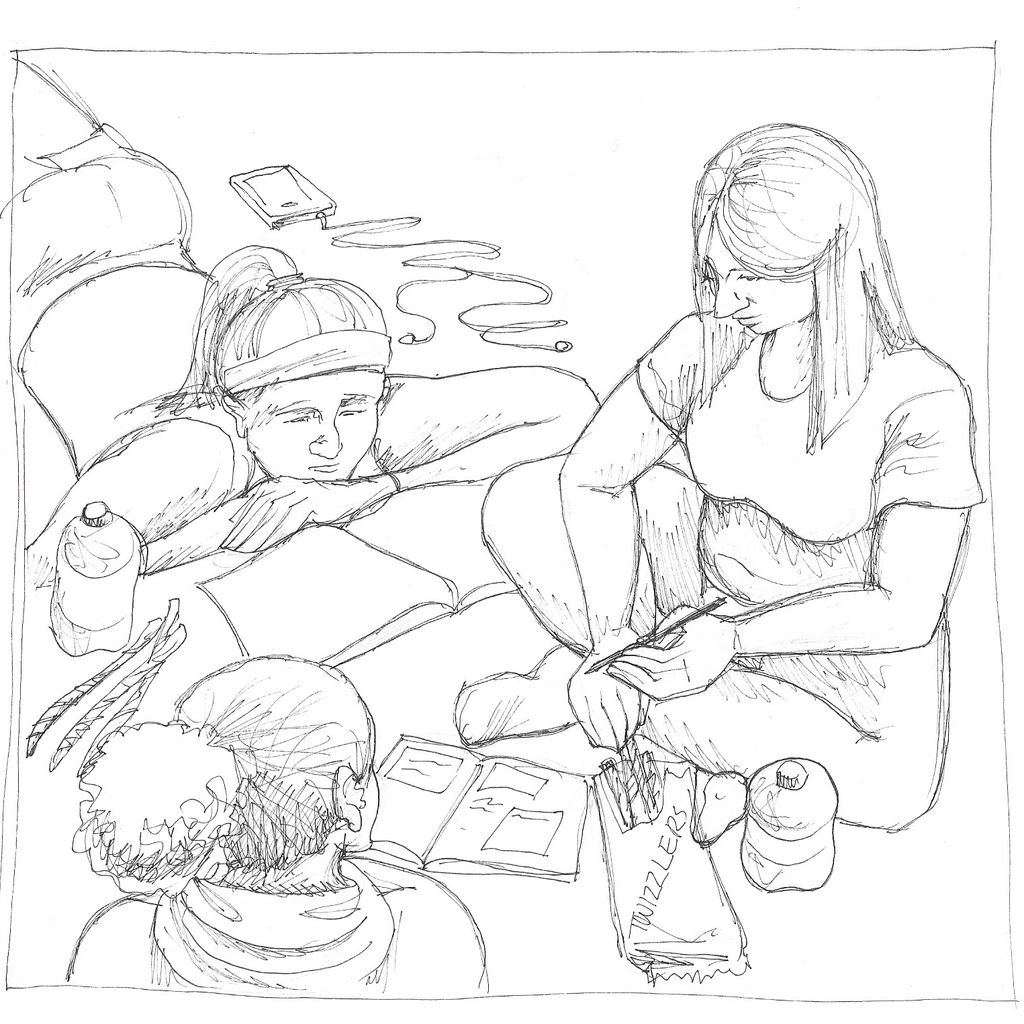 Art by Jenny Rustdad
People say college is the best time of a person's life. "You'll never get those four years back!" Every time people tell me about their (unsolicited) bucket lists, I can't help but visualize some type of "Saw VI" device that entraps their heads inside a bucket and doesn't let go until everything is crossed off.
At the end of my college-girl years, family members, friends and cashiers at the supermarket ask me what I would do differently if I could do it all over again.
If I've learned anything from the incantations of #YOLO and #FIDLAR, it's that young people are supposed to live without regrets. But that sounds stupid.
Regrets are good for you. They mean you learned, changed, reflected and realized what works and what doesn't.
So if I had to do college over, I would have complained less and done more.
I would have spent more time studying in the library, suffering with friends during finals, rather than alone in my room.
I would have resisted the urge to pick up my phone or open a new tab every time I couldn't finish a sentence.
I would never have pretended like we didn't meet before, even though we did, and I totally remembered your name, major and outside concentration. I would have surrendered my sunglasses and earphones while on the shuttle or walking to class to make myself more approachable.
I would have asked the guys who played croquet outside my window on the soccer field to join in on their game. I would have explored vintage shops in Topanga, boutiques in Malibu and woken up early for those Sunday flea markets, instead of online shopping for the best deals in my Poli-Sci class.
I would have cooked more in our kitchen and eaten at the table with my roommates. I would have indulged in midnight heart-to-hearts with friends in the dorms, fueled by Dasani and Twizzlers.
I would have spent more late nights alone, watching a movie or writing, instead of going out.
I would have stopped using my house in LA as a place to get ready. I would have sat down with my mom to update her on my life instead of talking to her through a wall. I would have been more patient listening to her.
I would have not gone home every weekend.
I would have taken lame pictures on the Malibu Pier, even though I'd still make fun of those people who do it. I would have taken fewer selfies and more pictures of my friends.
I would have gone to more games in Firestone.
I would have drunk less at that one party. I would have joined the Hammock Club — or any club for that matter.
I would have spent more time at the beach instead of enjoying it from my window.
I would have hiked the four or five mountains that accompany Pepperdine. Instead of second-guessing my decision not to study abroad or rush a sorority. I'd never have felt guilty about wanting to accomplish the goals I set on campus.
I would have just started the paper or article instead of spending two hours researching it, two extra hours researching nothing and two hours doing God-knows whatever else.
I would have read fewer listicles on "20 things every 20-something has to do before graduating college" and made more lists of my own.
But I'll still never regret not going to Convo.
__________
Follow Mariella on Twitter: @MariellaRudi