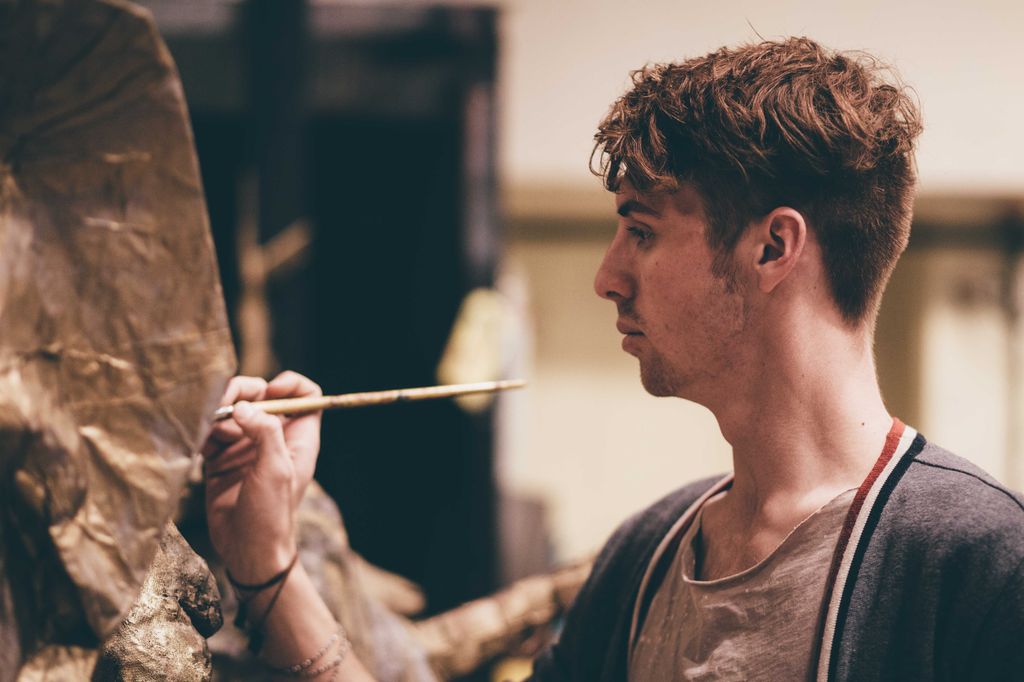 Photos by Zach Le
The United States Institute for Theatre Technology annually awards the W. Oren Parker Undergraduate Scene Design Award to one student in the nation who displays promising work as a young scenic designer. Senior Paul Dufresne is the 2016 recipient of this national award.
"You're being recognized on a national level for your design work by people who are the leading people in the industry, and so with that comes a sense of recognition," Dufresne said.
Dufresne is a Production Design major with a concentration in Scenic Design, and he has worked to develop his portfolio since his first year at Pepperdine. He received this award after Assistant Professor of Theatre Ben Pilat, who is a USITT member, nominated Dufresne. Dufresne also submitted a portfolio showcasing three designs on which he worked: photographs of his work on "Hamlet" (spring 2014), "These Shining Lives" (spring 2015) and "Almost, Maine" (fall 2015).
Dufresne said USITT notified him that he won the award in late January, but he will accept the award at the ceremony in Salt Lake City on March 17. He said the award comes with great honor in the theater design industry and a monetary prize.
Pilat said Dufresne is passionate about his work, which is why he received the national award.
"I'm thrilled, and Paul is an incredibly deserving student to win it," Pilat said. "I think it raises Paul's professional profile, and attending the conference will help him build connections that he may not otherwise have had access to."
Pilat has been a member of USITT for about 10 years. He said he knows about these awards due to the fact that he won similar awards as an undergraduate student. He said he helped Dufresne make choices as he assembled his portfolio, but that Dufresne mostly did it on his own.
"He is very independent, and he has an excellent sense of how he wants to communicate himself through his portfolio," Pilat said.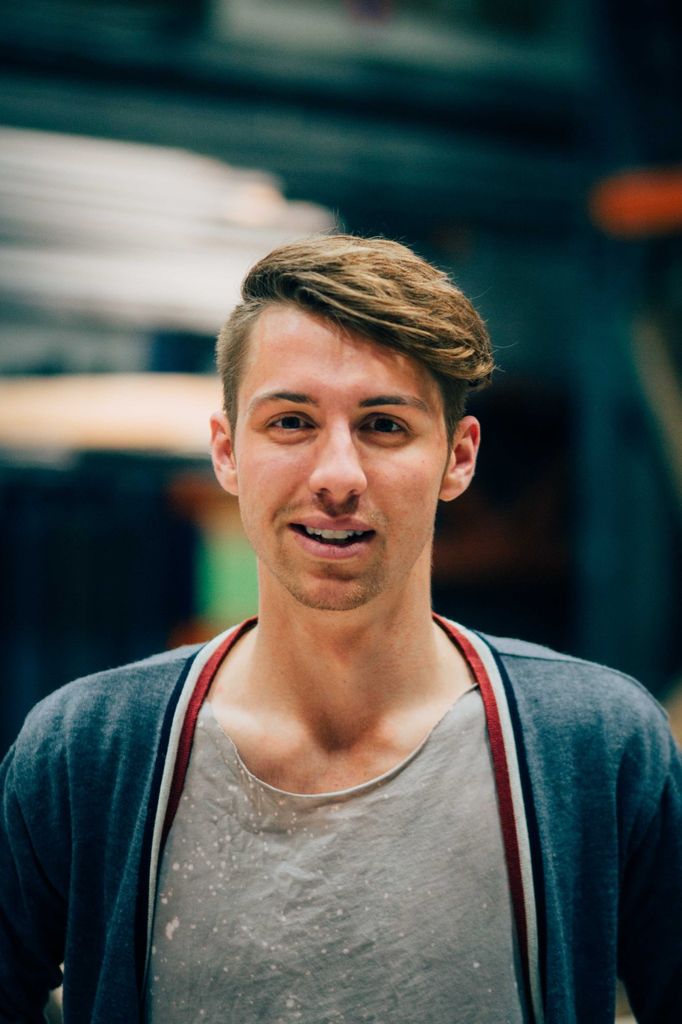 Dufresne said he is passionate about scenic design, and he said he would like to enroll in a graduate program to further his studies. Pilat said he fully supports Dufresne's decision to pursue a graduate degree. Other professors also recognized the talent and potential Dufresne has as a scenic designer.
"You could sort of tell what students have that spark [and] that are very passionate about what they plan on studying here," said Rick Aglietti, Pepperdine theater scenic design/technical direction professor.
Aglietti said the first time he noticed Dufresne's dedication was when Dufresne volunteered to help a designer paint overnight on one of the first shows he worked on, even though no one asked him to help. Aglietti also said he remembers when Dufresne was the prop master for the Pepperdine Theatre production of "Les Miserables," and he created a huge wedding cake for it during summer break before school began.
"From that point on, I just knew that he was gung ho about design and scenery and props," Aglietti said. "He's always just been working nonstop, not only for productions he's designing or working on, but all the other productions as well."
Aglietti said he has suggested projects for Dufresne that would benefit his portfolio throughout his time here. Dufresne said he considers Aglietti his mentor.
"I'm very proud of him," Aglietti said. "He definitely deserves it. If I would ever have the chance or opportunity or privilege, I would love working with him again [after he graduates]."
Dufresne said he is inspired by the world around him. He said he likes the ability to create a scene that might alter the way audiences think about an otherwise typical setting they may encounter.
"I went into scenic design because I see the world in terms of what stories are being told," Dufresne said. "They might be really small stories; the story of why that tree is there or the bush is here … The world gives you all those visual stories you need, and if you want to create a different world, you can. You can take bits and pieces that you don't see in this world and put them on stage, and then it's part of the world, and everyone believes it."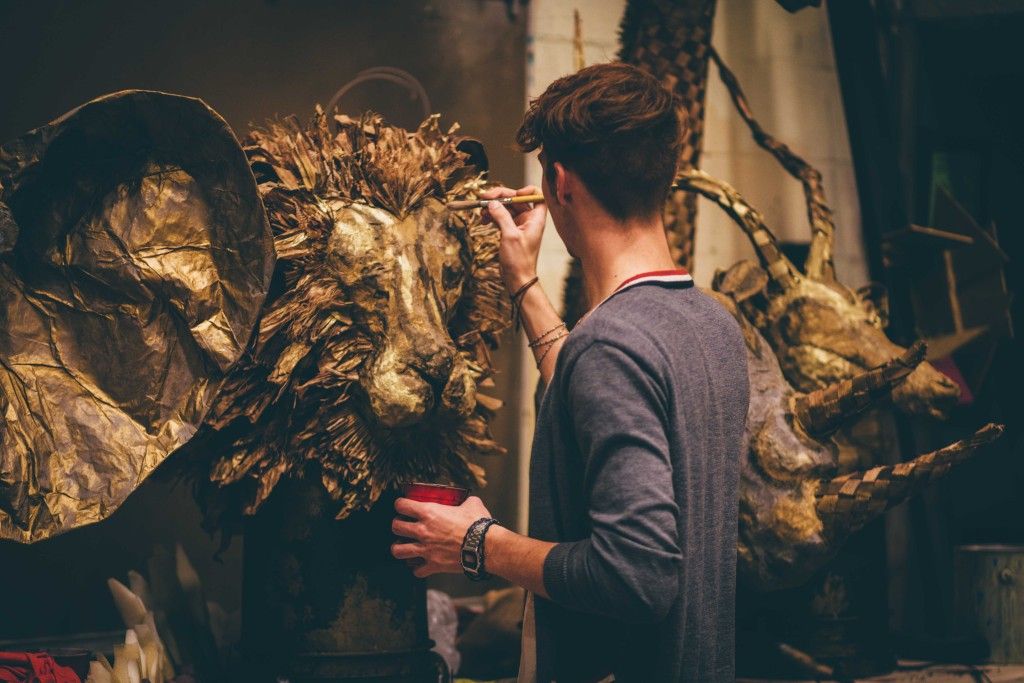 Dufresne said he started to get the idea of working in scenic design during high school through the art department, when he realized there was a potential career path to follow in scenic design.
"I didn't really realize that there was so much that goes into every show artistically and technically and visually," Dufresne said.
Dufresne said he can ultimately see himself designing for the theater, specifically for operas.
"There's a scale that's involved in opera that is much larger than life sometimes in a different way than theater," he said. "I think [for] opera, it's almost expected, for the world to be big, to be stylized, to be grandiose, and the operatic music is something that I really appreciate as well in that form of storytelling. It's something that has a depth, and it has a foundation in history and innovation."
Dufresne's thesis project is designing the set for "The Magic Flute" (Die Zauberflöte). He said he started developing ideas for the design this summer and has been working on designing the set throughout the year.
"Just being able to work on this show has sort of inspired me to want to pursue opera in a way that I didn't think that I wanted to before," Dufresne said.
Dufresne said he is excited to receive the award, and that he values his experience at Pepperdine highly.
"I'm very appreciative for the Pepperdine Theatre program and the mentorship that I've had," he said. "I would not be accepting an award had I not had the opportunities that I've been given here at Pepperdine."
______________
Follow Paola Ramos on Twitter: @PaolasPassport