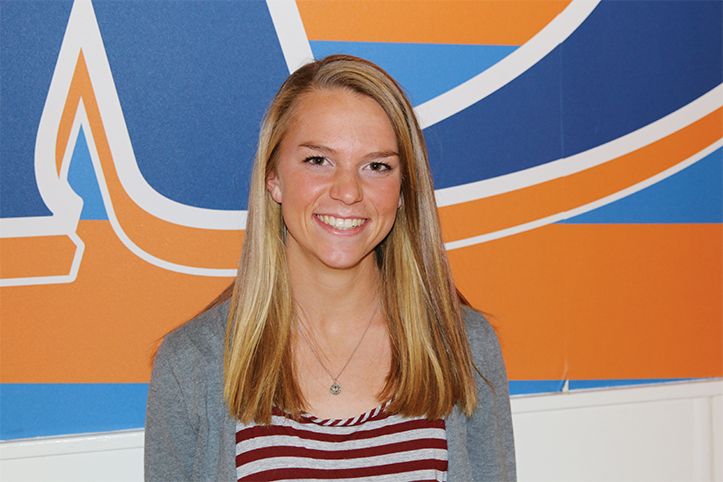 Photo by Danielle Romeo
Being an NCAA Division I athlete is definitely not easy. They've got to keep up their grades and still handle 5 a.m. practices. Now imagine how awesome it must feel to be arguably the perfect role model for almost any athlete in college, on not only an academic level, but a competitive one as well.
That is more or less the story of senior Katie Engel, an East Coast runner from Rochester, New York, who competes on both the Waves' track and cross-country teams.
Engel ran at all seven of the Waves' competitions this season and has maintained her title as a Pepperdine Scholar-Athlete — an honor she also held during the 2012-13, 2013-14 and 2014-15 seasons, courtesy of an impressive 3.67 GPA.
As she enjoyed her morning bowl of yogurt and berries, the English Writing and Rhetoric major explained that track was not always her primary sport.
"I was actually more into swimming until I switched to cross country," Engel said. "I actually planned on pursuing swimming really hard, but then once I started cross country it was kind of like a no-brainer, and I turned out to be better at it and enjoyed it more."
Looking at the numbers, running indeed seemed like the perfect fit. She won the 5,000 meters at the Cunningham Track Classic in March and finished third in the Pomona-Pitzer Invitational in April, two results that earned her a spot in Pepperdine's top five athletes to have competed in both events.
But as impressive as this mark may seem, Engel said it was not the highlight of her college career.
"Just in terms of results, it was great to finish 61st in the West Regional this year," Engel said. "It was a very competitive race, so I was really happy with that, and it was also awesome because we beat a bunch of WCC schools."
Engel finished 28th in the West Coast Conference in October out of a total of almost 90 runners, her best result yet in the competition.
But as strong of a role as running plays in her life, it will have to be placed aside — at least for a while — after she graduates in May.
If everything goes according to plan, Engel will be studying Public Policy at the Rochester Institute of Technology (RIT) for graduate school next year.
When asked if going pro was ever a possibility, Engel laughed and said: "I don't know if that's in the cards for me."
A high GPA and an outstanding resume as a Division I athlete seem like the perfect recipe for admission into RIT, but this East Coast runner is not afraid of going even further.
Engel dreams of qualifying for the U.S. Olympic team by meeting what is known as the "B Standard," which consists of running a half marathon in 1 hour 15 minutes or a marathon in 2 hours 43 minutes.
"As far as running goes, I'd love to do trail racing and ultramarathons and keep moving up that distance to see how well I could do," Engel said.
As graduation approaches, Engel's final commitment as a Pepperdine athlete nears: track season in the spring, and after that, Public Policy in Rochester without losing her love for the lifelong sport of running.
The men's and women's track season begins in February.
__________

Follow Anthony Wells on Twitter: @anthonyawells