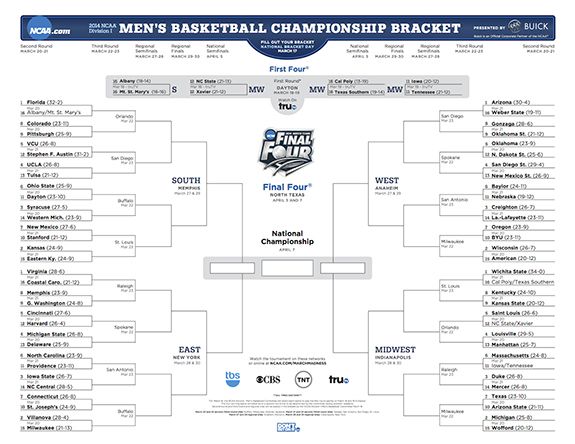 Photo Courtesy of www.ncaa.com
Oh, March Madness. The time of year when every single eyeball of every single sports fan across the country falls upon three glorious weeks in March. This tournament not only tests the skill of these basketball teams, but their mental and physical toughness.
It will push players to the brink of exhaustion while their emotion levels seesaw from euphoria to dejection. Buckle up, sit back, relax and enjoy.
THE NO. 1 SEEDS
Wichita State Shockers (34-0)
Although Wichita State achieved a perfect 34-0 record in the regular season, their reward (or lack thereof) is a loaded Midwest Region, where the top-seeded Shockers will be joined by fellow Final Four participants Michigan and Louisville from a year ago.
The grouping is not much of a prize for Wichita State, the first school to reach the NCAA tournament with a perfect record since UNLV in 1991.
Assuming that all higher seeds advance after each round, the Shockers will be playing Kentucky (highest all-time winning percentage in the history of college basketball), Louisville (2013 NCAA National Champions), and Michigan (reached 2013 National Championship) to win the Midwest region.
Some, though, are skeptical of how they will fair while having a weak strength of schedule.
Florida Gators (32-2)
It should come as no surprise that Billy Donovan's Florida Gators are the top seed in the South Region, as they challenged themselves in non-conference play and went undefeated in 21 games (18-0 regular season) against conference opponents. Their efforts landed the Gators the top overall seed in the 2014 NCAA tournament, and they'll begin their quest for a third national title in school history.
In the SEC tournament, the Gators held all but three opponents to fewer than 70 points and rank in the top five of defensive efficiency. Their balanced, veteran roster is reminiscent of another Gators team — the 2007 champions.
Arizona Wildcats (30-4)
A loss in the Pac-12 title game didn't hurt Arizona when it came to seeding the NCAA tournament. Despite their loss to UCLA on Saturday night in Las Vegas, the Wildcats (30-4) are still No. 1 in the West Region and will open against No. 16 Weber State on Thursday in San Diego.
Arizona got the top spot based on its regular season, one that started with a school-record 21 straight wins and included the Pac-12 regular-season title despite losing forward Brandon Ashley for the season with an injured foot on Feb. 1.
The rest of the West bracket is filled with strong teams, too, including No. 2 seed Wisconsin, No. 3 Creighton with player-of-the-year front-runner Doug McDermott, San Diego State, Oregon and Baylor.
Virginia Cavaliers (28-6)
In a move that surprised many when the bracket was announced, Virginia, not Michigan, ended up getting the No. 1 seed in the East Region.
Although the Cavaliers enter the tournament as the only No. 1 seed to win fewer than 30 games, they certainly deserve the respect of all who face them. This team won the ACC by three games and just won the ACC tournament. It deserves to be there. It's the weakest of the No. 1s, but it's still worthy company alongside Florida, Wichita State and Arizona.
The Cavaliers are downright intimidating on defense. Their 55.3 points per game allowed are the fewest among all Division I teams, and their 38.5 field-goal percentage defense ranks ninth in the nation.
THE CINDERELLA TEAMS
Kentucky Wildcats (24-10)
In other years, Kentucky would be one of the tournament's top seeds. A record of 24-10, including a 12-6 record in conference, leaves the Wildcats with the No. 8 seed in the Midwest region.
Kentucky's fresh and young squad enters the tournament with a one-point loss to Florida in the SEC championship game. While the loss is heartbreaking, the team of of nine freshman proved to be formidable opponents against the No. 1 team in the country.
While inexperience can pose a problem for Kentucky, the Wildcats seem unconventionally poised in pressure situations, which will certainly help them should they be alive in the later rounds.
Oklahoma State Cowboys (21-12)
The Cowboys hit rock bottom somewhere along the lines of the team's seven-game losing streak and Marcus Smart shoving a fan in the crowd. Coming off a debilitating loss to Iowa State in triple overtime, Smart shoved a man sitting court-side late in a loss to Texas Tech. Smart was visibly frustrated, likely a culmination of the season slipping away. Oklahoma State's star was then suspended for the next three contests, all losses.
Upon his return, Oklahoma State has looked rejuvenated and much more like the team in title discussions early on. This team is full of athletic, fiery players and they have embraced the underdog role much more than they ever appeared to settle into the title contender role.
Harvard Crimson (26-4)
Hear me out.
The name Harvard doesn't sound intimidating at all when it comes to student athletics. But don't be fooled, the Crimson can definitely play. In 2011, Harvard has made its basketball presence known in March by receiving a bid to the NIT, but in 2012, they made the NCAA tournament for the first time since 1946 and made the Big Dance again last year. Last year, Harvard won their first NCAA tournament game as a No. 14 seed, upsetting No. 3-seeded New Mexico. No one saw that coming. This year, they're a No. 12 seed.
Point guard Brandyn Curry and power forward Kyle Casey, seniors who left school prior to last season, have returned to add even more experience and talent. The battle-tested duo, who played in the 2012 tourney, losing to Vanderbilt, join versatile swingman Wesley Saunders and explosive point guard Siyani Chambers in a lineup with offensive weapons to spare.
PLAYERS TO WATCH
Andrew Wiggins – Kansas Jayhawks
No one can question Wiggins' effort in recent weeks. He averaged 20 points in his final six regular-season games. That included a 41-point performance in a loss to West Virginia, when Wiggins clearly looked like the best player in the nation.
With center Joel Embiid out, that type of aggressive mentality from Wiggins will be vital if Kansas hopes to make a deep run in the NCAA tournament. Anything less, and the Jayhawks may not advance past the first weekend.
Jabari Parker – Duke Blue Devils
Parker averages 19.2 points and 8.8 rebounds—both team highs—while shooting a respectable 48.4 percent from the field and 36.4 percent from three-point range.
Parker seems to play his best when the lights are the brightest. He had 27 points against Kansas in a loss at the Champions Classic, 23 points in a win over UCLA at Madison Square Garden and a season-high 30 points in the regular-season finale.
Parker is projected as a top-three pick in this summer's NBA draft. He told reporters two weeks ago that he hadn't made up his mind about returning to school, but at this point it's difficult to imagine him doing anything other than turning pro.
Marcus Smart – Oklahoma State Cowboys
When he's not shoving fans, kicking over chairs or making up quotes from opposing coaches, Smart is one of the top players in all of college basketball. And he's been performing that way since returning from a three-game suspension in late February. Smart ranks at or near the top of the Oklahoma State charts in all four categories. Smart brings out the best in his teammates, which makes the Cowboys a legitimate Final Four threat, even as a No. 9 seed.
Doug McDermott – Creighton Bluejays
McDermott ranks fifth on NCAA's all-time scoring list with 3,105 career points and appears to be a sure-fire first-round pick in this summer's NBA draft. The only thing McDermott hasn't done is lead the Bluejays to the second weekend of the NCAA tournament.
Creighton's chances of accomplishing that feat this season are strong if McDermott continues to score at the pace he has all season. The 6'8" forward averages a Division I-leading 26.9 points per game and has surpassed the 20-point plateau on 29 occasions.
_____________________________________________________________________________
Follow The Graphic on Twitter: @PeppGraphic