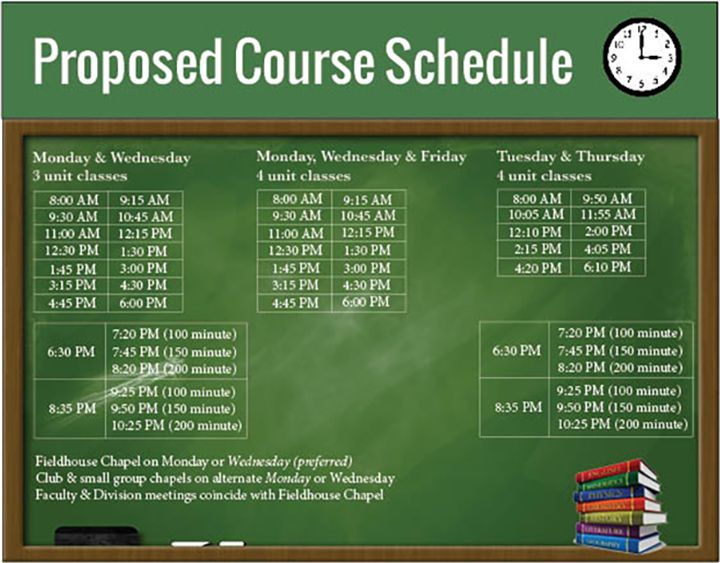 A potential new class schedule has just been released to the faculty this month. The Pepperdine administration is working alongside division leaders and professors to propose a new class schedule. The idea of the new schedule is to rearrange the time for each class to match classes to their ideal classrooms, according to Karen Martin, the Frank R. Seaver chair of Natural Science and the president of the Seaver Faculty Association.
The new schedule plan will divide classes based on units, with three-unit classes being taught Mondays and Wednesdays and four-unit classes running on a Tuesday/Thursday schedule, though four-unit classes could also be assigned to Monday/Wednesday/Friday slots. Three-unit classes will also be shortened to an hour and fifteen minutes. Labs and other classes with extended sessions will usually be assigned to Fridays, according to the schedule.
Students may struggle with maintaining their extracurriculars, according to Don Shores, professor of communication. Susan Salas, associate professor of media production and director of broadcasting notes the schedule will change how professors plot out their days. However, both Martin and Craig Detweiler, professor of communication, said the schedule will maximize the efficient usage of classroom space. The schedule will also end the tradition of mostly class-free Wednesdays.
One of the reasons for the schedule change was to organize the classes around Pepperdine's classrooms more efficiently, according to Martin.
"One of the reasons there's going to be a change is because there's a need to get better use of classroom space," Martin said.
The idea for the schedule change came from the administration, Martin said. The administration's main concern was to maximize the efficiency of Pepperdine's limited classroom space while ensuring that students are able to get to all of their classes on time without any trouble.
"Right now a lot of students get really full [schedules] on Thursdays," Martin said. "I think [the change] will help to even it out a bit."
Students will have to think more carefully when choosing their classes, according to Detweiler.
"Currently, students may not think too much about three versus four-unit classes," Detweiler said.
Depending how students organize their schedules in the future, they could end up with arrangements that conflict with their extracurriculars, Shores said. Students with internships in particular may run into problems, according to Shores.
"It's getting more and more competitive to get internships in LA," Shores said. "And as a part of that, internship sites are requiring students to be there more days, more hours."
Students like junior Amoni Henderson, who said he plans to become a high school teacher, could face challenges under this new schedule. One of his assignments is to observe high school and elementary school classes, which he cannot do if he has to attend his regular classes, according to Henderson. He had to rearrange his schedule to accommodate those class observation hours, he said.
The arrangement of classes based on units could prove problematic, fifth-year senior Sam Kim said.
However, Shores also said students could end up with three class-free days if they arrange their schedules in a certain way.
"If you could arrange the classes that are offered in such a way that you have a Tuesday-Thursday schedule "you might have more time for internships," Shores said.
The planned schedule will also add five more minutes to the minimum break period between classes.
Senior Madison Lea said students would probably appreciate the change in schedule, though she personally does not have an issue with the existing schedule.
Students often have problems making it to their classes, either having to walk long distances or deal with parking issues, junior Levi Osburn said.
"Everybody has problems making it to their classes," Osburn said. "Extending time to 15 minutes would be nice."
Kim said he also had problems with the initial break period, having to travel from the Center for Communication and Business down to main campus in 10 minutes.
However, Detweiler and Martin both said the potential schedule will benefit professors looking for classrooms. The current schedule arrangement makes finding time for labs and other classes with extended hours very difficult, according to Detweiler.
"I like how the schedule is maximizing out limited time and space," Detweiler said.
The proposed schedule would be a benefit for professors who are assigned ill-fitting classrooms, Martin said. As a professor, the schedule change would allow her to lecture in a better setting. She is lecturing in a lab, which she feels is not an ideal environment, according to Martin.
"It's noisy, there's a lot of equipment and you can't rearrange the furniture too well," Martin said.
However, other faculty like Shores and Salas said the schedule change will also change faculty dynamics. The changes in class times would change how the faculty lay out their schedules, Salas said. Consequently, these adjustments will cause problems for division meetings.
Her advising time with her students would also be affected by the schedule change, Salas said.
"I value that one-on-one time in my office to get to know them better and talk about other things," Salas said.
The proposed schedule could change the overall culture of the campus, Shores said. Faculty are used to most classes being two hours long, and they base their course schedules around this, according to Shores.
"In some classes, this will mean restructuring and rethinking the kinds of discussions and whether certain discussions take place," Shores said.
Besides the class times changing, the day usually reserved for weekly Convocation will no longer be mostly class-free. Currently, Wednesdays are the least heavily-scheduled weekday, which helps to ensure that many students make it to the weekly chapel, Martin said. The planned schedule will shift the Convocation time from 10 a.m. to 12:30 p.m., removing most of the interference with class schedules.
Students do not seem to mind.
Junior Blake Somsen said he would be okay with having the Convo day change.
Sophomore Amber Broderick said Convocation happens on the day before her usual exams, which takes away study time.
"The day which Convo is held does not matter as long as there is an understanding that there cannot be classes interfering," Henderson said. "My main goal would be having a Convo that is easily accessible."
The planned revisions are intended to increase the efficiency of classrooms and give students some breathing room, but there is no perfect schedule, Martin said.
"I think everything we have to try to do is compromise between perfection and what really works," Martin said.
The faculty will have a chance to judge the schedule in the following month, according to Martin. The schedule will be accepting faculty input until April 28, 2016. If approved, the schedule will be applied by fall 2017.
__________
Follow the Graphic on Twitter: @peppgraphic