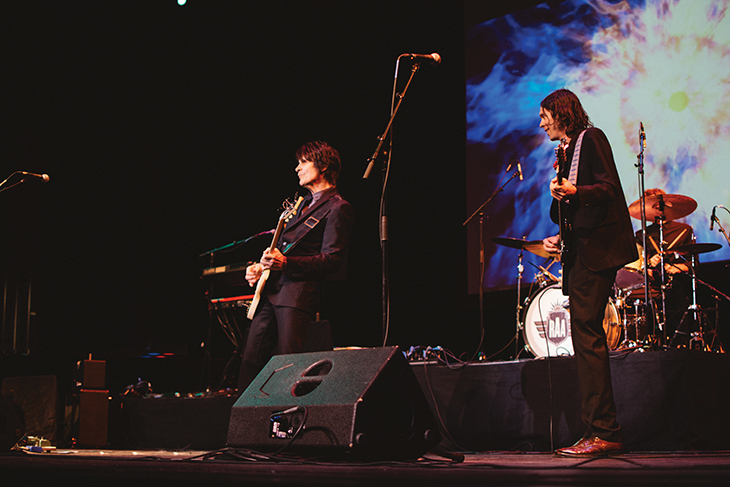 Photos by Brett Bean
Guitarist and singer-songwriter Rusty Anderson, with his band Rusty Anderson Afternoon, attracted an enthusiastic audience to their concert at Smothers Theatre on Saturday night, Jan.14.
Anderson is widely renowned for his work as Sir Paul McCartney's lead guitarist, but has collaborated with a variety of other musical legends such as Elton John, Santana and Stevie Nicks. In 2003 Anderson released his first solo album, "Undressing Underwater," and in 2016 released his fourth and newest album, "RAA," while playing on tour with McCartney.
"It's an interesting thing going on the road and playing in the studio with Paul for all these years, and then when we're off I get a chance to do my own stuff," Anderson said in an interview before the performance. "It's a nice balance, and it's really important for me — since I've been writing songs and creating my whole life — to be able to put out that music."
The band opened with a song off "Undressing Underwater" called "Ol' Sparky," showcasing the first of many guitar solos and a raw depth of sound that appeared effortless with the apparent good time the musicians were having with each other on stage. Rusty Anderson Afternoon is made up of Todd O'Keefe, Matt McKenna, Eric Gardner and Paul Trudeau, who each bring his own magnetizing authenticity to the band's rhythm.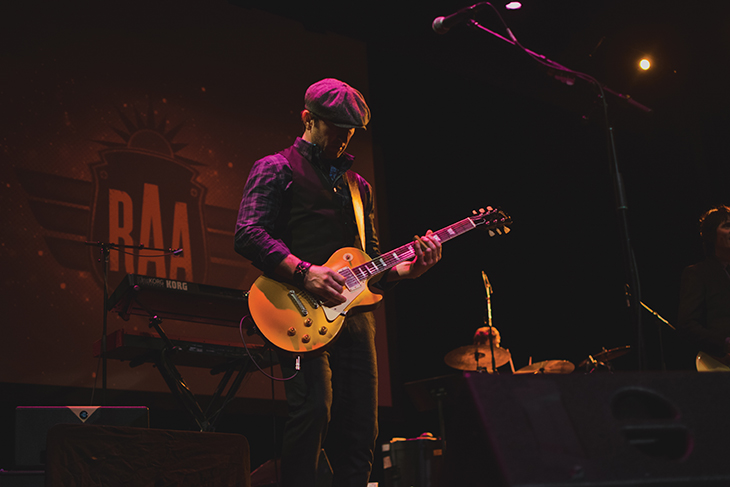 "I'm a pretty eclectic, schizophrenic sort of guy musically. I don't like the niche marketing thing. I think it works well for a lot of acts, but that's just not my thing," Anderson said. "Overall I prefer real instruments, you know, when you can feel the music interacting with itself — more organic sounding things."
This 'organic' ideal manifested itself in simple backdrop graphics that allowed the music to take center stage, off-the-cuff banter with the audience, impromptu changes to the set list, and a guitar switch after nearly every song. The crowd thrived off the laid-back vibe and concert-goers frequently shouted out questions or comments to Anderson during his transitions.
The band played the chart-topper "Effortless," and carried the night with a mix of music from new and old albums including "Little One," dedicated to Anderson's five-year-old daughter Lola watching from the audience.
Beginning with the pawn shop guitar his father brought home for him one day, Anderson has been in music since he was his daughter's age.
"When I was five years old my sister was listening to records, the Beatles, and right about the same time my older brother passed away. And it was sort of like real life is not really very good, but music and that world was amazing and I really sort of went into music mode," Anderson said.
"We just played Desert Trip and that sort of verified the value of the music back in the 60's and early 70's," Anderson said on the power of the music he worked on years ago with McCartney. "And that that music wasn't just some fluky side note experience. It was amazing music that still speaks to people who hear it."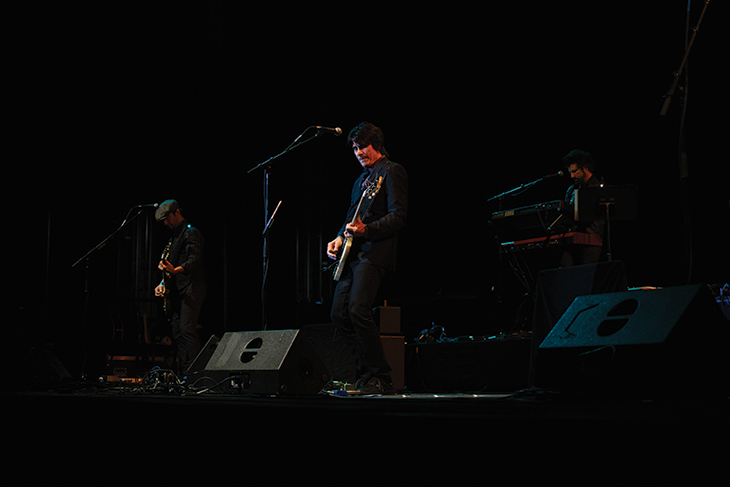 And for Anderson, it's all about the connection.
"It's just great to play music," Anderson said, "I feel very privileged and thankful that I get to do that cause it's such a great way for people to connect — listening or playing together."
Anderson brought out former bandmates and old friends periodically throughout the show to perform songs with the band, varying from David Bowie's iconic space-age anthem "Moonage Daydream," to Johnny Cash's cowboy classic "The Highwayman."
Called back on stage for an encore with a standing ovation, Rusty Anderson Afternoon closed out the night with a cover of Jimi Hendrix's "Spanish Castle Magic" that brought audience members to their feet and dancing to the edge of the stage.
"There's something about the tones of music that when they are harmonious they have a lot of potency — they mean a lot," Anderson said. "Music's amazing because you can't touch it or see it or smell it."
For new listeners wanting to see what Rusty Anderson Afternoon is all about, Anderson suggests checking out "Effortless," "Coming Down to Earth," "Devil's Spaceship," "Hurt Myself," "Wishful Thinking Road" and "Where Would We Go." More information about the band and upcoming shows can be found on the Rusty Anderson website.
____________
Follow Hannah Arledge on Twitter: @hannah_arledge