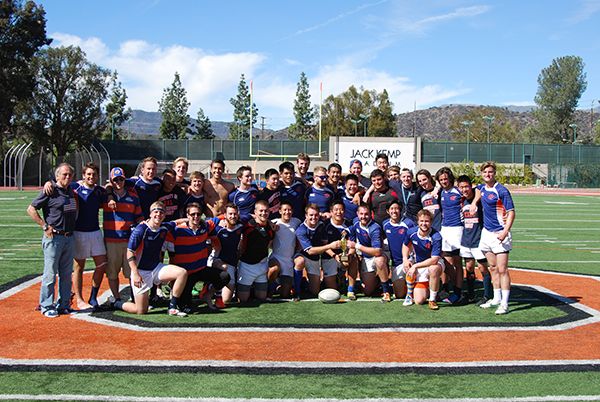 Photo Courtesy of Pepperdine Rugby
The Pepperdine Rugby team ended their flawless record over the weekend, losing to Santa Rosa Jr. College in their second match of the Pacific Coast Cup. The team now sits with a respectable 9-1 record, and although they did not win the PCC, their season ranking will allow them to continue into the National Championship of the National Small College Rugby Organization.
The Waves faced Gonzaga on Saturday in the first match of the PCC, defeating the Bulldogs 32-20 and securing a spot in the Sweet 16 of the NSCRO Championship Tournament. They moved on to face Santa Rosa the next day in a match that would determine the PCC winner as well as what seed the Waves would enter the NSCRO tournament with. The Waves lost to Santa Rosa 17-12, and are set to begin NSCRO play against University of Denver on April 5. If they win against Denver, they will continue on into the elite eight, played at Occidental College on April 6, with a chance to potentially face Santa Rosa again.
"We were dominating in the first 20 to 30 minutes [against Santa Rosa in the PCC], we played a really good game even though we lost. It was really an unfortunate game. It wasn't that they deserved to win or we deserved to win, it could have gone either way," senior co-captain Takuto Suzuki said.
Suzuki and fellow co-captain senior Jon Daniels attribute the team's success this season to a combination of effort and commitment.
"We've had a lot of guys really step up this season," Daniels said. "The last couple years have really been a rebuilding year. We lost a lot of guys and we have been trying to rebuild and get experience. We got a lot of good guys who came out for the first time, a lot of rookies who stepped up and have been pretty impressive."
Suzuki also noted the increased dedication of the team's players. "This year, players have been showing commitment, making sacrifices and showing up and getting things done on the field, learning and making a commitment to the team," Suzuki said. "We have been much better as a team, much better working as a unit rather than individually."
A big part of their success, according to Daniels and Suzuki, is the added commitment from Head Coach Robert Ahola and Assistant Coach Velios Kodomichalos.
"[Ahola] is a huge inspirator … he loves the sport and loves us. For a lot of us, he is a huge role model," Daniels said. "He has been so successful in life and has done so much with rugby."
Suzuki commended the sacrifice the coaches have made to assist the team. "They both are pretty much volunteering, they don't get paid … they want to give back to rugby and give back to us," Suzuki said.
In preparation for the upcoming NSCRO play, Suzuki and Daniels feel the team needs to tighten up and avoid making mistakes.
"It's all basics. Rugby is a game of mistakes … we need to get the basic stuff done right and not lose points to mistakes. What we [also] need to work on now is fitness. We are a lot smaller in terms of size. We definitely will work on fitness and skills," Suzuki said.
Daniels hopes that Pepperdine fans will come out and support the team should they make it to an elite eight appearance at Occidental College.
"Come support us. Occidental is 35-45 minutes away from here. It's always good to have a good fan base," Daniels said.
_____________________________________________________________________________
Follow Chirag Patel on Twitter: @cbpatel86