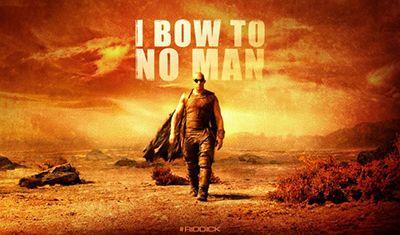 Photo Courtesy of LAZYGEEKS.COM
"Riddick," the David Twohy film is the third installment of the movie franchise,  beginning with "The Chronicles of Riddick." Set on a desert-like planet, the film starts out with Riddick attempting to find a means of survival after being betrayed and left for dead by the people he once ruled.
The first 5 to 10 minutes go by slowly as Riddick, portrayed by Vin Diesel, looks for shelter. After this slow beginning, the movie delves into a short backstory that explains how he ended up in such a desolate world. His explanation for being betrayed is that "[he] became civilized."
Riddick begins to discover the various alien species that reside on the nameless planet. Most of these aliens are bizarrely dangerous and extraordinarily poisonous. His knowledge and skills of survival are put to the test as he must discern the mannerisms of these strange creatures and determine their weaknesses.
Riddick must begin a journey of struggling for his life in a foreign and unknown land while he is greatly injured. He realizes quickly that there is danger rapidly approaching and knows he cannot stay on this new planet for long.
He goes in search of a way off of the strange planet, and discovers a mercenary outpost in which he finds an emergency button that allows him to be found by bounty hunters in the area.
Riddick wants to survive while keeping his newfound humanity with him, although this task proves to be much more difficult when he realizes all of the bounty hunters share the goal of wanting to kill him. However, he spares more lives than one would expect, based on his track record.
Stronger and smarter than the men who are trying to hunt him down, he constantly comes up with clever ways of leaving the mercenaries dumbfounded. Although this makes for some entertaining scenes, it leaves the storyline repetitive for a while.
Despite everyone and everything being against him, Riddick manages to be in control more often than not. However, he is unrealistically portrayed as an invincible man throughout most of the film, managing to survive even the most brutal attacks. He definitely has the feline-like, nine lives characteristic going for him, as he intelligently finds a way to mend each wound and injury he gets throughout the duration of the movie.
For moviegoers in search of a couple of hours of being entertained by men battling each other and fighting off eccentric aliens with abnormal abilities, this movie is not a bad choice. There is a huge emphasis on the graphic details of slaughter when portraying the slaying of people and aliens on several occasions. For those who are into the action of a film with swords, guns and a great amount of bloodshed, Riddick will leave you satisfied.
However, for anyone hoping to watch a film with deep value and meaning, I suggest not wasting your time on this one. This film is definitely not for anyone who is easily repulsed by blood or gore.
Overall, this graphic film is more focused on death and gore than on the actual storyline. It may leave one wondering what the purpose of the plot even was.
Rating: 1.5/5 stars
_____________________________________________________________________________
Follow the Graphic on Twitter: @PeppGraphic
As published in the Sept. 12 issue of the Pepperdine Graphic.