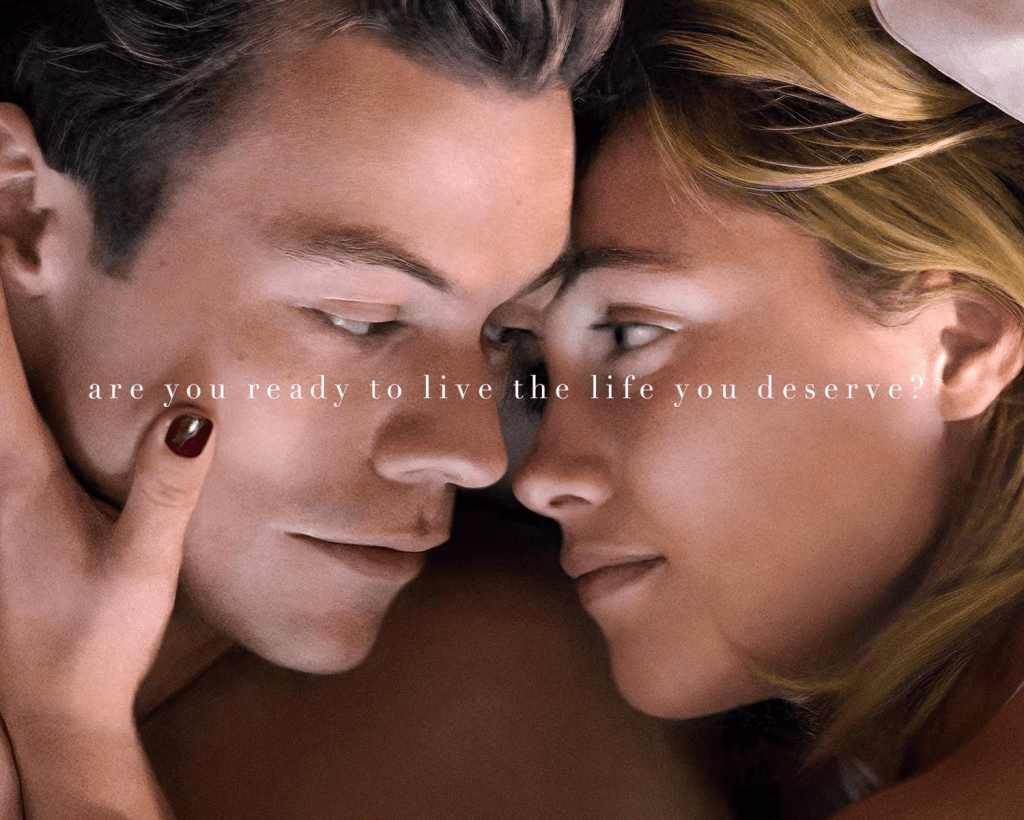 Harry Styles and Florence Pugh share a moment of love in the official "Don't Worry Darling" movie poster. Olivia Wilde directed "Don't Worry Darling," and the film released Sept. 23. Photo courtesy of Warner Bros
Olivia Wilde's "Don't Worry Darling" shows Hollywood's over- glamorization of the 1950s — the all-American dream with an underlying nightmare.
First playing in theaters Sept. 23, the psychological thriller focuses on conforming to society, gender norms and the nuclear family — while using the star-studded cast, electrifying score and a hectic third act to distract the viewer from a few inconsistencies in the plot. The themes are unapologetic and at times distressing, but they work on a narrative level.
"Darling, I'm with you all the time / Can't you see I long to be with you all the time?"
These lines from the soundtrack repeat throughout the film and perfectly capture the essence of a troubled household with a secret.
The film focuses on Harry Styles and Florence Pugh — who play Jack and Alice Chambers. They live in an old-fashioned desert-style home in what seems to be paradise, filmed in Palm Springs, Calif.
Chris Pine plays Frank, who leads a neighborhood community, the "Victory Project." When a few of the women, including Alice, start to question what the men are actually doing at work, eerie circumstances began to occur.
Uniformity is a highlight of the film represented through the same breakfast every day. This includes montages of coffee poured, eggs cooking and bacon sizzling. Alice continues to question her reality as she and the audience visibly see "cracks" in their society.
Through dream sequences and intimate moments between characters, the audience starts to see Alice's mental health unravel before learning the jaw-dropping twist.
Following her last directorial project, 2019 comedy "Booksmart," Wilde does an impressive job taking the viewer on the ride with Alice while sympathizing with her along the way.
In terms of acting, Pugh is a force to be reckoned with and proves she can carry the intensity of a film as the lead. Pugh has staggering range and, such as in "Midsommar," plays a character who is being manipulated.
In only his second film, Styles holds up against experienced actors and has some emotionally-intense scenes. The odd, quirky and at times awkward way he plays his character makes sense to the viewer when the shocking end is revealed. He had impressive chemistry with Pugh and did his job conveying emotion through his character.
The supporting cast is criminally under-appreciated. Those such as Gemma Chan, who plays a stone-cold wife to somewhat cult leader Frank, do not get much screen time. Even so, Chan carefully constructs her beautiful and empowering arc revealed toward the end.
The movie doesn't fully begin until we meet the vilified leader Frank, who is layered and dangerous.
Wilde also plays an on-screen role as Bunny, neighbor to Jack and Alice. As an unexpected hero, Wilde's quality acting helps bring forward a character with arguably the saddest ending.
This film is one to experience in the theater because of the intense atmosphere it aesthetically creates — along with the film's drama-filled background.
Some of the stories included bad blood between Wilde and Pugh and a leaked video of Wilde trying to get Shia LaBeouf back on the film after he reportedly quit his role as Jack Chambers, according to NPR. Wilde also started dating Styles soon after the film had a prominent social media presence.
Off-screen stories also included the hostile incidents with the cast during press — including Pugh refusing to attend any promotion or panels at events such as the Venice Film Festival.
Overall, this film is by no means perfect — but it is not meant to be.
The film shows a woman escaping patriarchal control, and one cannot help but root for the protagonist as she longs to escape control and oppression.
The viewer will leave with questions they can easily discuss with friends or one of the many fans invested in this film's phenomena. One can understand some loose ends somewhat logically after the satisfying twist — such as the eggs with no inside yolk or walls closing in on Pugh physically displaying her claustrophobia.
This film will leave the viewer entertained, at the edge of their seat, overall satisfied and oddly uplifted.
"Don't Worry Darling" is in theaters worldwide now.
____________________
Follow the Graphic on Twitter: @PeppGraphic
Email Beth Gonzales: beth.gonzales@pepperdine.edu