Alana Haim and Cooper Hoffman own the screen in the new film "Licorice Pizza," director Paul Thomas Anderson's love letter to the San Fernando Valley in the '70s. The film featured every member of the band Haim, Sean Penn and Bradley Cooper. Photo courtesy of Focus Features
"Licorice Pizza" pays homage to a slice-of-life for San Fernando Valley native and director Paul Thomas Anderson. Set in the Valley during the 1970s, the film follows 15-year-old Gary Valentine and his puppy love for 25-year-old Alana Kane.
While the film contains heart and hope, it is a spastic whirlwind of unrealistic dreams that at times is noticeably uncomfortable. Viewers are taken on a journey through love, self-searching and California fantasy — and left with laughter and curiosity for the main characters' ambiguous future. Many scenes throughout the film felt purposely choppy, almost to relay the message of awkward first love.
The film stars Alana Haim, from GRAMMY Award-winning trio, Haim, in her acting debut. She accompanies Phillip Seymour Hoffman's son, Cooper Hoffman, as young adults galavanting through the Valley circa 1973. The characters deal with the oil embargo, a city election, the legalization of pinball machines and much more — all as Anderson accurately captures his childhood era through rose-colored glasses.
"It's a common thing sometimes to look back at a period film and approach it through how we think about things in 2021; I think this is a mistake," Anderson said. "The characters don't have a crystal ball and they don't know what the future holds for them; they are only in their world. To be honest and truthful to the characters, you'll never go wrong if you do that."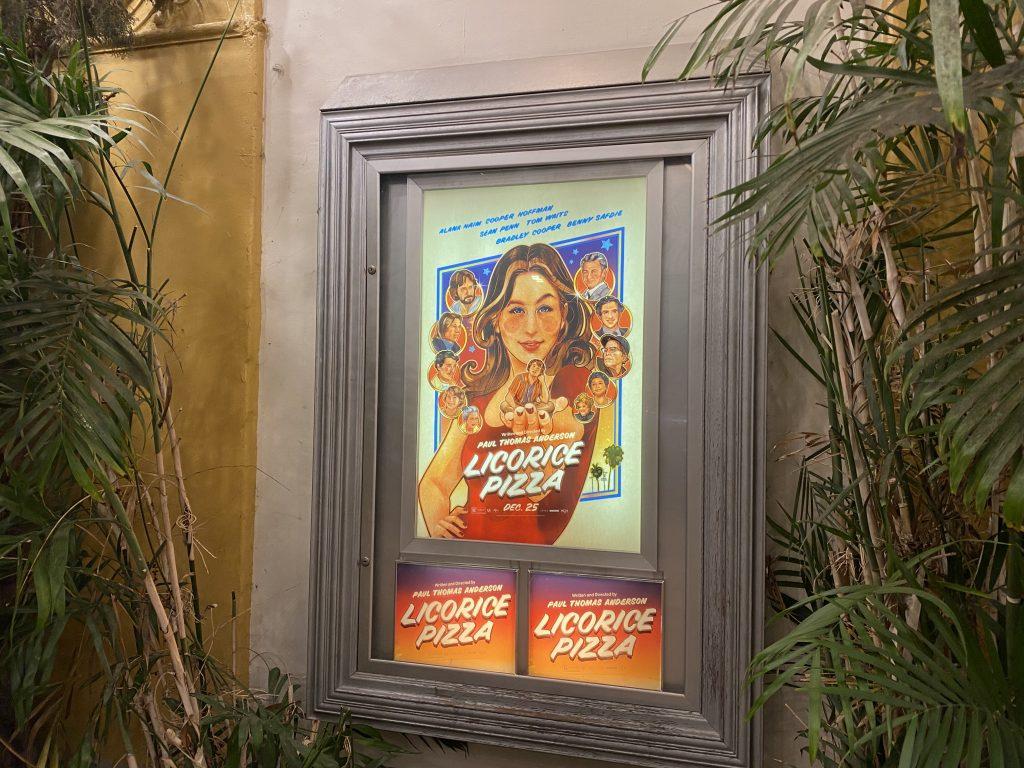 On-screen, the entire Haim family joins in: sisters Danielle and Este as well as their parents. Anderson has directed some of their music videos such as "Summer Girl" and the short film "Valentine." Haim is from the Valley as well and her home is shown in the film.
"If I look like a good director it's because the actors are doing a good job," Anderson said. "No matter how many takes I give somebody, if they're not there for it, they aren't there for it. Alana [Kane] was inspired by the real-life Alana. She has a ferocious loyalty for the people she loves. Alana is less searching for answers as the character she plays."
Throughout the story, the viewer witnesses the emotionally mature sides of Valentine, and the insecure Kane who can't figure out why she enjoys hanging out with young Valentine and his friends.
In between their romantic relationship — and at times, friendship — turmoil, comedic cameos from Bradley Cooper, Maya Rudolph — Anderson's life partner — and Sean Penn arise.
The cameos do not add much to the story, but they add the allure of old Hollywood references. For example, cheeky rich Cooper threatens to ruin their lives as Valentine and Kane deliver a waterbed from their business, "Soggy Bottoms" to his home in the hills.
The comedy in the film comes from out of the blue, but in fact popular comedy duo "Abbott and Costello" coined the term "Licorice Pizza" to describe vinyl records, thus paying homage to iconic comedic history and the impeccable soundtrack this film has to offer. It includes tracks such as David Bowie's "Life on Mars," "Let Me Roll It" by Paul McCartney and Wings and "Peace Frog" by The Doors.
"The Doors was a very popular band with my oldest brother and his friends, so whenever that comes on it flashes me back to being quite young and being in the car with them and them playing The Doors, really loud, to the point where it was kind of scary," Anderson said.
Overall, this film emphasizes female empowerment with an esteemed lead performer, messages of hope and joy in the little things and the ability to make mistakes while growing up and falling in love. Through kissing strangers, endless entrepreneurial ventures and dancing in lavender bikinis, "Licorice Pizza" captures what it means for someone to steal your heart in a matter of minutes.
"It reminds me of what you would see in the old screwball comedies, this sort of insurmountable thing between two characters that keeps them apart," Anderson said. "Once you know that is the playing field, you can have fun with it — seeing Gary continue to try in all of his teenage perversions thinking he might have a chance, and her just shutting it down. This creates endless comedic and dramatic opportunities."
While the ending is romantic, it is obvious to the audience that a relationship between the leads is impossible. The timing is not right, and their ability to dodge the truth carrys an anxious drive behind the film.
Anderson said an adult and a child is a line that can never be crossed. Though he imagines a life for the characters after the movies he watches, he doesn't create a life for his characters past the final frame. But, Anderson said he hopes they remain friends.
"If I imagine a future for them there is no way they are not together in some way as friends," Anderson said. "I imagine watching Alana dropping her possessiveness of him and help him navigate a genuine romantic relationship with someone."
Anderson said he never starts writing a film with an idea beyond what is entertaining and truthful. With this film, he desired to produce something optimistic.
"There is never an overabundance of messaging; you feel something truthful that gets you into a headspace where you can relate to your own life," Anderson said. "There is a center to this story about how we connect to people, how we find people we never saw coming — or how they find us."
"Licorice Pizza" comes out in select theaters on Nov. 26 and everywhere Christmas Day.
____________________
Follow the Graphic on Twitter: @PeppGraphic
Email Beth Gonzales: beth.gonzales@pepperdine.edu