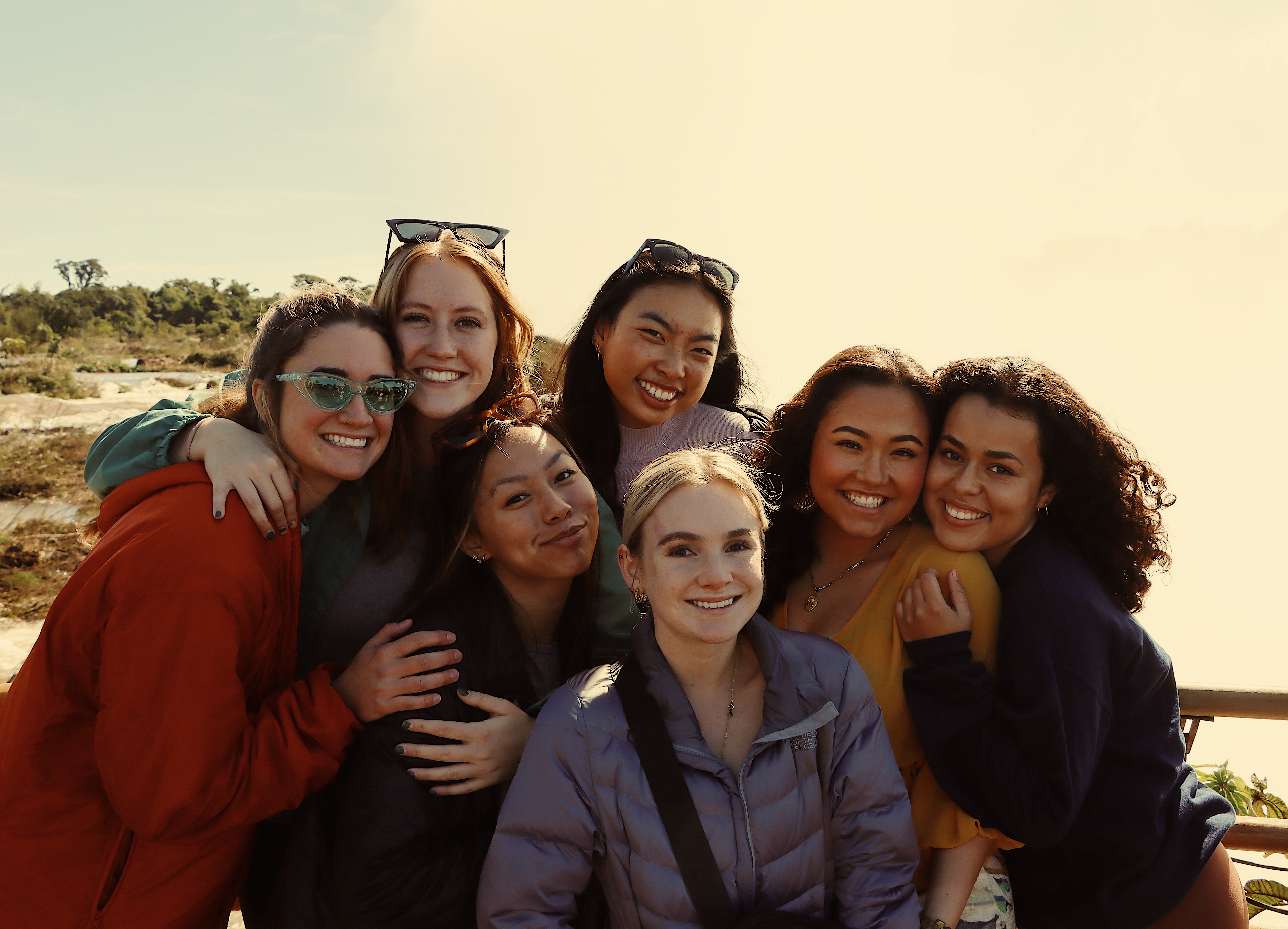 Assistant Photo Editor Sammie Wuensche (far left) poses in front of the Iguazu Falls with fellow Buenos Aires Upper Division students Lauren Hinson, Stephanie Chan, Anna Mulder, Brooke Bain, Paulina Gandara and Isabella Mendoza. The students visited the falls during their Educational Field Trip. Photos by Sammie Wuensche
The beautiful cadences of the Spanish language surround me as I make my way to my daily 8 a.m. class. Although my commute is only seven short blocks, every turn greets me with fresh faces and interactions.
A young mom struggles to keep her little boy and his much-too-big backpack moving as he pauses to wave at every passerby. 10 dogs of different breeds drag a 20-something-year-old as she starts her morning work as a dog walker. Sweet smells of coffee and mate reach my nose, and I think to myself, "This is Buenos Aires."
A quieter street in the Palermo district of Buenos Aires on a June morning. Palermo was our favorite part of the city to visit due to its young vibe and artsy aesthetics.
My time in Argentina was fast-paced, to say the least. After my full-year program was canceled due to COVID-19 in my sophomore year, I was determined to pack nine months' worth of adventures into two. Between going to class, exploring the city and spending time with my homestay madre, I was either in a different part of the country or traveling there.
The first stop on my once-in-a-lifetime journey led me outside of the country to nearby Uruguay. I traveled by boat for the first time in my life, and we spent the weekend in the quaint and historic town of Colonia del Sacramento. We explored the city, tried the Uruguayan delicacies, watched breathtaking sunsets and desperately attempted to find a taxi large enough to accommodate our group of ten.
A beautiful view of Uruguay's famous sunsets from downtown Colonia de Sacramento. We found this perfect viewing point while walking by a beachside park.
Colonia de Sacramento's primary lighthouse as seen from the ferry boat back to Buenos Aires. We climbed to the top of the lighthouse while in town and encountered an incredible panorama of the city.
Next were the desert towns of Salta, Purmamarca, Tilcara and every BA-goer's favorite picture spot, Las Salinas Grandes — the Salt Flats. We spent these days driving through arid landscapes, singing karaoke at 2 a.m., in our hostel, passing around my inhaler to survive hiking in high altitudes and stopping on the side of the road to greet the wild llamas.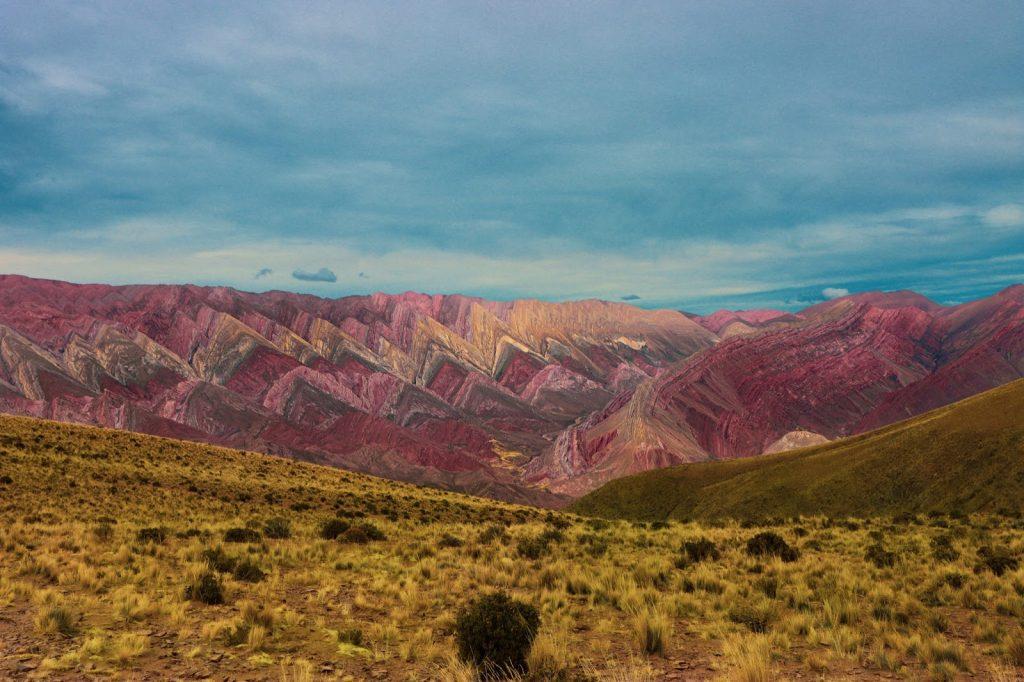 The Fourteen Colored Mountain in Humahuaca, Argentina. Known by locals as Hornacal, the mountain's seemingly infinite amounts of differing colors left us in awe.
A baby llama poses for the camera outside of Tilcara, Argentina. Thankfully, he did not choose to spit on us.
As members of the Upper Division Spanish Program, the 11 other students and I swore to speak exclusively in Spanish for the duration of the program, so we usually just traveled among ourselves. Our Educational Field Trip, however, was with the GE Program as well. Our group of around 50 students made the trip up to the Iguazu Falls, and it was truly an unforgettable experience.
Flying through the piercingly cold falls felt like entering the gates of heaven as rainbows and circling birds abounded. The panoramic view of the falls will forever be engraved in my memory, and I look forward to the day when I return with my family so they can also experience it.
An overhead capture of the breathtaking Argentine side of the Iguazu Falls. Our guides told us that, on average, 39,000 gallons of water pour down the falls every second.
An unbelievable view of the falls after our guides led our boat straight through the deluge. After that boat ride, I can confidently say that the pot of gold at the end of the rainbow is found in the Iguazu Falls.
The last and most special trip for me was down south to the world-famous Patagonia mountains. As someone who owns 70% of the brand Patagonia's catalog, this journey felt like a personal right of passage.
We visited the city of El Calafate, which is home to the unbelievable Perito Moreno Glacier and Chaltén, home to Mount Fitz Roy. Because I love rocks and the history of climbing, hiking in the Patagonias was a spiritual experience.
Although some of us faced near-death experiences and others scraped our knees, moments like those made this final trip the most memorable of them all.
The natural patterns of the Perito Moreno Glacier in El Calafate. The Glacier is three miles wide, and the ice went as far back as our eyes could see.
Senior Liam Collins breathes in the frigid air at the base of Cerro Torre in Patagonia. If we had not yet adjusted to the winter season of the Southern Hemisphere, we definitely did on this hike.
The sight of Cerro Torre and Mount Fitz Roy was one of the most spiritual experiences of my life. I have truly never seen mountains more beautiful.
Despite being delayed two years, my trip to Argentina was well worth the wait. I came into the trip with a couple of semi-close friends, a handful of acquaintances and a plethora of strangers, but I left with relationships that I believe will carry on forever. The highest of highs and lowest of lows made these short two months some of the best of my 21 years on this planet, and a part of my heart will now always reside among this incredible country's cities, deserts, waterfalls,and mountains.
Argentina, te amaré por siempre.
Members of the Upper Division Program Stephanie Chan, Claire Burton, Paulina Gandara, Isabella Mendoza, Carter Lentz, CJ Davenport, Nick Barron and myself in Las Salinas Grandes. The pyramid formation fell shortly after.
___________________
Follow the Graphic on Twitter: @PeppGraphic
Contact Sammie Wuensche via Instagram (@groovy.pancake) or email: samantha.wuensche@pepperdine.edu