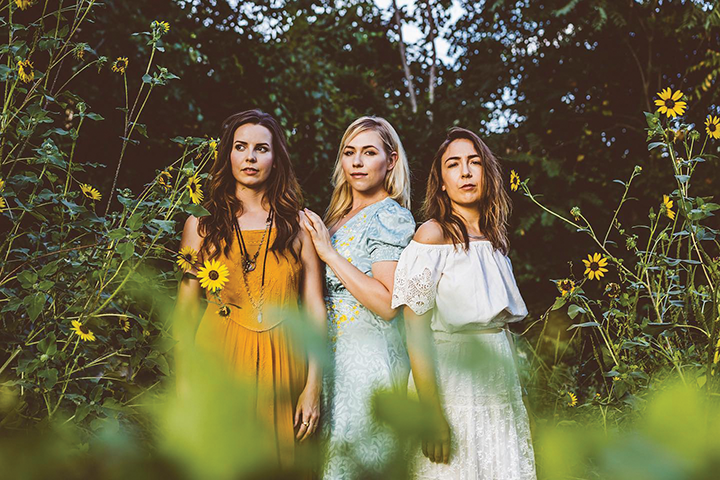 Photo courtesy of JEMS
Alternative folk band JEMS opened the Pepperdine Waves Weekend annual concert Oct. 12 with "Take Me Back," one of their most popular songs on Spotify.
The band's three members include Emily Colombier, Sarah Margaret Huff and Seaver alumna Jessica Rotter (Class of 2010). Both Colombier and Rotter grew up in Los Angeles, and Huff is originally from Nashville but moved to LA, where she met Colombier and Rotter. Together, the three discovered that their individualistic voices blended into a beautiful, unique sound, which led them to create music and ultimately form JEMS.
JEMS released its self-titled debut album May 17, and it has collaborated with well-known artists such as Alicia Keys, Macklemore and Sam Smith, according to its website. Colombier and Rotter's mashup "Stay/Animal" has over 1 million streams on Spotify, and JEMS has created music for film and TV as well.
In an effort to get to know this all-female trio better, the Graphic sat down with JEMS to discuss its formation and journey as a group and its future plans.
How did JEMS get started?
Sarah Margaret: Jessica and Emily have known one another their whole lives. Their moms played in orchestras together. I actually met Jessica through another Pepperdine alumni. When we were picking a name, we went through a lot, but it's JEMS; it's kind of an acronym, so it's around our initials, Jessica, Emily and [switched for] Sarah Margaret.
Jessica: We used to sing back-up for each other, and we toured around together and then got booked in a music festival and decided to become a real band.
What inspires and fuels your music?
Jessica: I think that we realize that it's very important to have a strong female voice that stands for truth in a time when I feel like a lot of things are getting muddled and kind of convoluted. I think we all really believe in our own inner strength and how that encourages the people around us to be truly who they are and be strong. There is strength in vulnerability, and there's strength in truth, so I think, in a way, our music is fueled by the need to express and how toxic it is to hold all of your feelings inside. Personally, I think I have felt like being a songwriter has been essential for my friends and family to share other things with me, and I know that artists historically have been the people who grant others permission to accept themselves and feel their feelings, and we feel that charge, so we get together, and we just feel and write and have fun.
Emily: I think it's cool that we're finally in a time where it's OK to not be OK and to talk about that with others. For me, personally, I've gone through some really traumatic life events, and [JEMS will] come together, and I'll be writing about that specific thing, but we'll all connect to it in a different way. It's all meaningful. I think that's what's so cool about sharing your music. People come up to you and say, 'I so connected with that because of what I went through', and it's totally different, but they went to that place. It's really cool to be able to connect with people like that.
What is your biggest achievement?
Jessica: It's been cool getting playlisted by Spotify. I think that has been such a big encourager.
Sarah Margaret: We also played at the Troubadour. I mean, it's a legendary place. We had such a dream of a night. That show was a dream.
Emily: It was magical.
Jessica: We've been able to showcase for some big studios and have some people who are in the film/music world consider us for writing opportunities. We wrote a theme song and opening and closing titles [credits] for a film.
Emily: Recording at the Village … a historic recording studio, was amazing. It's those things that pop up along the way that keep you going and keep you excited and encouraged because it can be hard to be a young band, so all of those [achievements] are like guiding lights to the next place.
Jessica: We pretty much sold out our album release in May, and that's kind of led to all these other opportunities. Bigger venues ask us to play, and then we were asked to open for other people and then people are [connecting us to more] opportunities because they see us gaining traction organically, which has been wonderful.
Jessica, what have you noticed has changed at Pepperdine since you've been here as a student?
Jessica: I'm glad to know that the gay rights club or the gay student union is allowed. From what I've seen, people are more inclusive than they [might have been] at one point when I was here. I think that in the world, there's just been more of a conversation of inclusion, so I think people are more conscientious about that, and I think people are less fearful to accept others. That was my number one concern when I was going here was that I felt like there wasn't quite enough inclusion.
Do you have any plans for the near future, as a band?
Emily: We're writing our second album right now, so [we're] kinda in the middle of [doing] that.
Jessica: Yeah, we're in the middle of writing, and we are gearing up to record that and hopefully acquire a team to help us push ourselves to the next level.
If you could go back in time and talk to yourselves during your college years, like early 20s, what would you tell yourself or what advice would you give yourself?
Sarah Margaret: You don't have to have it all figured out. Try everything and be bold and see what works, and if it doesn't, that's OK, keep moving in a direction.
Jessica: I think everyone feels so lost the day they graduate, unless they know where they're going for grad school or they have a job lined up. But everyone I know who is in the arts gets terrified, and I thankfully just started saying yes to everything that sounded fun and that led me in a little bit of a roundabout path. But I would [still] tell myself to say yes to everything and be positive about what could happen because your life will show itself to you. Instead of you feeling like you have to scrape and grind and figure out what's going to happen, you just kinda have to accept what's coming. I feel like that's a lot less stressful than trying to plan because no one can plan their [whole] life.
Emily: I feel like the roundabout is kind of what life is. We think that we're going in one direction and then looking back [at] all of these things [when] I thought, 'Why am I doing this or this is not what I should be doing' is what led me to what I really care about now. It's always what you don't think life is gonna give you.
To keep up with JEMS, follow the band on social media: @weare_jems on Instagram and @weareJEMS on Twitter. Additionally, check out its website to learn more about the trio and some of their upcoming events.
_________
Email Gianni Cocchella: gianni.cocchella@pepperdine.edu and Emily Shaw: emily.c.shaw@pepperdine.edu