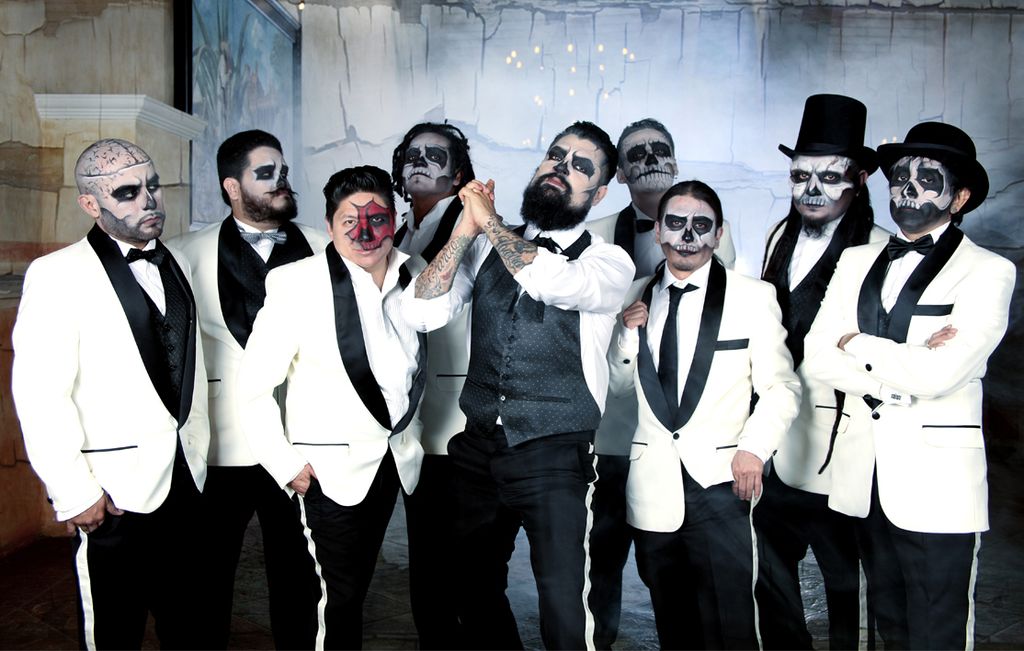 With seven albums and two decades of band history to share, Panteon Rococo is on its month-long "XX Anniversary Tour." The tour spans across Germany, California, Texas, North Carolina, Alabama, D.C., New York, Illinois and Colorado. Panteon Rococo, which translates to "Rococo Cemetery," has gained international recognition with its politically-amped lyrics and upbeat instrumentals, having played over 600 shows in Europe. Vocalist Dr. Shenka shared his journey with the band.
Q: How's the tour going?
It's going well. We really enjoy being in the States. We are celebrating right now 20 years playing together, so we are very happy to share these special times with the people.
Q: Has the band changed much throughout the 20 years, or has it pretty much stayed the same group?
We are a big family. At the beginning we started very, very young. Throughout the years, we have had many opportunities to play around the world, especially in Germany, where we have been playing for 15 years. How have we changed as a band? In the beginning, it was high school. Now we have a lot of experience touring and doing our own work and records.
Q: How do you go about writing your music? Is it a collective thing, or does one person usually pioneer it?
Someone comes up with an idea, and we start working together on [his or her] song and lyrics. We don't do it formal[ly]; we just enjoy the music and enjoy playing together. That's one of the things that I love about my band — that after 20 years, we're still hungry to be on stage. We really enjoy it. We have fun.
Q: Are there certain topics you typically focus on in your music? What is the message that you want to send to your listeners, if there is one?
In our songs, we are talking about a lot of things that are happening in Mexico, since the beginning of Panteon in the early '90s until now. Things are really blowing up right now with the violence, with the mass uprisings, with all this war between the government and the radicals. In our songs, for 20 years, we have been talking about these situations. And it's really crazy when we're touring in other countries, and people say, 'Hey, you are singing, "Nacional de la Fuerza." You are talking about Argentina?' And I say, 'No, I am talking about Mexico.' We see in these kind of songs [that] people can really identify with the lyrics. In Los Angeles, for example, a lot of people come here with the hope of getting better lives, and in Germany, with all the immigration happening there, they can identify with Panteon.
Q: How do your concerts differ in Mexico compared to California and Germany? How is the crowd different?
Normally, here in the States, it's a little more passionate and intense than in Mexico. In Mexico, the people hear Panteon all the time. In the States, it's blended with a little bit of nostalgia. It's a way to come together because everybody's working, and Panteon is an excuse to get together and have some fun. And at the same time, we can celebrate being Latino Americans. I love that the concerts are really intense, and the performance is really hot, you know?
Q: Even in Europe as well?
Music is magic. If I learned something about music, it's that music can break borders. When we are playing in Germany, Denmark or — I don't know — the Czech Republic, you can see that because there are a lot of people that just speak German. But the music does the work to find that communication with crowd.
Q: What's next on the horizon for you guys?
After the tour, we want a big concert. On July 4, we were playing a big concert in Mexico City [at the Arena Ciudad de Mexico]. We'd like to do something similar in the States at a big arena, like the Staples Center. It was a very special concert, and the recording is going to be on sale in November. A lot of people are expecting that, and a lot of people want to experience Panteon's concerts. When Panteon Rococo was born, we were very young. We were in high school. We never thought that after 20 years, we'd be playing together and traveling around the world.
Visit Panteon Rococo's website to keep up with the ska-punk rockers, and follow them on Facebook and Twitter, if you speak Spanish or have easy access to Google Translate. But if not, no worries. As Panteon Rococo performs for a global audience, despite all language barriers, it's like Dr. Shenka said: "Music can break borders."
__________
Follow Pepperdine Graphic on Twitter: @PeppGraphic