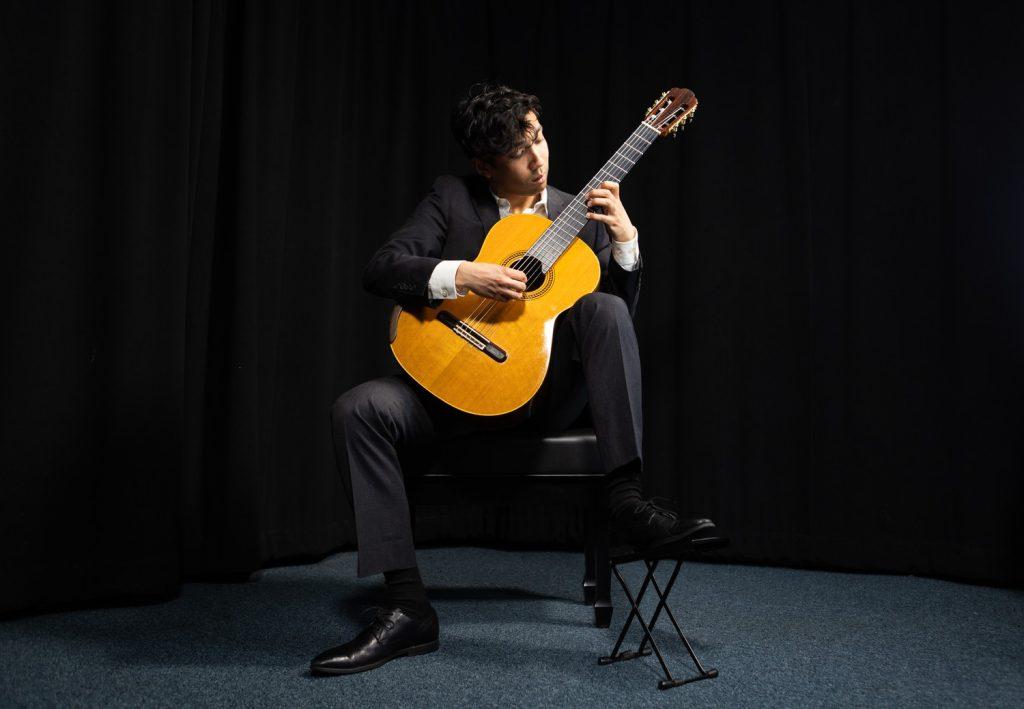 Senior Michael Gullo strums his guitar. Gullo said his father gifted him a guitar one Christmas when he was a kid. Photo by Lucian Himes
An aha moment is when one experiences a sudden realization, inspiration or insight.
My aha moment for writing this article goes like this.
I was sitting in my Art Fundamentals class at the beginning of last semester. My professor, Christina Mesiti, asked our class to pinpoint a moment in time in which our experience with art — fine art, music, dance, writing, etc. — changed the way we viewed art and our lives.
I thought to myself, "This would be an interesting question to pose to the Pepperdine community."
Flash forward a semester later, and my idea for this article is coming to fruition.
Aha moments in fine arts
Art has always drawn Mesiti in. Studying art throughout high school and art school gave her the opportunity to explore her creativity across different mediums, she said.
As a sculptor, Mesiti said sculpting provides her a freedom she never felt from mediums like drawing and painting. In sculpting, the materials drive the content of her work — something that once sparked fear in her but she now treasures.
"The thing that scared me was having to come up with my own problems," Mesiti said. "That was why I thought fine art was really compelling because nobody was giving you the assignment to fulfill. It was like, 'What do you want to make?' It was sort of complete freedom."
A moment in Mesiti's life she said changed the way she approached her art making was when her father died in May 2021.
"The limited amount of time you have here — that changed what I cared about, what was meaningful," Mesiti said. "Like, 'How did I want to spend my time?'"
Through this, Mesiti said she realized she wanted to explore taking risks to create more meaningful art.
Mesiti said the unconfined and spontaneous nature of art is what drives her.
"The artwork that I see reminds me that I can make any decision I want to make and I can do whatever I want," Mesiti said. "It's constantly reenergizing of [my] agency and freedom."
Aha moments in music
Senior Music major Michael Gullo said music's ability to express emotion is his motivation to pursue a career in classical guitar.
Gullo said his father sparked his musical journey by gifting him an acoustic guitar for Christmas when he was around 9 years old.
"He said, 'Once you learn classical, you can learn any style,'" Gullo said. "I ended up falling in love with the classical style even more and it eventually became my passion."
Gullo said telling stories through his music allows him to connect with his audience.
"It's [performing] entirely about the audience," Gullo said. "It's about them, not yourself."
However, Gullo said there was one moment specifically that strengthened this feeling for him. It was during his senior recital last spring when he performed "Cavatina" by Stanley Myers — a piece he dedicated to his late grandmother.
"Whenever I play it, I think of her," Gullo said. "I knew the audience felt what I felt and that we were kind of one."
Moments like this push Gullo to continue showcasing vulnerability — something he said he struggles with offstage.
"It really gives me that emotional release I can't really do normally," Gullo said. "It's almost like a therapy."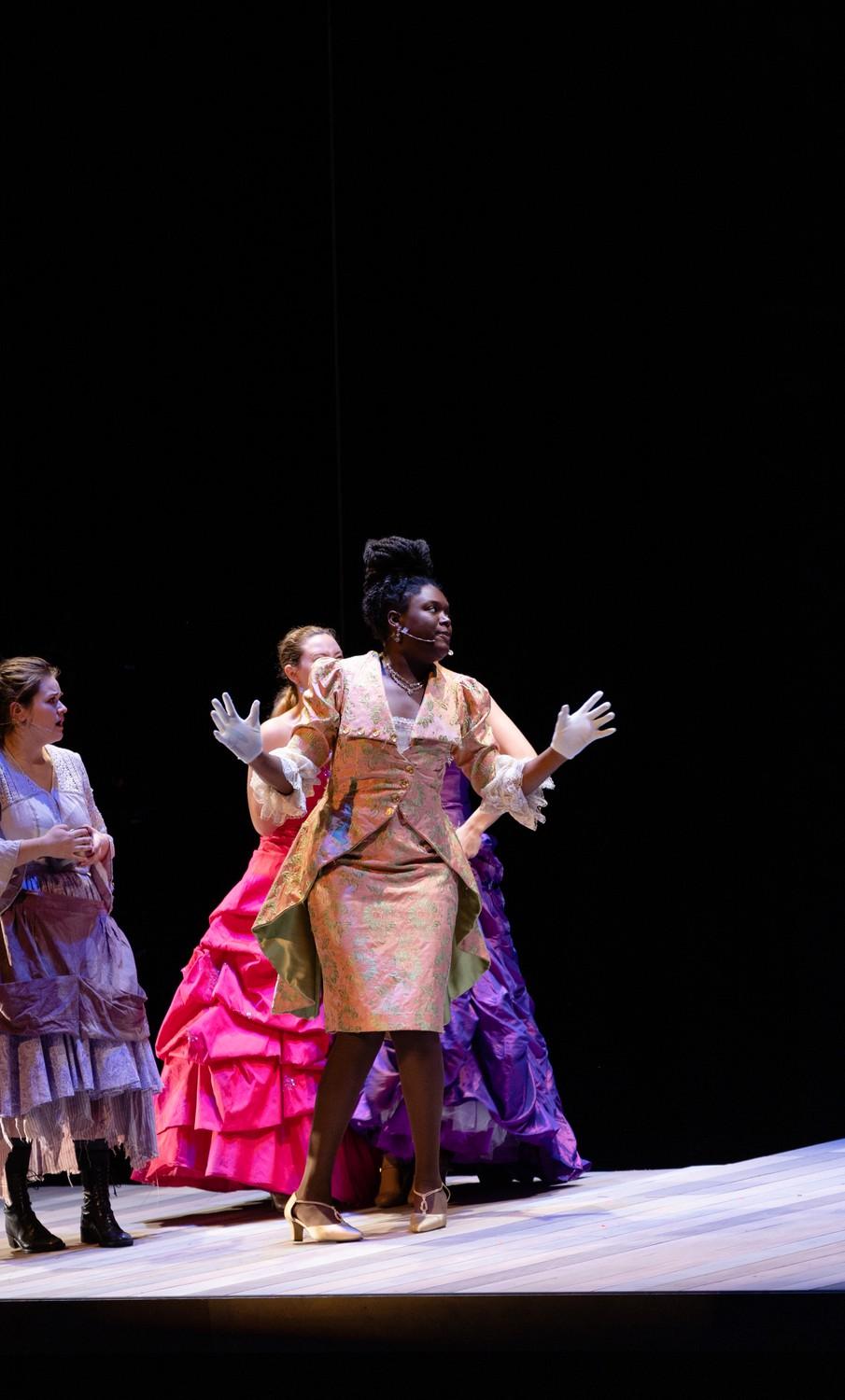 Aha moments in theatre arts
Holly Jackson, junior Theatre Arts and Screen Arts double major, said she has always loved the arts — whether it was singing, dancing or acting, she was doing it. Her passion for performing stems from her love for music; her love for music, she said, comes from her great, great-grandmother who was a piano teacher.
She said she didn't truly understand what a musical was until her mom showed her "Mamma Mia!" — a jukebox musical set in Greece that tells the story of a bride in search of her biological father through an ABBA-filled soundtrack. Jackson said this was her aha moment.
"I saw Meryl Streep up there, and I said, 'That, that's what I want to do,'" Jackson said. "I knew that I wanted to perform."
What stood out to her about "Mamma Mia!" was it told a story of an unconventional family and the power of love through song and dance.
It was in Jackson's sophomore year at Pepperdine when she played Tanya — the rich best friend of the lead role, Donna Sheridan — in the University's production of "Mamma Mia!"
"It was so amazing because not only am I doing a show that I love, but I know that I'm doing a show that they [the audience] love[s]," Jackson said.
It was after her performance in the musical that Jackson said she felt empowered by and confident in her capabilities as a performer. She said she loves that her craft challenges her and consistently pushes her boundaries.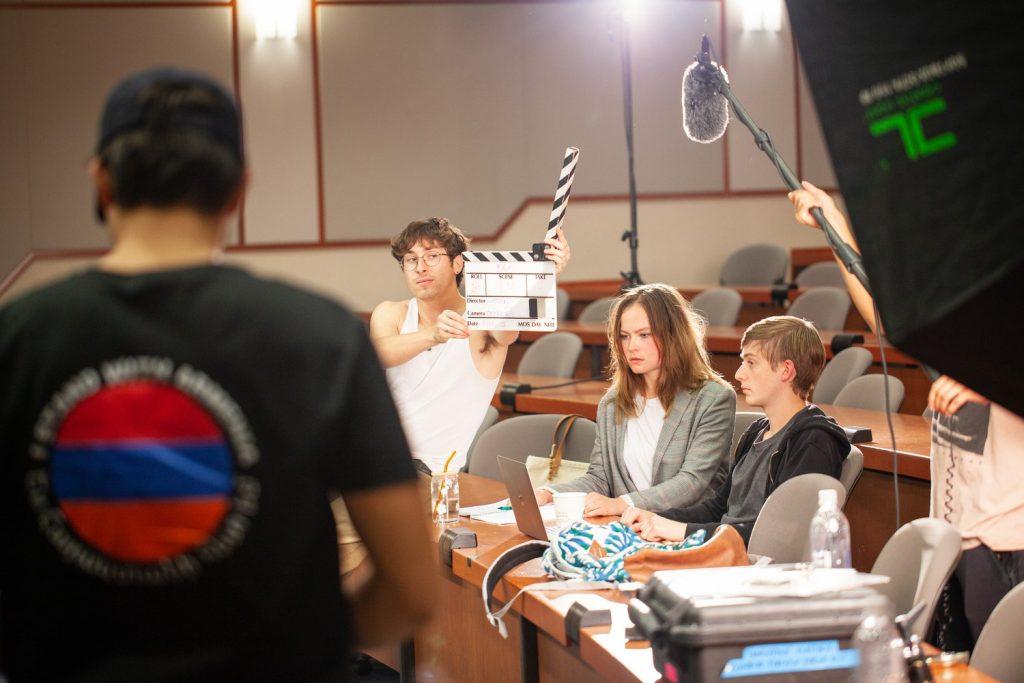 Aha moments in film
Storytelling is a powerful tool for artists to express themselves through their craft.
Sophomore Screen Arts major Lorenzo Mars' passion for storytelling is what led him to pursue a future career in screenwriting.
From creating stories to go along with his Lego sets, to acting as a Greek hero while playing with toy swords, to now, writing scripts for short films, storytelling has remained one of Mars' greatest loves.
But Mars said working in the film industry never used to be in the picture.
"I'd finished my junior year [of high school] and still had absolutely no clue what I was going to do," Mars said.
It wasn't until the world was on lockdown during COVID-19 that Mars said he had his aha moment.
With nothing to do during this era, Mars turned to reading books and watching movies. It was then that Mars said he thought to himself, "Wow, it would be really cool to work on movies."
Throughout summer 2022, Mars said he challenged himself to write a few short scripts. After a month of summer and no progress in achieving his goal, Mars decided to sit down, put a pen to paper and write whatever came to his mind.
"[I] was in a flow state, where you sit there and you're like, 'Oh, wow. I'm doing this,'" Mars said. "I finished it and it wasn't perfectly polished but I was like, 'Wow, that felt so good.'"
Two hours later, Mars said he started working on another script. He said with every script he wrote, the quality of his writing improved and his confidence grew.
To Mars, putting effort into creating a story and building a world around it felt good, and he said it was a feeling he wanted to chase.
"That was a big moment where I was like, 'Writing is what I should do, what I want to do because it feels this good,'" Mars said. "If it feels this good, if I'm passionate about it, then that's the most important part."
Pepperdine artists said they have experienced doubt when it came to pursuing their craft and are grateful for their aha moments that remind them of their passions.
"If you have a passion, follow it," Gullo said. "Everybody has a calling for something, and if you have that feeling, please chase it. Don't let any[thing] get you down."
___________________
Follow Currents Magazine on Twitter: @PeppCurrents and Instagram: @currentsmagazine
Email Yamillah Hurtado: yamillah.hurtado@pepperdine.edu