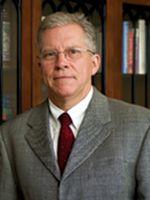 University Provost Darryl Tippens, eying the Pacific on his back porch, reflected on more than a decade of administrative service and teaching.
"There is a lot of adrenaline in this place," he said. "There was never a lack of opportunity to try things."
Tippens announced his retirement as provost through email on Sept. 16, effective at the end of the spring semester.
Tippens has served as provost since 2001, a role he said he did not expect to pursue coming to Pepperdine.
"Most provosts don't last more than five years," Tippens said. "By the time I leave, I will have close to tripled that time of service."
Tippens said he plans to shift roles and teach at Abilene Christian University in West Texas, where his son and grandchildren live.
"I came into the academy to teach, to think, to write; and I don't get to do enough of that," Tippens said. "This is an opportunity to return to what I came to the academy in the first place to do."
President Andrew K. Benton said the primary legacy of Tippens' career as provost remains in his efforts to hire and mentor new faculty, resulting in what Benton wrote in an email has been a "golden age" of faculty hiring to the Pepperdine community.
"He never lost sight of the importance of the faculty and student in this enterprise," Benton said. "When you're caught in the throes of budget planning and strategic planning and accreditation and so forth, Darryl never took his eye off the ball. Whatever was good for the teaching community and the learning community … I will always admire that."
Another focus of Tippens' career has been the integration of Pepperdine's Christian mission.
"We live in a time when the default position in higher education is that there is no place for religion in the academy unless it's in a ghetto of an academy — sealed off safely from the rest of the university in a seminary or in a religion program," Tippens said. "But it really doesn't have much to do with the main enterprise … Education must be holistic, and it must deal with all aspects of what it means to be human."
But there have been challenges in Tippens' time as provost, such as the failed "vote of no confidence" in 2011 — an unprecedented event in Pepperdine history.
"One of my predecessors in the Pepperdine presidency, Bill Banowski, looked Provost Tippens in the eye one time and said 'you have the worst job on campus. Being provost is a terrible job,'" Benton said. "But Darryl never thought that way. You do hard things that can become controversial things, but you can't allow yourself to be defined by that. I admire his calm spirit, and I was proud of how he conducted himself through [the vote of no confidence]."
Another point of criticism was the instance last year when Seaver Dean Rick Marrs announced his resignation, only to recant it a short while later — a process for which Tippens was at the forefront. Tippens acknowledged the times of hardship without bitterness.
"There was rough sledding at certain points," Tippens said. "There were moments that were not entirely fun. But I always had good people around me — to work with and to work for. That makes it worthwhile.
"Administration is not a good place to be if you want to please people," he said. "It's just not possible. There are always hard choices, and that means someone is going to be disappointed somewhere. I regret that I couldn't make everyone happy, but I don't have regrets about my choices or my decisions. I think I acted on my best understanding in every moment."
In fact, Benton said Tippens was a calming presence in times of crisis in his own life.
"Darryl was the one, when I would go through my own periods of challenge, [who] would very subtly slide in a quote or a verse from scripture or just his own thought," Benton said. "He rounded me out as a leader and reminded me of what's really important."
If Pepperdine were an ordinary place, I wouldn't have stayed 13-plus years," Tippens said. "I stayed as long as I did because of the people I worked with and the boss I had — I believe Andy Benton is truly one of the best college presidents in America."
Benton said the process of searching for a new provost has already begun. Benton said he would personally oversee the early stages of the process but would eventually pass it to an internal search committee.
_____________________________________________________________________________
Follow Nate Barton on Twitter: @TheNateBarton
As published in the Sept. 19 issue of the Pepperdine Graphic.