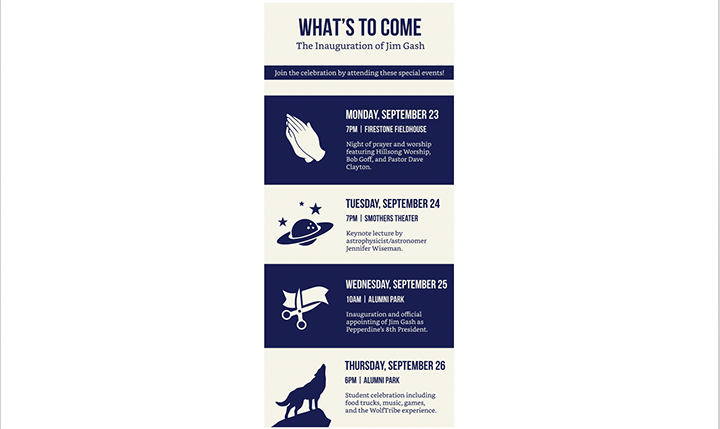 Infographic by Natalie Rulon
Pepperdine University planned eight days worth of events for the inauguration of the university's eighth president and chief executive officer, Jim Gash.
The inaugural celebration started Tuesday, Sept. 17, and will conclude Thursday, Sept. 26. President Gash described why it is important to attend and get involved in the university's momentous occasion.
"The events have been carefully selected to highlight who Pepperdine is and what it represents, as well as to appeal to the various members of our community," Gash wrote in an email.
On Monday, Sept. 23, look no further than Firestone Fieldhouse at 7 p.m. for a night of prayer and worship, led by music group Hillsong Worship. Additionally, Bob Goff, best-selling author and founder of the Love Does, and Ethos Church Pastor Dave Clayton will give monologues. Registration is requested for this event.
The Pepperdine community can join astrophysicist and astronomer Jennifer Wiseman on Tuesday, Sept. 24, while she gives her inauguration keynote lecture at Smothers Theater at 7 p.m. Registration is requested.
Join Gash, faculty and students at the inauguration ceremony at Alumni Park at 10 a.m. on Wednesday, Sept. 25., which is also Founder's Day. Upholding many traditions, the ceremony will include a procession of other delegates from colleges and universities and the official appointing of Gash, followed by his inaugural address. A luncheon will follow afterward. Registration is requested. There will be a livestream starting at 10 a.m. if one can't make it to the ceremony.
The celebration concludes Thursday, Sept. 26, with the student celebration event. It will take place at 6 p.m. in Alumni Park. Celebrate alongside the president and first lady with a night of food trucks, music and games. The WolfTribe Experience will be available as an educational leadership and unity lesson, demonstrated and conceptualized through the wolf tribal systems.
"The WolfTribe Experience with Philip Folsom on Thursday is designed to vividly illustrate the importance of leadership and community," Gash wrote. "I can't give too much away, though; students need to experience this for themselves."
There are two sessions for this event: Orange Session 1 at 5:30 p.m. and Blue Session 2 at 7 p.m. Spots are limited, so registration is requested.
________________________________________
Email Ali Levens: ali.levens@pepperdine.edu