Photo by Stephanie Green
In a world where labels define us, fashion labels are no exception.
What we wear is often influenced by the label, latest fashion trend or what our peers are wearing. As Pepperdine students, there are a couple preconceived notions when it comes to what we wear. We are either thought to be dressed head-to-toe in a high-end, preppy label like Kate Spade or we thrift like no other to achieve that intentional beach bum look. Next thing we know, we're scouting Pinterest to make sure we are on top of the trend.
Fashion labels and clothing peer pressure can exist anywhere. In fact, society uses fashion labels as personality labels. Shop from J.Crew? You're preppy. Hot Topic? You must be emo. Brandy Melville? Hashtag basic!
Maybe it's time for us to define the label, and not accept society's classifications of them. Maybe it's time to wear what we feel comfortable in without thinking about what kind of person it "makes" us. If style is a form of self expression, then the clothes you wear don't make you who you are. You make those clothes your own.
 Photos Courtesy of Francesca Ivanovich
In a photo shoot with my sorority sister Stephanie Green on the Santa Monica Pier, we are both wearing floral print. Although it is a commonly used fabric, we tried to make it our own. I paired my flowy floral shorts with an oversized jean jacket and a white T-shirt. A statement necklace and classy-cool shades are added for some extra edge.
I describe my own personal style as classy yet rough around the edges. You can more often than not find me wearing pastels and a lot of black and white. I am not afraid to play with patterns, but I'm also more than OK with  dressing in black from head to toe.
Stephanie also tailored floral print to her style. She wore a pin-up romper with keyhole detailing and completed the look with a nickel necklace and framed sunglasses.
Green described her personal style as "feminine and fun."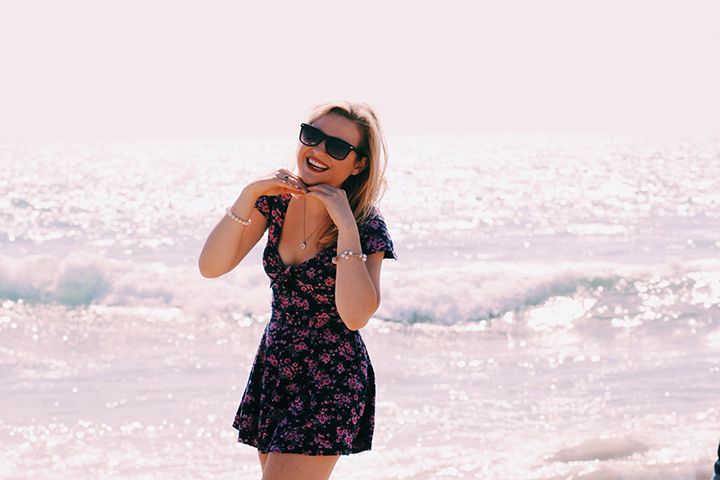 "I like bright colors, bows, polka dots and anything that makes me feel girly," Green said.
"My personality is also bright and fun so I think they match up well. I don't like anything too fussy either, which is definitely my personality as well."
Wearing your personality starts with just being yourself. If you are secure in your own skin, then you will be secure in your clothing choice, too. The people around you and society's labels will have no negative impact, and just  maybe your self confidence will have a positive impact on them.
Keeping it Krischic,
Kristin
__________
Follow Kristin Vartan on Twitter: @krischic2911