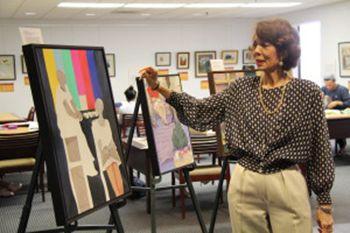 Photo by Brandon Scheirman
Phoebe Beasley conveyed real-life situations in an artistic manner, clearly portraying the beauty of these common realities. Her art's warmth and familiarity, along with her vividly written descriptions of each piece, provided a window into the artist's life and background.
Senior Christina Marzban said "I'm really excited about the fact that this is a Pepperdine first, having a pop-up exhibit." She believes these types of events may become popular among students. Marzban said she usually prefers classic art over abstract pieces; however, she thought Beasley's collages were the "kind of abstract that she can appreciate."
Senior Lydia Evans described the exhibition as "old-school with a modern twist" and said it reminded her of her aunt and grandparents. Junior Ashley Thurmond added that she thought it was amazing how Beasley was able to take old things and make them seem new. Senior Tiffany Bailey then added how great she thought it was that the exhibit related to African-Americans and their history in the United States. They all agreed that their favorite collage was "Elegant Outing Through French Doors." Beasley's description of this piece was: "Getting gussied-up and going to swell affairs was part of my grandparents' and parents' seemingly endless routine. Going to clubs and dancing to big bands were much in vogue. I'm sure I inherited their dress-up style and social genes."
Beasley said that if she had it her way she would wear a ball gown every day. Phoebe Beasley is a creative, social and down-to-earth woman who is eager to make beautiful things out of "other people's trash." She considers herself a collagist, as she is most known for her collages, and she believes her creativity emerges as she is working with texture, which makes her passionate about art.
"I've been doing (art) since I was a child," Beasley said. Beasley got her BFA from Ohio University in 1965, and also received an honorary document from her alma mater in 2005. She was a high school art teacher for a while, then became a university lecturer in universities in Arizona, Rhode Island and Arkansas. She is a happy woman with an artistic flair who believes, "sometimes you have to get out of your comfort zone," something she definitely did while she worked on "Fish Posse," a collage that shows two men fishing. "I really don't understand sitting in the middle of water," Beasley said. She was inspired to work on this piece because her fiancee enjoys fishing. She is evidently inspired by her family members and her background. For example, she described her piece "In the Garden of the Buick" beautifully: it is a collage that depicts a green Buick, meant to represent the Great Migration during 1915-1970 as African-Americans moved to the North or West from the South. This was also when the Industrial Revolution took place, in which many African-Americans worked for General Motors. As they helped to build cars such as the Buick, to own one, according to Beasley, "represented success for the African-Americans."
She also explained a certain collage involving flowers by saying that they "represented humanity, they represented living and dying;" she wanted to do this without using people or animals, and decided flowers would be a good image. Beasley wanted to capture the fact that "it does not matter how much you nurture something, we are all going to die." Beasley also wished to represent how "sometimes a passion becomes an obsession;" she achieved this through a "trilogy" in which she only showcased one piece, "Collector's Items #2."
Beasley was able to merge serious issues and facts of life with the beautiful moments that we usually take for granted. The collage "Simple Pleasures," for example, depicts two women sitting next to each other on a couch and has a simple description: "Sometimes our best day is a good cup of coffee and a great listener." On the other hand, the collage "Exit Time at the Fair" deals with the issue of knowing one's limits. The description states: "When to leave … a party, a job, a love or a life. Knowing when to leave are the moments that can add years to your well being."
Professor Ellen Caldwell, who met Beasley at the Kinsey Collection Exhibition opening on Sept. 3, summed it up best by saying: "It's great!" For those students who did not have the opportunity to visit the exhibition, the M. Hanks Gallery in Santa Monica represents Phoebe Beasley.
_____________________________________________________________________________
Follow the Graphic on Twitter: @PeppGraphic
As published in the Sept. 19 issue of the Pepperdine Graphic.