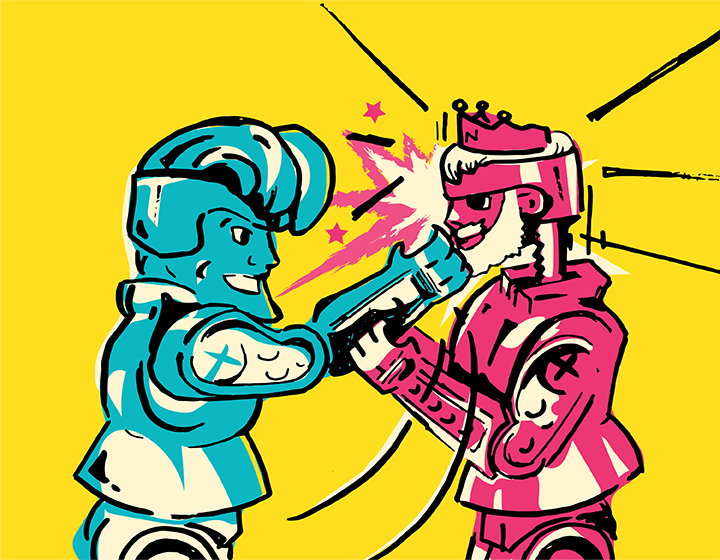 Art by Samantha Miller
Being mesmerizing, masterful motivators of school spirit: This is the role of a school mascot.
A mascot isn't just some random figure; it's the physical embodiment of hope and what a sports team stands for. Pepperdine has sampled an assortment of mascots over the years —from Roland the Wave to Joe the Pelican— but no one can lay a finger on the all-time best mascot: King Neptune!
I hear some people argue Willie the Wave is Pepperdine's foremost mascot. Willie is energetic, charismatic and even a little goofy, but Pepperdine needs a true powerhouse as its mascot, and no one can showcase school pep like King Neptune.
Moreover, just to cement who the better mascot is, we will pit these two head-to-head in three categories. Based on intimidation, overall good looks and wow factor, we will once and for all crown who should be the true Pepperdine mascot.
First, intimidation. What is going to strike fear into our opponents? Will it be a funny-looking wave or an all-powerful ruler of the seas? I will admit Willie the Wave may have a jawline that can cut glass, but that is nothing compared to King Neptune. He is covered in muscles and even carries his own trident.
Neptune is not to be played with on or off the field.
Second round: Good looks. Now, this one is tough. King Neptune sports a phenomenal physique that shows he has never missed a day at the gym. However, Willie got a little work done since his first appearance in 1952. His perfectly shaped beard is made out of pure waves and he sports a slimmer, more toned figure.
King Neptune also wears a stunning gray beard, but it's a little unkept and has a few stray hairs.
Looking at both these gorgeous individuals, the winner has to be Willie the Wave. He uses his youth to his benefit and has perfect hair crafted out of waves. While Willie may not hit the gym like King Neptune, he is no slouch and is easy on the eyes.
This brings us to our final category: Wow-factor. This is "je ne sais pas," or the "it factor." King Neptune is timeless and awe-inspiring to look at. He is a god among others, having full control of the waves and sea. Yet, Willie the Wave has stood the test of time, making multiple comebacks and fashion statements throughout Pepperdine's history.
Looking at all these factors, it is clear to see that this competition is a …
DRAW!
I guess, in a surprising upset, both mascots represent the best of Pepperdine. Hopefully King Neptune can wait for the changing tides and become Pepperdine's mascot again.
I guess we will have to wait and sea. *wink wink*
__________________
Follow the Graphic on Twitter: @PeppGraphic
Email Aj Muonagolu: aj.muonagolu@pepperdine.edu