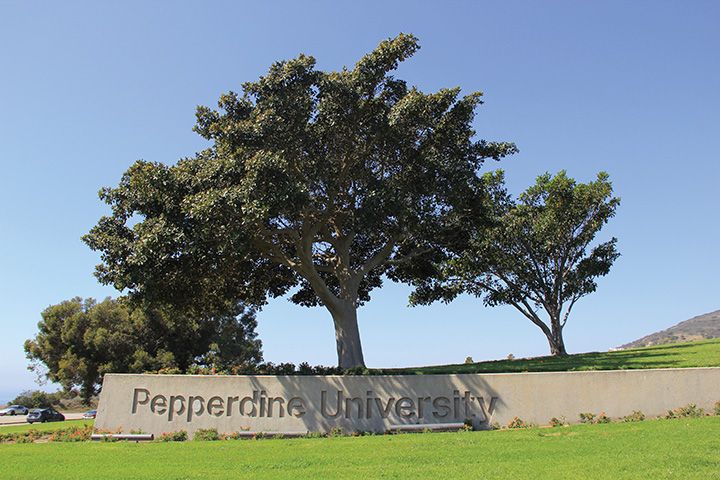 Photos by Jenna Aguilera
Pepperdine has been ranked as the second "Most Beautiful Campus" in the Princeton Review's annual rankings, which include categories based on student life, academics and administration.
The Princeton Review began surveying students on college campuses in 1992. Since then, surveys have switched from paper to digital, making the process more efficient and increasing the average number of student surveys submitted per campus from "about 125 to about 343 students."
Freshman Katrina Winnett weighed in on the ranking: "Our No. 2 ranking is great because it allows high school students with no previous connection to Pepperdine to consider it as a possibility for college. It gives Pepperdine the opportunity to reach students who will be able to learn and grow from the mission and values of the university."
Rankings such as "Most Beautiful Campus" or "Best Campus Food" are obtained through asking students distributing student surveys containing 80 questions in four sections including "About Yourself," "Your School's Academics/Administration," "Students" and "Life at Your School."
Questions in each section are answered using a five-point Likert scale with 1 being "awful" and 5 being "excellent."
Each year, the Princeton Review tallies the results of their surveys and each college then receives a score based on survey responses to each question. This score allows The Princeton Review to compare schools and assemble their annual rankings. For example, Pepperdine's placement on the "Most Beautiful Campus" list is based on the overall score of the answer to the question: "How do you rate the beauty of your campus?"
Senior Shelby Strecker said that even after being at Pepperdine for four years, she is constantly amazed by the breathtaking views. "I would definitely give Pepperdine a five out of five in terms of beauty," Strecker said.
Ranked as the No. 1 "Most Beautiful Campus" is Colgate University, located in Hamilton, New York. Only two other schools in California made it onto the top 20 "Most Beautiful Campus" spots, with Scripps College coming in fifth and University of San Diego coming in 11th.
__________
Follow Kara Danner on Twitter: @karadiise