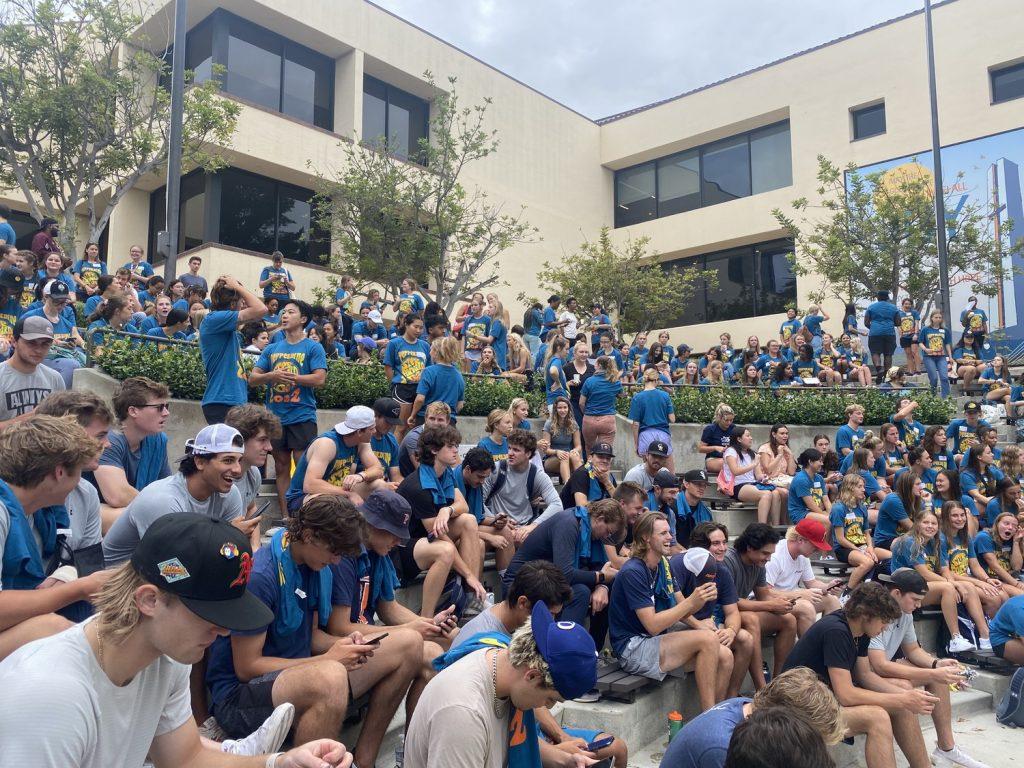 Volunteers gather at the amphitheater Sept. 10, for Step Forward Day. Students sat with their project leaders and groups. Photo by Tanya Yarian
During Pepperdine's annual Step Forward Day on Sept. 10, students went beyond the Malibu campus to give back across Los Angeles. While they were in L.A., other students served on campus. In total, around 640 people took part in this day of service, said Christin Shatzer Román, director of community engagement and service.
"Oftentimes it's easy to fall into the trap of thinking that service is what we do with our left over time, but the idea that we have left over time is kind of a myth," Román said. "There is no such thing as left over time, but there really are opportunities to incorporate service in small ways on a consistent basis."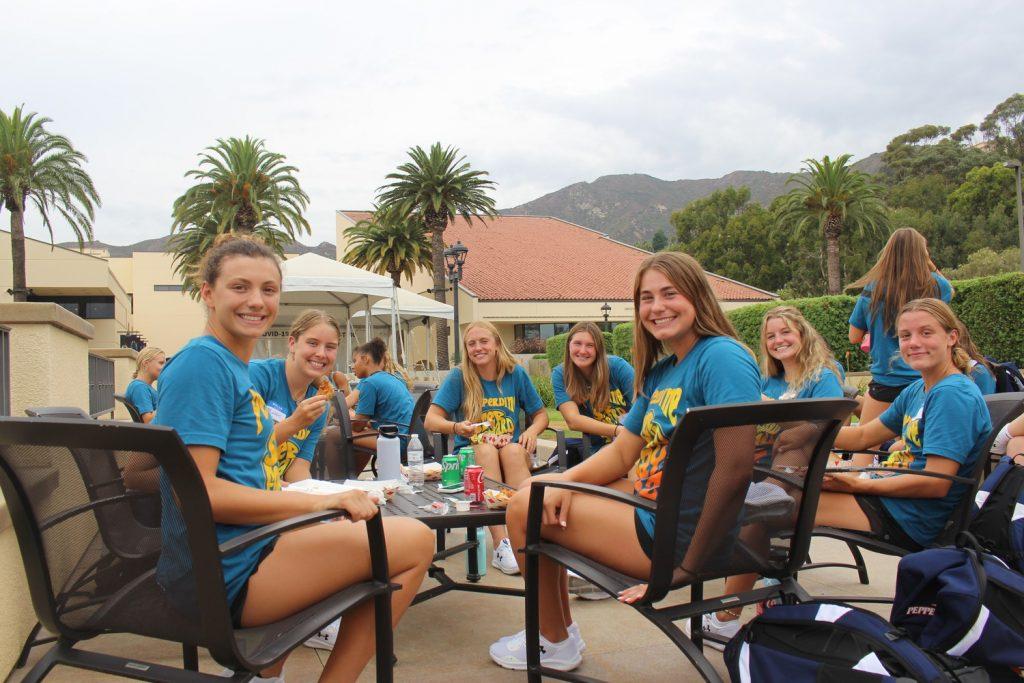 At 9 a.m., students gathered in the amphitheater and Olivia Robinson, assistant director of community engagement and service, welcomed volunteers.
Chalak Richards, associate dean for Student Life, Diversity and Belonging at Pepperdine Caruso School of Law, spoke about the purpose of service. Diamond Longs, administrative assistant at the Hub for Spiritual Life, also read a poem titled, "When I Serve" before students headed out to volunteer at various organizations.
Purpose of Step Forward Day
Román said this day of service provides an introduction to different service experiences and a chance to see opportunities in the Pepperdine and Malibu community. She said it raises awareness for nonprofit and public organizations.
"This is the opportunity to start the year in service, and then use the experience on Saturday as a way to consider how to incorporate service in small ways on an ongoing basis," Román said.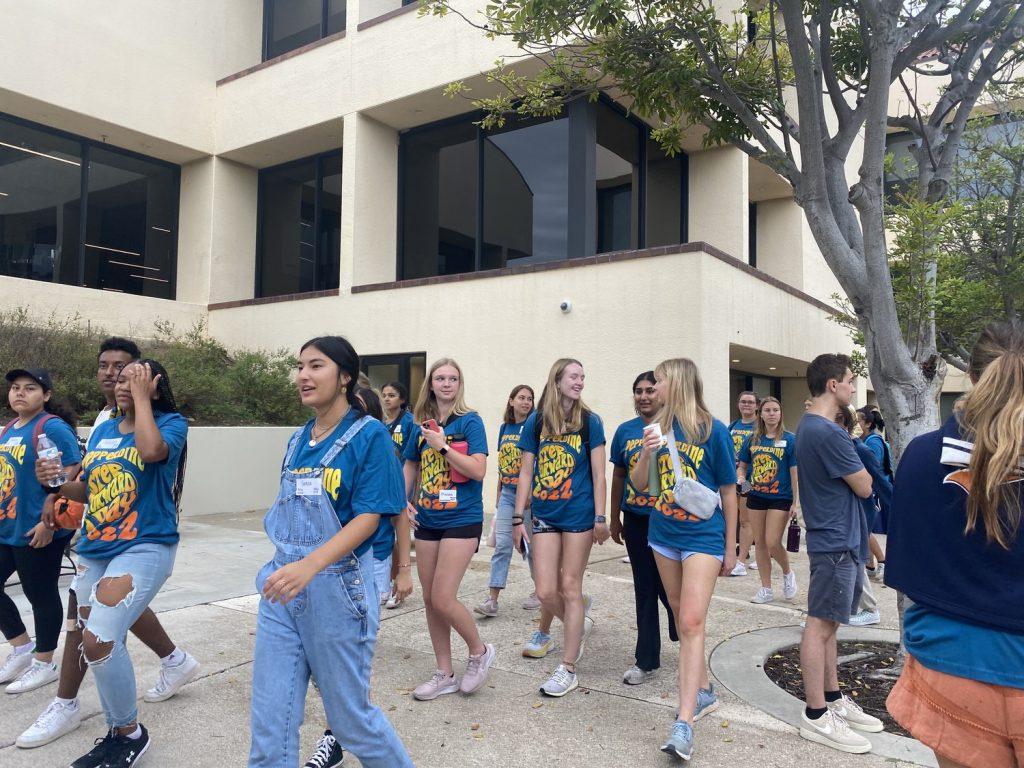 During Step Forward Day in 2021, Román said non-profit partners were still navigating the difficulties of the COVID-19 pandemic, so Pepperdine focused on on-campus projects. This year 75% of projects were off campus and 25% were on campus, Román said. Baby to Baby, People Assisting the Homeless (PATH) and Hand in Hand participated this year.
Román said she and Robinson are thoughtful about the projects they choose, and each non-profit organization has credibility within the community, is impactful or is a long-term partner of the University.
"There is this sense that service always has to involve sacrifice, so this idea of giving till it hurts or just serving out of sacrifice," Román said. "And sometimes that is what the occasion calls for — sometimes we are asked to step up and make choices that live out our values that may be costly to us."
Román said she encourages students to serve out of their strengths and passions. She said Pepperdine Alumni Affairs also holds events around the country.
Pepperdine Students Take Action
Senior Skylar Brown worked with Baby to Baby on Step Forward Day. She said although she signed up late, she was happy could still volunteer for the organization she wanted.
"I think it's easy to get stuck in our routines and not really know what's out there, so I think it's important to go out and help the community and serve in any way possible," Brown said.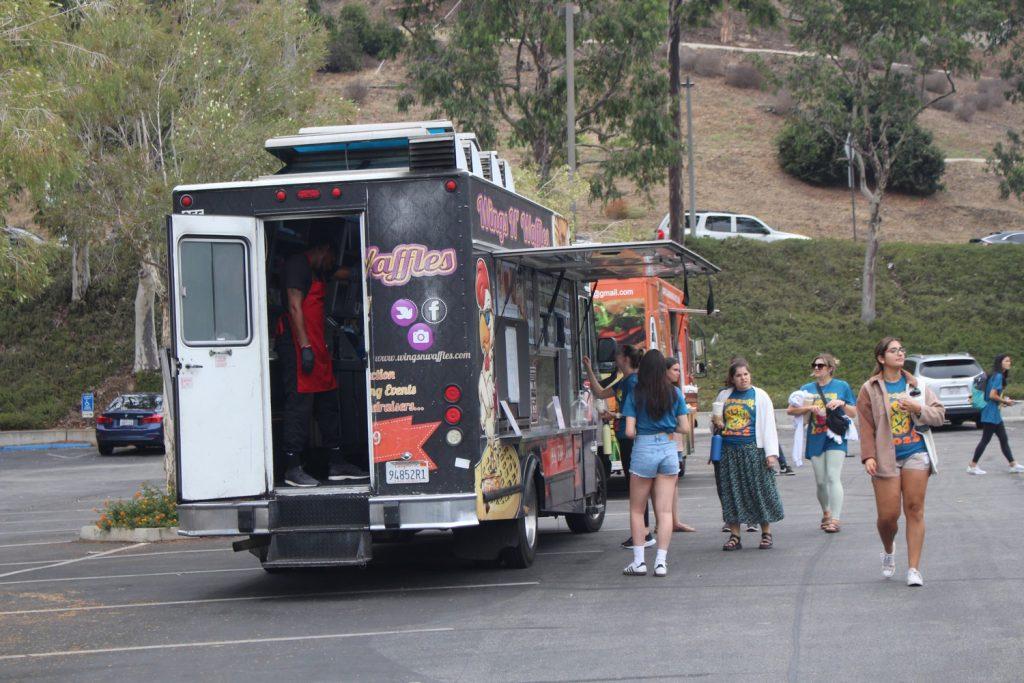 Last year, junior Timothy Jackson volunteered at Our Military Kids and made gift bags for military kids. This year Jackson said he was a project leader for Project 43— an organization that provides food security for the Black community.
Junior Annie Leow was one of the volunteers for Project 43. She said she participated in Step Forward Day this year because some of her friends in the Black Student Association were asking for more volunteers.
"[Service] means taking time out of your daily life to do something that's not for you even if it's not what you want to be doing," Leow said. "I think it's worth it to do it."
In prior years, it was not uncommon for many first-year students to participate in Step Forward Day, and this year countless instructors encouraged students to sign up, Román said.
First-year roommates, Sedrie Orantes and Britton Nichols, volunteered for Hand in Hand together. They are both in different classes in the Social Action and Justice Colloquium and heard of Step Forward Day from their professors.
"Our SAAJ program really pushed it and said it was like a great way to kind of see what we're learning about in class and kind of see it out in the real world," Nichols said. "Do the actual action part of social action and justice."
Sports Team Volunteer Together to Give Back
Some of Pepperdine's sports teams served at the on-campus projects. This included the Women's Swim and Dive Team and Women's Basketball Team.
Marly Walls, a graduate student at Pepperdine Graziadio Business School who is earning a Master's in Global Business, volunteered for PATH alongside the rest of her teammates from the basketball team, and made hygiene kits on campus. She said she is new to the area and it was her first time participating in Step Forward Day.
"I think it's good for us to one, educate ourselves on this stuff, but also a time for us to work on ourselves as a team to do something where we can all work together to help someone else or for a bigger purpose other than just outside of our sport," Walls said.
Walls said while her team set this up, she now knows who the leaders are to reach out to if she wants to participate in something like this.
Román said this year students worked with PATH in two different ways — assembling hygiene kits on campus for individuals who are unhoused and volunteering for their on-site locations where they set up apartments to welcome the individuals.
Members of the Women's Swim and Dive Team volunteered for Days for Girls. First-year Maddie McLeay said one of their team values is service. Volunteers for Days for Girls at the Lighthouse Patio were tracing the inside of a pad and cutting it out. The organization aims to spread menstrual health and create safe and washable pads.
"Here in the U.S. it's so easy to get access to things like this and I never have to think twice but for other people it's not," McLeay said. "I think it's just been really like a unique experience to learn about that and also learn how to make a pad."
McLeay said she wants to continue participating in service projects with her team throughout the year. She said their team captain, senior Bri Cannon, chose to serve with Days for Girls.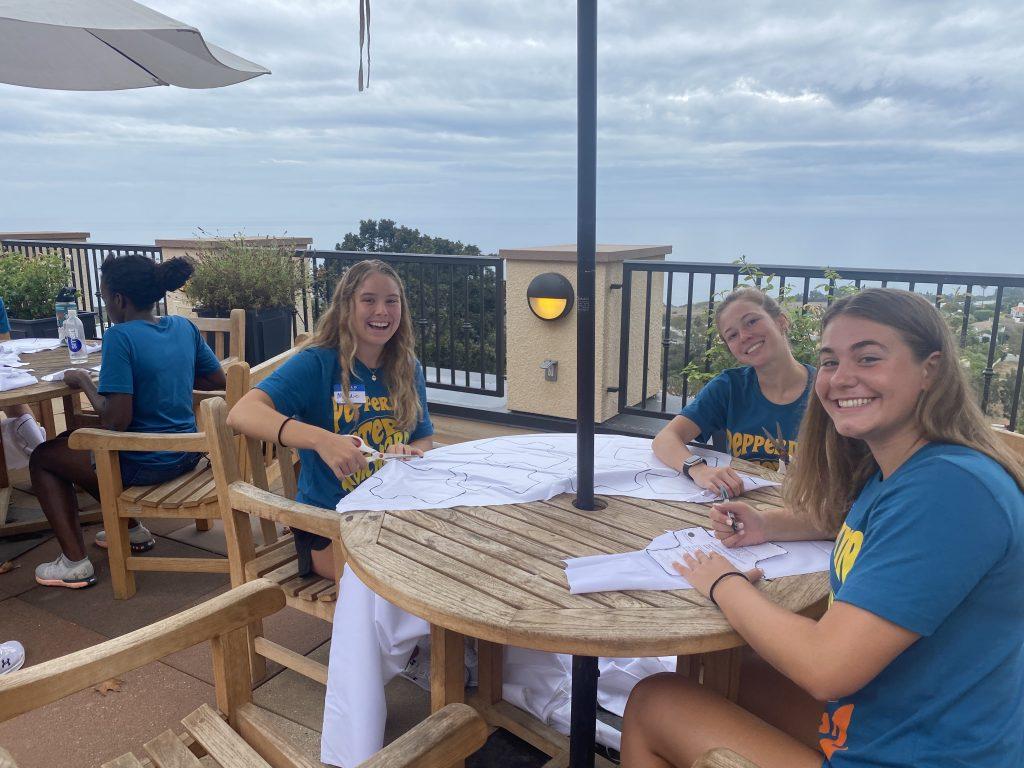 Future of Service at Pepperdine
The Office of Community Engagement and Service is implementing the Service Project calendar this fall semester, so students can continue to serve beyond Sept. 10, Román said. She said 60% of the dates are already scheduled.
Román said the same projects from Step Forward Day may be offered in the spring semester for students to participate in or based on students' interests, the projects may change. She said her team would also check in with community partners.
"We're excited that Step Forward Day is the first invitation but it's not the only or last invitation to serve," Román said.
___________________
Follow the Graphic on Twitter: @PeppGraphic
Contact Tanya Yarian via Twitter: @tanya_yarian or by email: tanya.yarian@pepperdine.edu