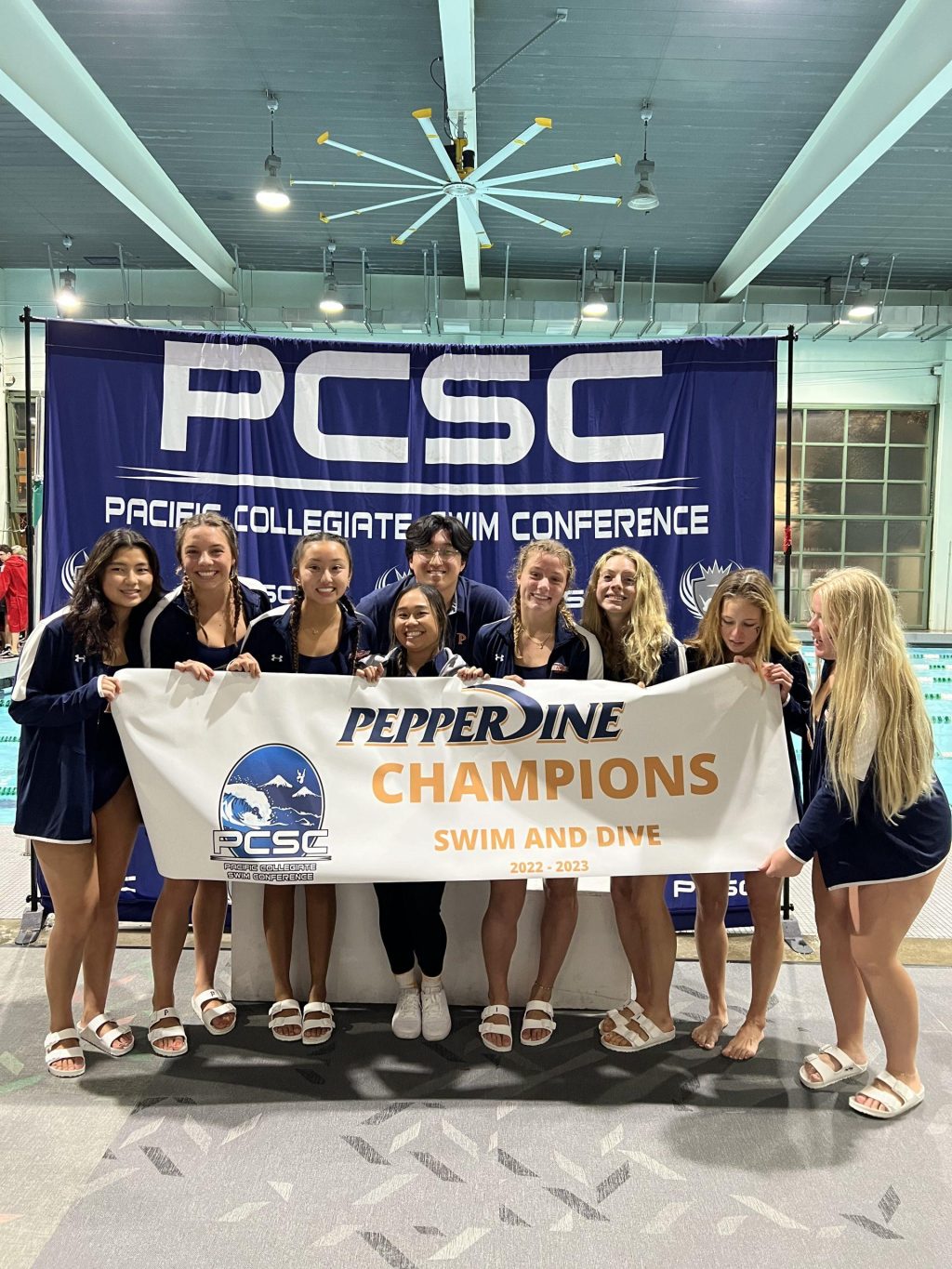 Pepperdine Women's Swim and Dive team celebrates their second straight PCSC Championship on Jan. 21, at East Los Angeles College. The team defeated Azusa Pacific University by 400 points. Photo courtesy of Nolan Wang
The Waves Swim and Dive team won the 2022-23 Pacific Collegiate Swim Conference, which took place at East Los Angeles College on Feb. 11, for the second year in a row.
This meet was the final meet of the season and lasted four days. It was the determining factor in deciding who would win the PCSC Championship title.
The Waves put on a high-level performance and finished 400 points ahead of second-place Azusa Pacific University.
"Every single session, we just had really high energy, which was a big part of our success," senior Paige Tattersall said. "Basically, every single race and dive that we completed was just incredible."
During the meet, Pepperdine set eight new school records, had 40 All-PCSC first team performances and won 10 PCSC event championships, according to Pepperdine Athletics.
"Almost every race, a record was broken, and we would just get so excited about that," Tattersall said.
Head Coach Ellie Monobe won Coach of the Meet for the third year in a row, and diving coach Monique Demaisip won Diving Coach of the Meet, Cannon said.
"A lot of my success and this program's success is because of those people who are working so hard behind the scenes that don't always get the credit," Monobe said. "You're only as good as the people who are around you and who support you, and the head coach title is very much theirs as it is mine."
After devoting four years to competing for Pepperdine Swim and Dive, Tattersall said it was bittersweet as her time with the program began to wrap up.
Tattersall, along with the other seniors, wanted to go out with a bang, Tattersall said.
"It was up and down in terms of emotions," Tattersall said. "I was so happy that I was there and performing with my team, but then for the next 20 minutes I was crying just because I would think about how much I'm going to miss everyone."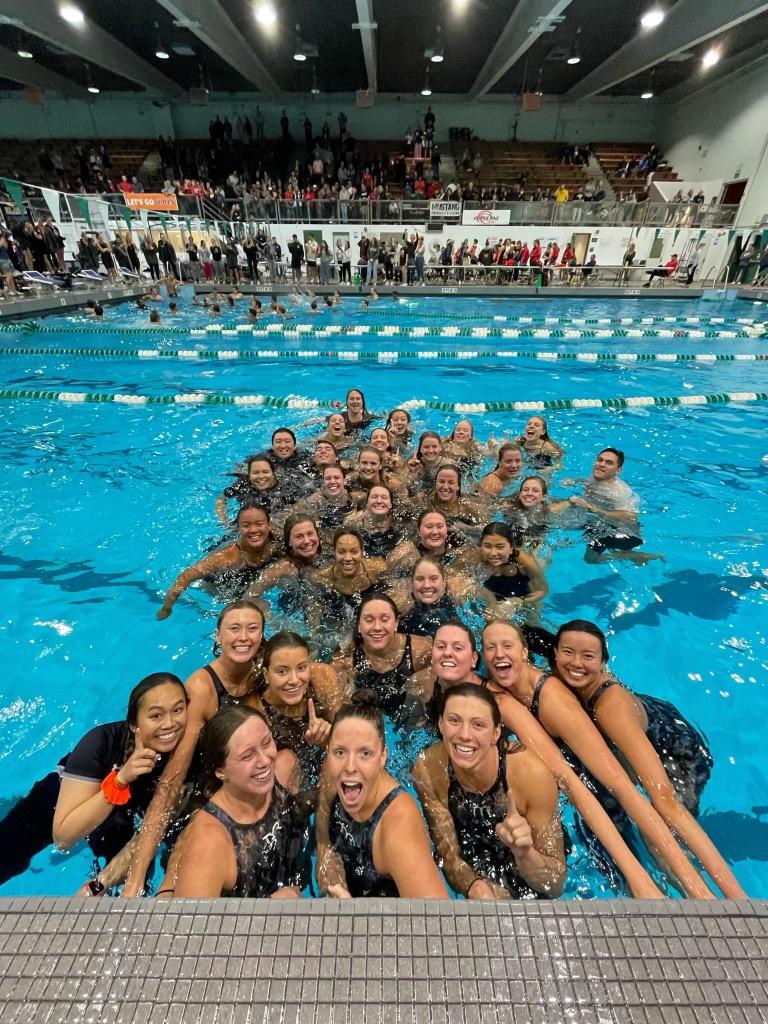 Senior Bri Cannon said she shares a similar sentiment about her final year in the program.
"I really just wanted to enjoy it and take it all in," Cannon said. "We have a big freshman class, and I didn't want to focus on myself but instead wanted to be there and be present for them."
The Waves had been training hard since the fall, and a significant part of the preparation came during the winter training period, Tattersall said.
The Waves won the PCSC championship in 2022, but Monobe said the mindset was different this year.
"Last year, there was a lot of tenacity and drive to get the job done," Monobe said. "This year we set more specific goals that instilled a different type of determination. It's something that was more focused on execution and the process."
The team was able to put more focus on the process and execution rather than specific times or the outcome, Monobe said.
"There were tough parts of the year where we hadn't seen a single win, and we just had to make sure everybody trusts the process and keep on working, and our women did a phenomenal job," Monobe said.
The team's core values motivated them, Cannon said. The team chooses values at the beginning of every season, and this year, those values were gratitude, family and service, Cannon said.
"For us, it's really important to acknowledge that it is a privilege to do what we do and have the opportunity to be a part of this," Monobe said.
Monobe said she was grateful that the seniors were able to end their college careers with such success.
"They've been through basically anything that could possibly be thrown at them, and to see them be able to come together and give them the storybook season that I felt like they deserved at the end was perfect," Monobe said.
____________
Follow the Graphic on Twitter: @PeppGraphic
Email Shelby Little: shelby.e.little@pepperdine.edu