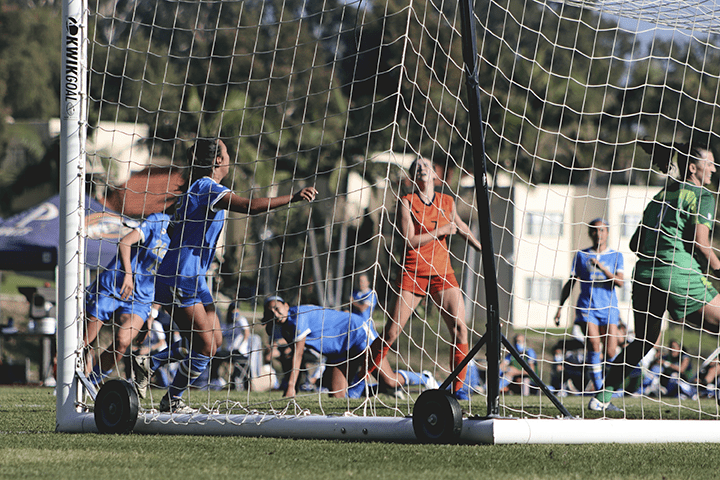 Freshman forward Victoria Romero (No. 7) throws her head back in exasperation after missing a second-half goal at Tari Frahm Rokus Field on Feb. 7, while UCLA goalkeeper Lauren Brzykcy (green) celebrates another save. The Waves, in their first game in 15 months, remained scoreless against the Bruins. Photos by Ali Levens
It had been 15 months since the No. 25 ranked Pepperdine Women's Soccer team last played a game after losing to Texas Tech on Nov. 15, 2019 in the NCAA Tournament.
After months of delayed seasons and cancelled games, the Waves returned to Tari Frahm Rokus Field in Malibu for their game against Southern California rival and No. 4 ranked UCLA, which ended in a loss for the Waves as the Bruins won 3-0.
The Waves were originally scheduled to make their debut against USC in the Los Angeles Memorial Coliseum on Feb. 4, but the game was canceled due to player safety regarding COVID-19.
The excitement for the Waves' return to the field was palpable despite a limited attendance due to COVID-19 guidelines from Los Angeles County.
The Waves entered the game hoping their defense would limit the number of opportunities UCLA's strong offense would have to score. The strategy limited UCLA's shots on goals to four for the game.
Still, UCLA dominated ball possession against the Waves and took advantage of every opportunity given to them. UCLA scored in the 8th minute, the 22nd minute and the 30th minute. UCLA scored in the 75th minute as well, but it was disallowed for offside.
Despite the outcome, head women's soccer coach Tim Ward said the score was not indicative of the team's performance.
"We were disappointed with every goal we conceded today, but the play was good," Ward said. "It was our first game back, and we played a lot of younger players and they did a really nice job in pressure situations."
Ward said he was concerned about UCLA's ability to move the ball across the field from all different angles and distances, and he thought that was a big reason for UCLA's victory.
"UCLA plays the long ball well which was causing issues for us, and it takes a lot of practice to do well," Ward said. "I think we adjusted well, and we talked about being adaptable and flexible."
Despite UCLA's momentum from the first half, the Waves' defense was able to control UCLA's offense better in the second half after these adjustments with leadership from redshirt goalkeeper Kinsey Ehmann, who recorded one save in the loss.
"I think our main adjustments that we made were staying keyed into the game and moving our line," Ehmann said. "UCLA has so many tools and we made decisions together as opposed to individual decisions."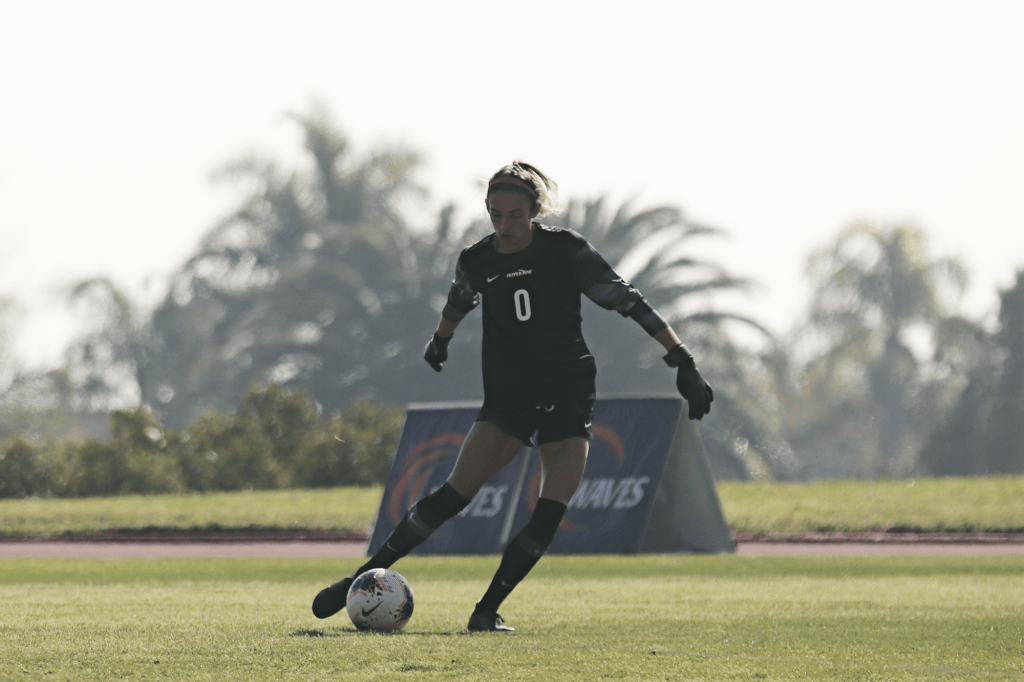 Not only did the Waves' defense improve throughout the game, but their offense began to play at a better tempo as well. The Waves had seven shots on goal and six corners during the game, with two late shots on goal by sophomore midfielder Carlee Giammona in the 66th minute and senior defender Erin Sinai in the 87th minute.
Senior midfielder Joelle Anderson, who was drafted 26th by the Houston Dash in the NWSL Draft, said the team needs to capitalize on opportunities like corners and free kicks.
"I think we had a lot of good scoring opportunities there that we could have finished," Anderson said. "I think we need to go back and look at those missed opportunities to see how we can make the most of them in future games."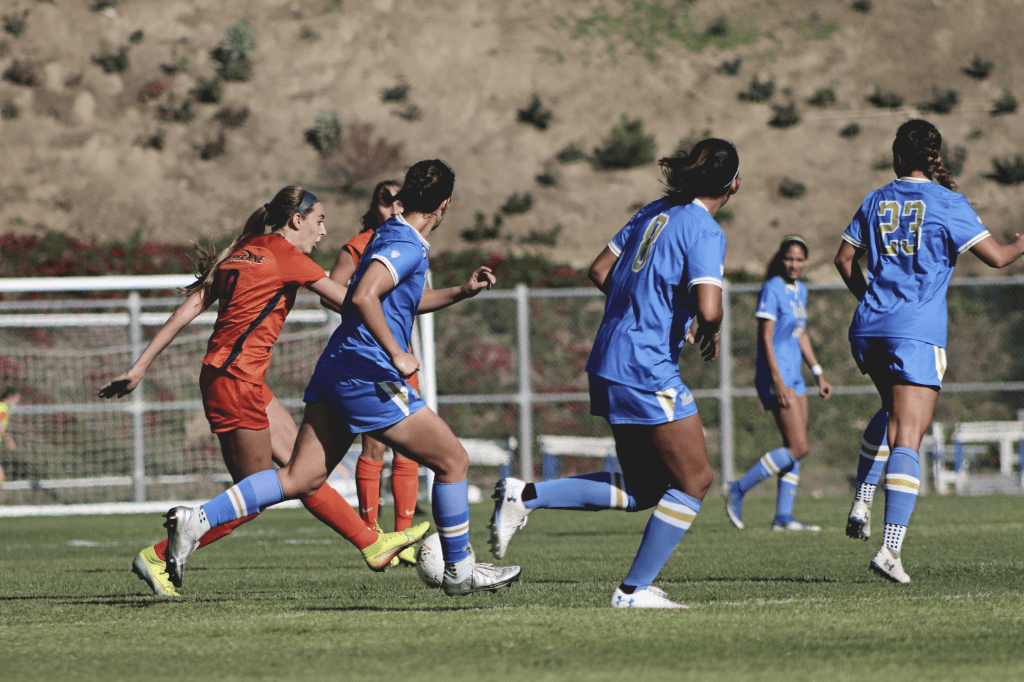 Ward said the little things, like execution on set pieces, separate his team from a team like UCLA.

"We have not focused a lot on set pieces with corners and free kicks and that is something we are going to continue to get better at," Ward said. "UCLA has gone to Final Fours because they are brilliant with set pieces, and we will watch video so our players can improve on it."
Anderson said she is confident the team will improve as the season goes on, and sees herself as a leader that can help the team reach the NCAA tournament again.
"I think the young players got a taste of what it is like to play very elite teams today," Anderson said. "I think if we can stay the course and not let these types of games get to our head then we can do some amazing things."
____________________
Follow the Graphic on Twitter: @PeppGraphic
Email Justin Touhey: justin.touhey@pepperdine.edu