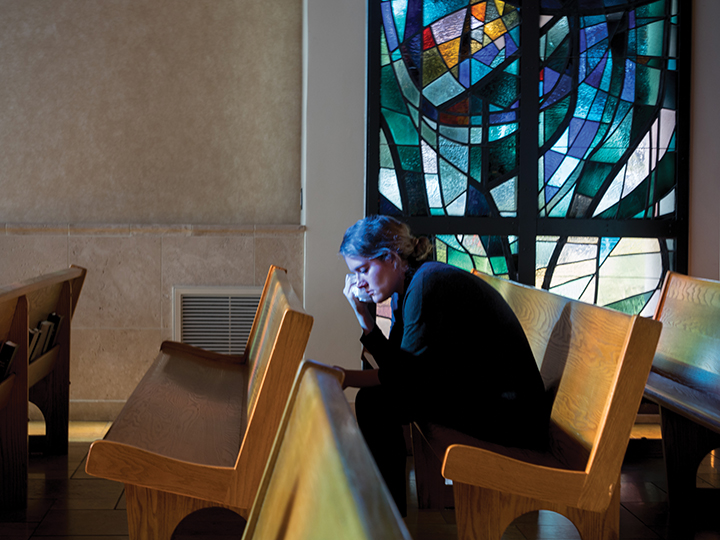 Photos by Kaelin Mendez
Pepperdine staff and faculty are responding to the shooting at Borderline Bar & Grill in Thousand Oaks Wednesday night that left 12 people dead and at least 10 injured. Sixteen Pepperdine students were present during the shooting, according to a University email sent Thursday morning. A local hospital treated and released two students but one student, Alaina Housley, is still missing.
President Andrew K. Benton, Dean of Seaver College Michael Feltner and the Public Relations Office sent emails to the student body this morning. According to Feltner's email, classes will continue on a regular schedule but he encouraged students to prioritize their "health and well-being."
There will be prayer vigil in CCB 140 at 11:30 a.m. Dean Baim, divisional dean of the Business Division, is organizing the event.
The Office of the Chaplain is hosting a prayer service at noon in Smothers Theatre and the Stauffer Chapel is open all day for students. The chapel will be staffed with chaplains and ministers. Jack Williamson, a minister for the Conejo Valley Church of Christ in Thousand Oaks, is one of the ministers on campus today working with the Office of the Chaplain. There will be live music, tea, coffee and water provided at the chapel, according to an email from the Office of the Chaplain. The office encourages students to speak to any member of their staff for support.
Campus Ministry will be hosting The Well at 8 p.m. in the Amphitheater and their Office is open until 10 p.m. for all to join in community.
The Counseling Center is always available for free, confidential support for students. The Counseling Center can be reached at 310.506.4210 or at student.counseling.center@pepperdine.edu.
Here is what the community is saying right now:
President, Andrew K. Benton
"We are prepared to see this through and to help and love and serve wherever we can," Benton wrote in his aforementioned email. "My prayer right now is for peace and for our campus community and the other communities impacted by this terrible loss. We wait now, prayerfully and hopefully."
Vice President of Student Affairs, Connie Horton
"This is a horrific, tragic event and Pepperdine stands ready in the face of that to support our students in a number of ways," Vice President of Student Affairs Connie Horton said. "Immediately, Housing and Residence Life and counselors were available once the students came back to campus. Those two offices and all of Student Affairs and faculty stand ready to support students through this crisis."
Dean of Students, Michael Feltner
"I cannot make sense of the senseless," Feltner wrote in his aforementioned email. "This is not a normal day. We mourn the loss of life and we care deeply for you and for those in our community who are affected by this tragedy."
Minister of University Church of Christ, Al Sturgeon
"The church community is grieving alongside the community and offer our love and support in any way we can provide it," Al Sturgeon, preaching minister of the University Church of Christ for Campus Ministry, said. "We opened at 6:30 this morning and will be open for anyone that needs a place to be all day at least until 10 p.m. The Well is at 8 p.m. tonight. All are invited to worship with us on Sunday at 10:15 a.m. in Elkins and 5 p.m. in Stauffer as we gather as Christians and mourn as a community."
Assistant Chaplain, Lauren Begert
"We are sad and grieving with the students," Assistant Chaplain Lauren Begert said. "We feel the fear you feel and the sadness you feel. We want to be as present as possible and sit with you in your sadness. We want to bring it all to God because that's where we put our hope in times like this. There is a service at noon today that will be in Smothers for people all over the university and the chapel is open all day long with different chaplains as a place where students can come and be prayed for."
International Programs Coordinator, Drake Schaneberg
"It's OK to not be OK," International Programs Coordinator Drake Schaneberg said. "Take advantage of the services that the university is offering and reach out to your friends and loved ones. Support each other. We'll get through this, and we'll get through this together."
______________________
The Graphic is reporting. For up-to-date reports, follow @PeppGraphic on social media.