Photo by Cassandra Stephenson
The Pepperdine School of Law instituted the Disaster Relief Clinic this semester in response to the need of the hundreds of individuals affected by the local Thomas fires, as well as the Texas hurricanes. Through this program, law students are able to provide pro-bono legal services to those who would not otherwise be able to afford it.
The School of Law's Clinical Education Program includes 10 separate clinics this semester. A clinic is a opportunity for students "to practice law under the supervision of law professors with real clients in high stakes environments," according to Pepperdine Law School website.
"When teaching students, we also manifest our mission to the world and try to contribute to our communities and our neighbors and serve people who need it," Director of Clinical Education and Associate Clinical Professor of Law Jeffrey Baker said.
Some examples of the standard clinics that are constant each semester are the Community Justice Clinic, where students offer legal aid to non-profit and community organizations, or the Legal Aid Clinic, where students offer legal assistance to the homeless on Skid Row. Meanwhile, the Disaster Relief Clinic will only be operational for this spring semester.
Baker, who oversees a majority of these clinics, explained what the program is all about.
"Generally, the legal clinics are our teaching law firm inside the law school. So we actually practice real law for real clients…and students work under faculty supervision to get experience practicing law," Baker said.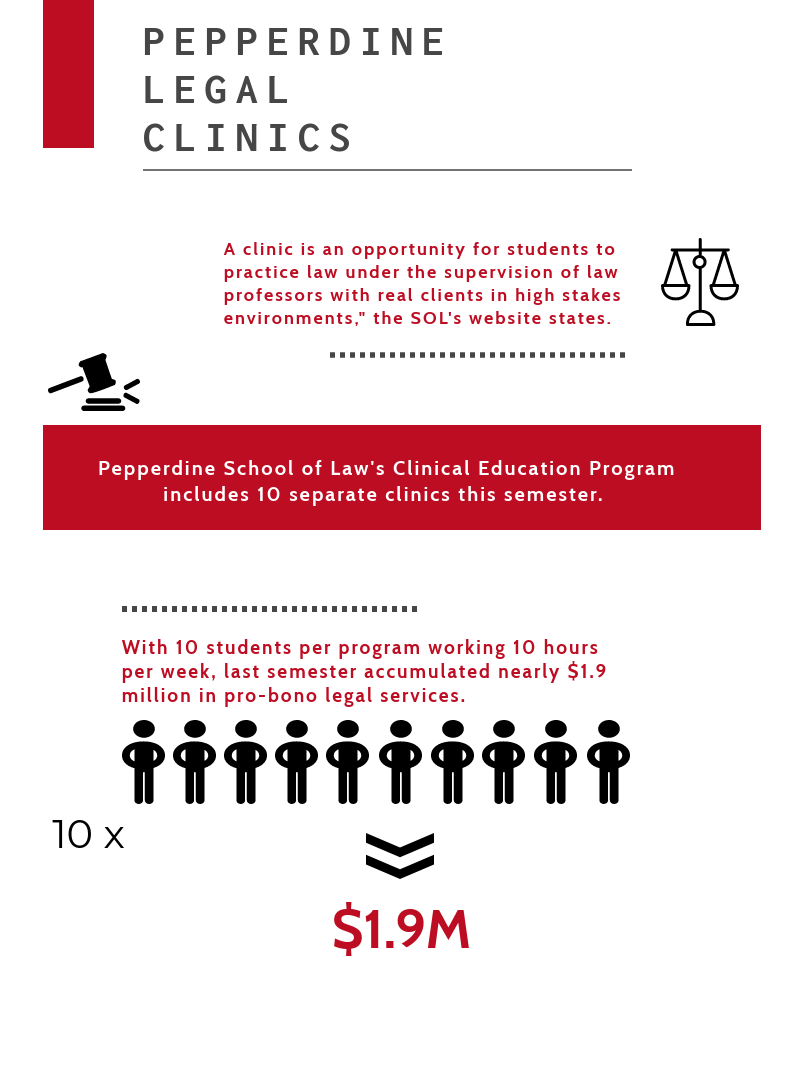 The students' legal work in these programs is "pro-bono," meaning free of cost and available to those who ordinarily would not be able to afford a lawyer.
"One of the things that we believe very much as an institution here at the Law School is that your law degree is to serve others. The purpose of what we are doing here is cultivating lawyers who are not only excellent academically, but who use their abilities and talents to serve others," said Greg Lewis, a third-year student at the Pepperdine School of Law and participant in the Disaster Relief Clinic this semester.
With 10 students per program, each committing about 10 hours a week, Baker estimated that last semester yielded an equivalent of nearly $1.9 million in pro-bono legal services, according to a report on Pepperdine Law's online publication. Baker expects the upcoming semester to be just as successful.
"For 2017-2018, the clinics at the Law School can expect approximately 25,000 hours of free legal services, give or take. That's the work of, this semester, 10 clinics across the law school," Baker said.
After the devastation of Hurricane Harvey, Lewis said the law school began thinking of ways to help. The onset of local destructive fires in Southern California then added a new direction to the new clinic's goals.
"The Disaster Relief Clinic was principally going to be focused on FEMA [Federal Emergency Management Agency] appleals for people affected by hurricanes in Texas, but now we're focused on fire relief for the Thomas fire in Ventura county and SB county," Baker said.
The Federal Emergency Management Agency (FEMA) is the government agency responsible for "preparing for, preventing, mitigating the effects of, responding to, and recovering from all domestic disasters," according to the FEMA website.
Lewis said the law students in the Disaster Relief Clinic's current main objective is assisting effected persons to apply for and appeal requests for aid from FEMA.
"Last week, they [Lewis' classmates] went up to Ventura and hosted a legal aid clinic where people from the community could come in and begin working on their applications for fire relief," Lewis said. "I believe that next week, we are going to have one in Santa Barbara."
Baker said each of the clinics are set up, not only to help others, but to further students' legal educational experience as well.
"As a teacher, my hope is to make them [the students] feel what its like to have a client, to sort of move them out of their safe classroom space and feel … the weight and the obligation of having a client in their hands," Baker said.
Lewis said the clinics enable students to put their legal education into practice in a way that they are passionate about.
"Its more than just filling a requirement to graduate. I am intentionally choosing to be a part of this clinic because I want to help people afflicted by these disasters. I want to use my skills and my talents to serve others and being part of such a great group of friends and professors is an honor and a privilege," Lewis said.
______________
Follow the Graphic on Twitter: @PeppGraphic