Photo and infographic by Alexander Hayes
Safety on and off campus is now at your fingertips.
Pepperdine launched the LiveSafe app, a free safety app that is available to all Pepperdine students, faculty, staff and visitors, on Feb. 3 at the first Step Up Convocation.
Melissa Oakes, director of Insurance and Risk Management, said that the dual launch was a "natural fit."
"We felt like, if we're rolling out a Step Up campaign that's all about looking out for each other, what better way to tie it in that to give people another way of looking out for each other," she said.
LiveSafe works internationally and runs using Google Maps. It is available through the Apple app store and Google Play. To get the app, one must simply download it, set Pepperdine as the institution and provide an email address. The app has four main tabs, each with their own set of functions.
The Report Tips tab allows users to send in tips to public safety under any of 12 categories tailored specifically for Pepperdine. Tips can be sent in with photos, video, or audio clips attached and can be anonymous if the user chooses.
DPS can message people who anonymously tip through the app to get more information or ask follow up questions, but the person's identity will remain anonymous. According to Oakes, a court order would be necessary to trace the tip to figure out who sent it.
Under this feature, users can alert public safety to suspicious persons, incidents of assault, or even mental health concerns. Connie Horton, director of the counseling center, said that the app may provide another useful option for people to step up.
"If it's somebody that just seems a little bit depressed and it's a friend of yours, I wouldn't say this is where you start," she said. "But if it's something that's really pretty concerning to you or you've continued to try to get somebody help but they seem to be getting worse; it's in those kinds of things that you might think about this. We would rather somebody report this way than not report, for sure."
Sophomore Lionel Ong said he thinks the app will be useful for reporting more minor issues to DPS without having to call.
"I think for minor feedback issues … just texting in or using the app would be good, rather than calling them," he said.
The "emergency" tab allows users to call 911 or call or message DPS. Unlike dialing 911 on a phone's keypad, calling through the app sends the caller's exact location to the emergency dispatcher, allowing first responders to potentially reach the caller faster. Location tracking can be turned on or off depending on user preference.
The "safety map" tab displays a map of any place in the world with markers for safe places, such as police stations, schools and hospitals. This feature also displays the location of any crime tips or reports in the area, searchable by time (a week ago, a year ago, etc.). Oakes said that this feature is more of a tool for situational awareness.
The "stay safe" tab has two options: "safe ride" and "safe walk", both of which function using Google Maps. Users can choose "safe ride" to request a medical or security escort from DPS late at night while on campus. If a user is off campus and is stranded or does not feel safe to drive home, this feature may also be used to contact DPS so they can help set up a safe ride home. Oakes said the Good Samaritan rule applies in these cases: "the university just wants you to get home safely," she said.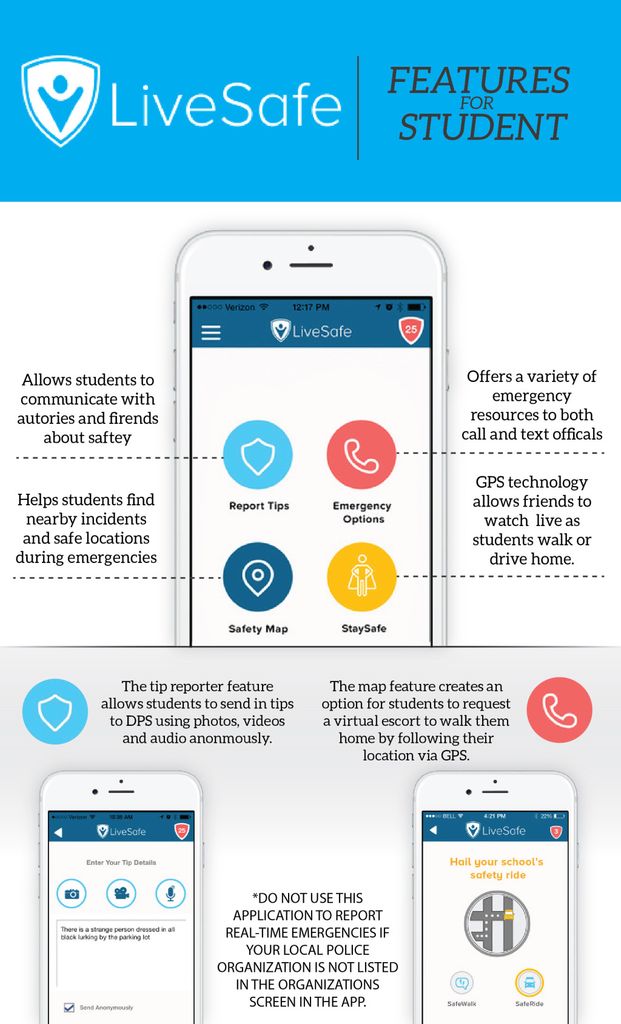 "Safe walk" is a peer-to-peer virtual security escort that allows a friend to watch a user's progress toward a destination if they feel unsafe in the area they are in. The user will show up as a blue dot on a map of the area, and the friend can view their path using the app on their phone.
The app also allows both the user and friend to text through the app without leaving the map screen. In the case of an emergency, either person can call 911 by touching the red phone icon on the same screen. This also sends the user's location to the dispatcher.
The "safe walk" function works overseas, but the emergency call icon does not automatically call the local dispatcher outside of the United States.
Ong said he thought the "safe walk" feature could have some useful applications: "I don't feel like it would be necessary for [you] if you are on campus, but maybe if you were off campus," he said.
In addition to the main four elements, the menu bar also holds lists of emergency procedure information, campus resources and contact information, as well as local resources and contacts that can be accessed even when users do not have Wi-Fi or cellphone service.
Freshman Morgan Hoog said that though she has always felt safe on campus, she thinks there is always room for improvement and she may be interested in getting the app.
"I think it sounds cool," she said. "I mean there's always room to be safer."
Oakes said that the university researched several safety apps before deciding to adopt LiveSafe. One factor in this decision was Pepperdine's study abroad program.
"With such a strong and wonderful presence abroad, we felt like we have to have something that can work internationally," Oakes said. "So we've decided to go with LiveSafe because they can guarantee that it will work overseas."
__________
Follow the Graphic on Twitter: @PeppGraphic