Photos by Shuyue Luo
Pepperdine celebrated its 81st anniversary on Founders' Day this Wednesday to show appreciation for the university's founder George Pepperdine and to commemorate the early beginnings of the university.
The celebration in Firestone Fieldhouse included an academic professional procession that introduced faculty, student representatives from the graduating classes of 1938-2022 and representatives from many boards and councils. Board of Regents member Terry M. Giles continued Pepperdine tradition by reading George Pepperdine's 1937 dedicatory address before President Andrew K. Benton's speech.
"It brings that whole of the university community together to celebrate who we have been and what we want to be in the future," President Andrew K. Benton said. "I think it would be very easy to lose touch with the founder who passed away a long time ago. I don't want to ever forget him or allow him to be forgotten because it took a great deal of courage to do what he did and we should always honor that."
The Pepperdine Symphony Orchestra and University Concert Choir performed "Baba Yetu" before Benton's speech.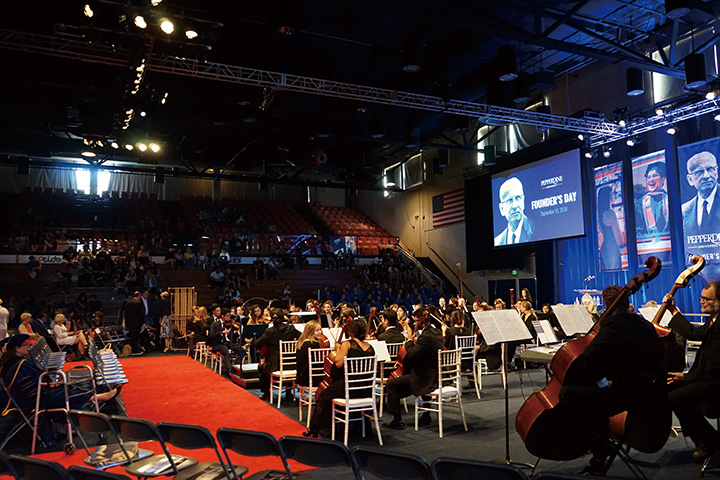 Students such as junior Annika Lile and sophomore Dimitri Smith said they also appreciate the tradition that Founders' Day brings to the school and community as well as the Year-in-Review video.
"I think Founders' Day is to really bring people together and to remind us of all the people who have come before us and that we are not the only ones," Lile said. "Today we were looking at this video of 2017-2018 and it is like, 'look at all we have accomplished [today] because of all that we have accomplished in the past.' So it is just kind of this idea of history helping make the opportunities that we have today."
As a transfer student, Smith said different universities do not show as much pride in their community and history and that seeing the Pepperdine and the local community come together to celebrate made him proud to be a Wave.
This year's Founders' Day is President Benton's last as president.
"It is the first of what will be the hardest events for me," Benton said. "I am living right now in a time in my life where everything I am doing, I am doing for the last time. This is the first one today that hit me pretty hard. Greeting the freshman, that wasn't easy for the last time because I love that, but, today being the one to kind of help celebrate the history of this place, the place that I have come to love, is hard."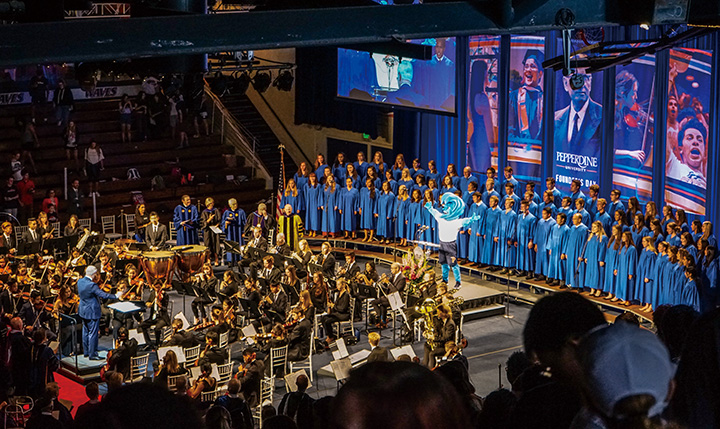 The ceremony ended with the crowd singing the university's fight song.
____________________________
Follow the Graphic on Twitter: @PeppGraphic