Photos by Joanna Cabalquinto
Pepperdine Baseball fell to Cal State Northridge, 10-4 on Tuesday, April 3. The loss to CSUN dropped Pepperdine to an overall record of 12-15 and a home record of 7-7.
Although the Waves didn't have their best offensive game, junior outfielder Cory Wills and freshman infielder Billy Cook each went 2-for-4 which accounted for four of the five hits by the Waves. Cook totaled two RBI's which accounted for half of the runs against CSUN.
"I try to get quality at bats every time I'm at the plate," Cook said. "Today I went two-for-four in quality at bats so it was a pretty okay day, but there's always room for improvement."
With no errors on the fielding end of their performance, the Waves needed to deliver at the plate but fell short on runs.
"It was just one of those days where we came out flat," Wills said. "We only had five hits today but they were so sporadic. We needed to string together some more hits to get more runs."
CSUN jumped on the Waves early but did not score. Regardless, they got three runners on with two hits and a walk in the first which set-up their momentum for the game while the Waves went three-up, three-down. Continuing their attack into the second inning, CSUN knocked in four runs off four hits. However, the Waves quickly answered back with three runs of their own.
Redshirt junior outfielder Jordan Qsar started the rally with a walk and advanced to second when CSUN made a throwing error on the hit by sophomore infielder Quincy McAfee. Junior outfielder Cory Wills followed and loaded the bases for freshman infielder Billy Cook with a single up the middle. Cook delivered and brought in Qsar with a single through the left side for a score of 4-1. Sophomore infielder Aharon Modlin grounded out into a double play, but allowed Wills to advance to third and McAfee to score, 4-2. Freshman catcher Dante Faicchio came up next with an RBI single to right field which closed CSUN's lead to only one run, 4-3.
Unfortunately, CSUN continued to score in the third and fourth innings while the Waves were only able to muster up one more run the rest of the way.
In the bottom of the fourth, CSUN led 8-3. The Waves continued to fight at the plate as Wills singled through to left. Cook followed him with a double to left center bringing in Wills for a score of 8-4.
CSUN took two more runs in the top of the fifth for a six-run lead of 10-4, but the Waves were unable to score for the rest of the game.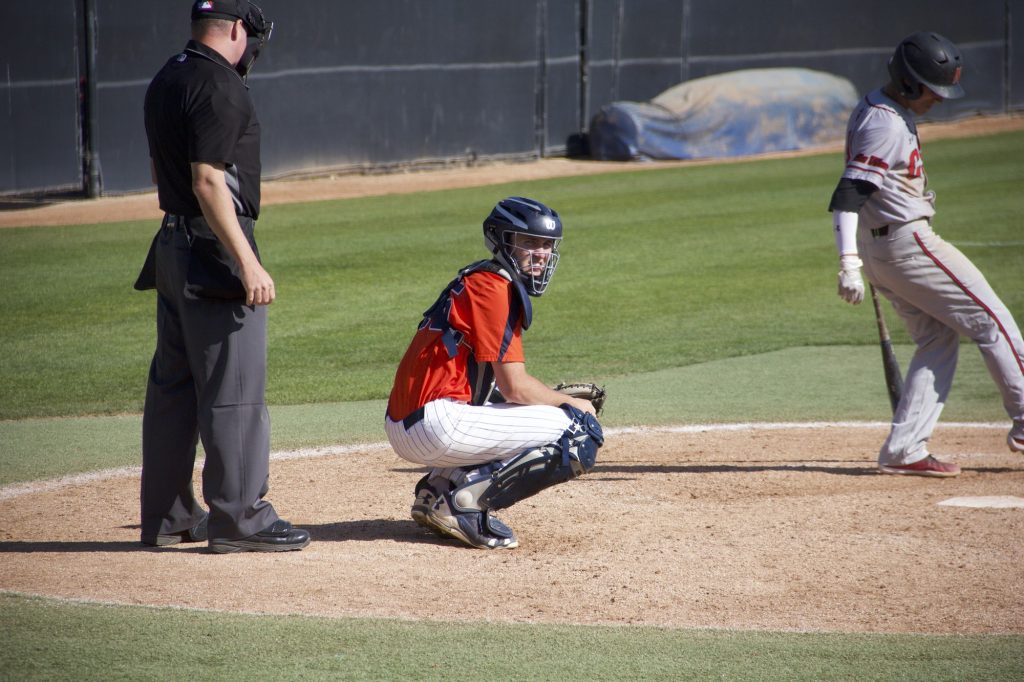 Freshman catcher Dante Faicchio
"We fell short in energy, we didn't have great energy whether it was on the field or in the dugout," Cook said.
Up Next:
The Waves take on Pacific at home for a three-game series this weekend with the first game starting on Friday, April 9 at 3 p.m.
___________
Follow the Graphic on Twitter: @PeppGraphic