Photos by Gabriella Chan
Kristina Hsieh, junior and IMC major, is paving a path for young Seaver entrepreneurs. Hsieh and two of her high school classmates, Rachel Giusti and Aaron Tom, created a coloring book company this summer, geared specifically toward young adults. Their company, Coffee Break Ink (respect for their pun), is now available on Etsy and from the creators themselves.
They set out to create a coloring book that would appeal to the 18-to-30 age group. The book, "Coffee Break Companion," is meant to stand apart from the other adult coloring options out there.
"The size is a big difference, and kind of the way it looks in general stands out a lot," Hsieh said. "It's easy to carry around and fits in most bags, and I think the designs are slightly different in that a lot of other coloring books are really intricate or extremely pattern-focused, but I think we have a good variety."
They aimed to create a compact and creative book. Hsieh explains that she first got the idea when telling her mother, "They should make smaller coloring books because they're easier to carry around, they're not as bulky and you get through them faster which is so much more satisfying." Encouraged by her parents, Hsieh and her two friends set out to realize their vision.
The trio did all of the art themselves, even pairing the pages with inspirational quotes.
"We really wanted the coloring book to be a relaxing and fun activity, and we thought the quotes might add a level of inspiration and relaxation to that," Hsieh explained. "We got together one day in a coffee shop and laid [the drawings] out and saw which ones went better together and people would enjoy."
Hsieh said they tried to create art that would fill people's creative needs.
"Our book is set up set up so the more simple drawings are at the beginning and the more complicated ones are at the end, so people can pick what mood they're in," Hsieh said, who described the pages as "very doodle-esque."
Creating the company itself required some much-needed help from Google.
"We laid out what we wanted to accomplish," Hsieh said. "There was lots of research, just in terms of legal things that we need to do to be recognized as an actual company. One of us did a mini target market analysis, just to see what's already out there, what we're up against, what was missing and if the product in our mind matched what was missing in the world — which fortunately it did."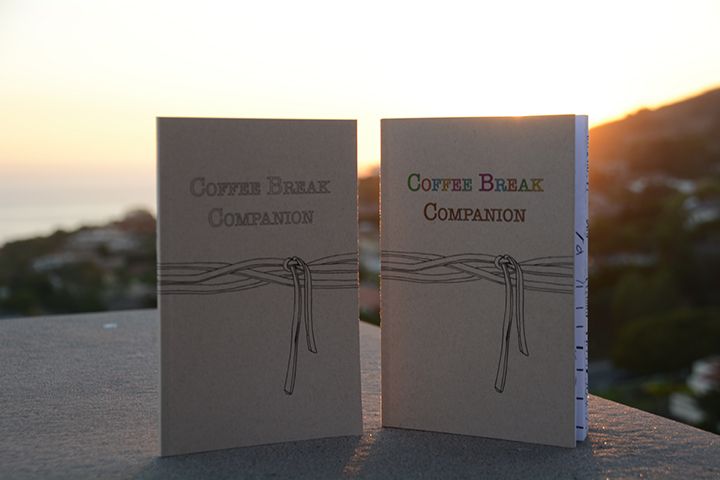 The team even has weekly Skype meetings to make sure they keep on track. Hsieh's role, now that the book has been created, is promoting their product. She explained that her favorite part of the company is creating an image of their product, "both through the actual art and through marketing."
As of now, the three aren't yet sure where Coffee Break Ink will take them.
"We are currently looking into a reprint of our current book, and we are also looking into making cards right now," Hsieh said. "Sometime in the spring we will work on a second book. I think it would be really cool if way down the line, we got big enough that another company would buy us."
For now, though, the team is focused on creating even more inspirational pages for their next book and promoting the one they have available now. So if you've been looking for a cure for coffee break boredom, pick up one of their artsy books to color patterns, pineapples and paisley, and be inspired by some of history's most uplifting art quotes, such as Oscar Wilde's "Life imitates art far more than art imitates life." A quick search through Etsy's "adult coloring books" will produce "Coffee Break Companion" on the first page of search results for your buying pleasure. The 20 pages of creative encouragement are sure to accompany your java fix nicely.
__________
Follow Pepperdine Graphic on Twitter: @peppgraphic