Photo by Sherry Yang
Even though some students and faculty members left campus before the Woolsey Fire reached the outskirts of campus, many stayed, sheltering in place in the library and cafeteria. The following includes some of their perspectives.
Rebecca Pankratz, senior
The majority of the fire I felt like I was on "go mode," so I didn't have many feelings till later. When we evacuated to the library, the air began to smell like a campfire, and it became stuffy and difficult to breathe. This was probably the hardest part for me. I am very grateful for the people who prayed with me when I was feeling stressed. This gave me the ability I needed to remain calm and at peace even in the midst of the storm. People were very encouraging to me and would often ask me how I was doing. I am so grateful for the Pepperdine community.
Gavin Lewis, sophomore
I honestly was not that concerned about the fire. The primary source of stress was from other people outside of the fire trying to get me to leave. I really did not doubt the ability of Pepperdine University to keep us safe, not even when the flames were coming up over the hill by the library. I am guessing between the amount of people that stayed and the fact that people cheered whenever a helicopter dropped water on the fire, I don't think that a lot of other people were that worried either.
At the same time, I am aware that a lot of people were stressed out about the fire, even though they knew they were safe. The fact that the fire was closer to campus than I thought surprised me, although I still would stay on campus again in the event of another fire (God forbid). This certainly has been a trying time for the Pepperdine community, but I am confident that we will be able to make it through and persevere.
Madison Field, senior
I am used to hurricanes and blizzards but not fires. I will admit that my heart started racing when I watched the flames come over the top of the ridges surrounding campus and climb down the hill. However, I had full confidence and trust in the Pepperdine officials and first responders. I was very disappointed with the negative, if not hostile, reactions from students, especially those off campus, about Pepperdine's shelter-in-place protocol. I have met personally with one of the people who plan for emergencies on a daily basis, and I am thoroughly impressed with his work and his team's efforts. To respond to a comment that I saw the other day [on social media], yes, some people that had relocated to the library and cafeteria were understandably scared and perhaps expressed that they felt unsafe. The response to an emergency is personal, and everyone has a right to their feelings, especially in the face of flames. However, any feelings of being unsafe on campus were caused by a lack of trust in those who had been working tirelessly to protect and shelter us. As a resident adviser, it became tremendously more difficult to care for students when people began sharing misinformation and panic over social media.
Brandon Oddo, sophomore
One of the best words I've heard to describe those few days is "surreal."
Sure, it was strange to look outside the window and see flames cresting the hills. Often, though, I would find myself very reassured after conversation with administration; I mean, they were in communication with fire-fighting professionals, so I chose to trust them more than my uninformed reactions. The more surreal aspect of it all, however, was what had been going on inside of those windows. I hesitate to say I felt much in terms of emotion during the fire. I spent more of my energy on thinking. I noticed how powerful the authenticity of the moment was. Conversations seemed truer. I paced the library contemplating, finding things to do and talking to people. Forty hours had gone by, and I realized I had only slept two. I don't think I've yet had enough time to comprehend what has happened. The abruptness of my going home didn't necessarily aide in my ability to process it. It doesn't seem like the fire at Pepperdine ended. When I think of it, it feels as though it was just paused.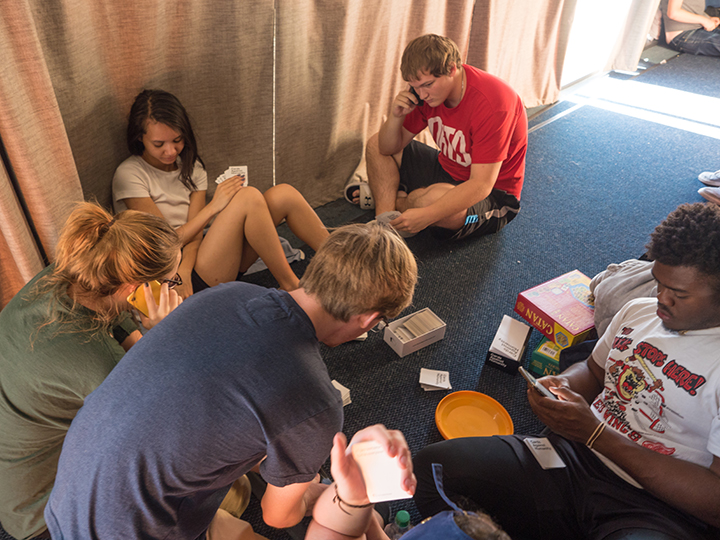 Bailey Laughlin, senior
Seven o'clock Friday morning, I woke for the day, excited to have made it through the night without being relocated. This sense of peace lasted only a few minutes before I got the message that shelter-in-place protocols were being initiated. With slight panic, my roommates and I flung ourselves out of bed, grabbed our bags and headed out the door. Everything going on didn't seem real. I did not think that the fire would ever reach our campus. Once we arrived to Firestone, my biggest concerns were not about whether our school would burn down but rather when was I going to have service to contact my family and when was breakfast. Most of the day was very calm and actually quite a bit of fun. I enjoyed spending the day stuck in a room with my friends and classmates, playing cards, making memories, eating free food. When they released us to our rooms, I thought the threat was over. Oh, how I was wrong about that.
After reinitiating the shelter-in-place, the fire seemed a lot more real. Many people were leaving campus, but I saw no reason to; I trusted Pepperdine and their plan. I was being fed and cared for, and I didn't know the conditions around us. I did not know where the fire was; my friends and I searched and searched but could not find the information we were looking for. This concerned me slightly and was the primary reason I did not leave campus. The day dragged on, and we were all getting a little antsy. When they announce that we were relocating again, confusion swept across the room. Luckily, they were only moving us to the library for comfort and, boy, were we grateful! Most of us felt right at home, since we practically live there anyways. I was happy and excited. It seemed like a giant sleepover with all my friends, until a sheriff stormed in telling us to evacuate and sent the room into a whirlwind of panic, frantic packing and tears.
A little after 10:30 p.m. as the excitement was settling down, I finally found out where the fire was … it was roaring down the hillside right before my very eyes. The fire became real that minute and for the first time I felt a glimpse of true fear — fear for my life. I wondered if I had made a mistake by passing up all the opportunities to leave. Realizing that I could have been long gone by this point, I did the only thing I could do: remind myself why I chose to stay. I trusted the Lord, I trusted the firefighters, and I trusted Pepperdine. So I sat by that library window with my eyes glued to [the] scene waiting to get word that we were safe. The shelter-in-place was lifted the next morning and, to my surprise, campus and our belongings were safe. I did not have a single regret, only joy and graciousness. My heart was so full of love and gratefulness for my friends, my family, the firefighters and my Pepperdine community. I can't imagine going through those few crazy days with any other community than ours.
Friday, Nov. 9 was perhaps the craziest day of my life. There were moments of panic, stress, confusion and fear but also moments of fun, laughter and joy. Despite the chaos all around us, the feeling that resonated with me the most was love. I felt so greatly loved and cared for by our Pepperdine community as I too felt so much love and care for them. We were all going through a difficult time, but we were going through it together and leaning on one another. I also felt loved by and from people outside of our community, especially the firefighters, who risked their lives to save ours although we had never even met. I have unbounded gratitude for the firefighters and the Lord who protected us.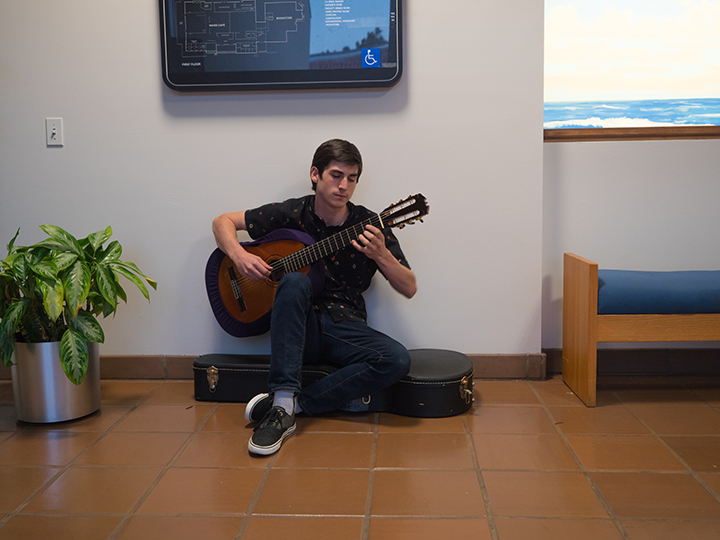 Laura Duffield, junior
There was a lot of fear, I guess. I took pictures throughout the weekend, but I didn't take any pictures of the fire when I saw it because I didn't want to remember how it felt to see the fire coming at us. Even throughout that whole thing, though, I remember seeing the people around me who were comforting others and being a source of stability. I can't say how much I appreciate everyone who acted as an anchor of support during the weekend.
Jiji Mielke, freshman
After spending a day gathered in mourning and prayer, we had been moved to the cafeteria for safety from the growing fire. When I looked out the window, I saw to the left, cars clustered along PCH, desperate to leave the area. To the right, I noticed the dark, enormous cloud of smoke, which appeared to increase in size and decrease in distance each time I looked. Amongst sorrow, panic and fear, I also felt an increase in faith and gratitude. My friends and I were just grateful to be safe and together. We were provided drinks, meals and masks to reduce smoke inhalation, proving that our safety and well-being were important. The fear that I felt from watching the news coverage was ultimately outweighed by the faith I had in the firefighters who were risking their lives to keep us safe. Despite the recent, tragic event and threatening condition with which we were facing, the Pepperdine community was truly making the best of the situation.
Al Sturgeon, preacher at University Church
My wife and I spent all day Friday and Friday night in the Caf alongside many others. I mostly stood near the makeshift microphone where announcements were made from time to time; in retrospect I think I wanted to be somewhere looking like a "dad" in case anyone wanted to look up and see such a thing. I have a daughter in college a thousand miles away, and if she wanted such a thing, I hope someone would do that for her.
There are many memories from that night, but I especially remember noticing the fire cresting the ridge west of campus outside the windows of the Oasis after many had gone to sleep. With time, several others noticed, and a small crowd of us stood watching in awe, mesmerized by the flames. When President Benton came to visit, I told him that the flames were visible and that several students were gathered to watch, and he immediately wanted to be with the students. I will never forget the tender way he talked to the students, inviting questions, and patiently answering them even though I am sure he had a few other pressing matters. I remember that he never said, "Well, I have to go"— he just patiently invited more questions until he was sure everyone was heard and comforted. Like a parent at bedtime, he seemed to want everyone to be able to rest easily — except himself, of course.
I tried to look like a dad for everyone that Friday. I remember President Benton acted like a dad for all of us.
_____________________________________________
Follow the Pepperdine Graphic on Twitter: @PeppGraphic