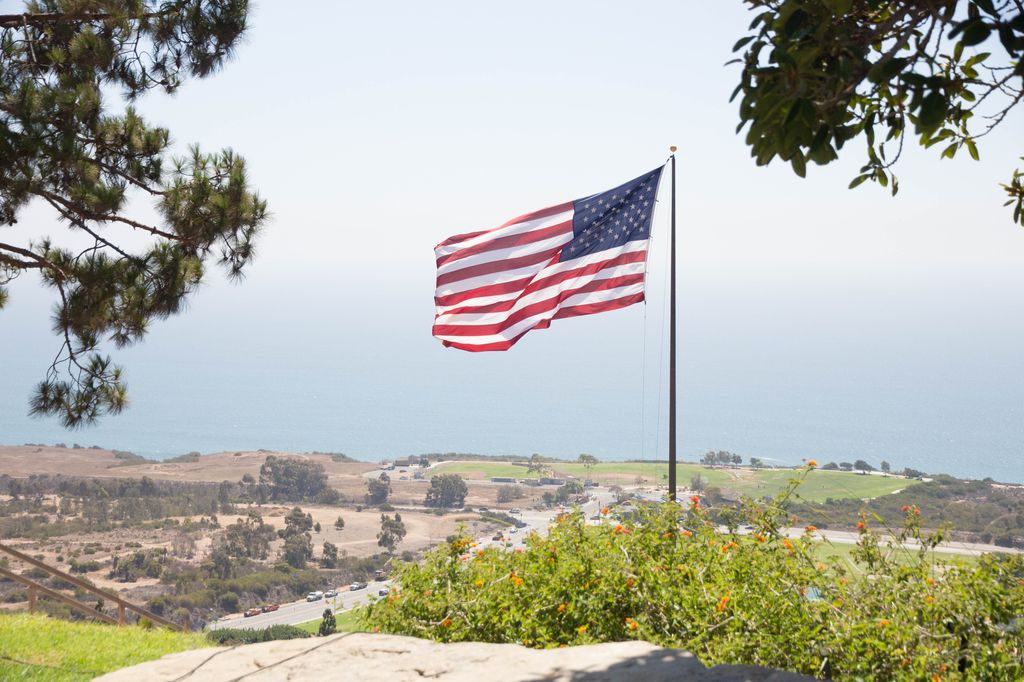 Photos by Milan Loiacono
The Pepperdine community gathered at Brock House on Friday, Sept. 9 at noon to commemorate the 15th anniversary of the Sept. 11 attacks through prayer and personal stories.
The service was opened and closed by Halley Burnett, Seaver College junior and daughter of Thomas E. Burnett, a Pepperdine alumnus who was one of those who lost their lives on United Flight 93 on Sept. 11, 2001. Anna Clare Burnett, Halley's sister, and Seaver freshmen, read from Psalm 46. Anna Clare also published a tribute to her father in the Graphic last week.
"He was a hero … He was a strong leader who knew what was right, even if it wasn't easy," Halley said of her father.
In addition to honoring her father, first responders, and those who perished that day, Halley shared personal memories of her father. She recollected how her father would dance with her and her sisters before bed. "He was a kind man who absolutely loved us," she said.
Michael A. Helfand, associate professor of law and associate director of the Glazer Institute for Jewish Studies, shared a devotional message as well as his own experience of the events of 9/11 as a student at Yeshiva University, located approximately 10 miles from Ground Zero.
Helfand said the events of that day seemed to be an unendurable trauma, leaving him and America to grapple with how to respond to such tragedy.
"What do you build when everything has been torn down?" he asked.
Helfand said he feels the lesson is found in the moments of building community and responding with generosity of spirit and building new bonds. He also spoke of the importance of continuing this lesson when the world appears to be moving in "troubling directions."
"This 9/11, I'll renew my commitment to these ideals and pass them on to my children," he said.
The ceremony also included an invocation from President Andrew K. Benton, a reading of Ecclesiastes 3:1-8 by Department of Public Safety Senior Lieutenant Eric Barnes and the traditional placing of the memorial wreath by SGA President Edward Adutwum and Psi U Member Joshua Voorhees.
Benton said he felt this year, being the 15th anniversary of the memorial at Pepperdine, was a "moment to do something different," holding the remembrance at Brock House instead of Heroes Garden, where it has traditionally been held.
"I think all Americans ought to have a deep understanding of what this day means and never forget," he said, praising the values of community, heroism and human response.
"I admire the Pepperdine spirit which celebrates freedom, which celebrates the indomitable human spirit," he said, adding that he was "thrilled" to have the Burnetts as part of the student body.
Third-year graduate student Pauline Van Backle said she felt "very much at peace after the service."
"I found the speakers to be very meaningful and I enjoyed the prayer component," she said.
Freshman Jared Lee said that though he does not have a clear recollection of 9/11, he recognizes the importance of gathering in remembrance.
"It's important to realize the effects it has had on the world — on family members, on friends, on the country, [and] the unity it brought," he said. "It's always great to come to ceremonies like this."
At the end of her speech, Halley shared a quote from her mother, who she said is a "beacon of strength" for her and her sisters:
"In the midst of tragedy, we can find God."
__________
Follow the Graphic on Twitter: @PeppGraphic