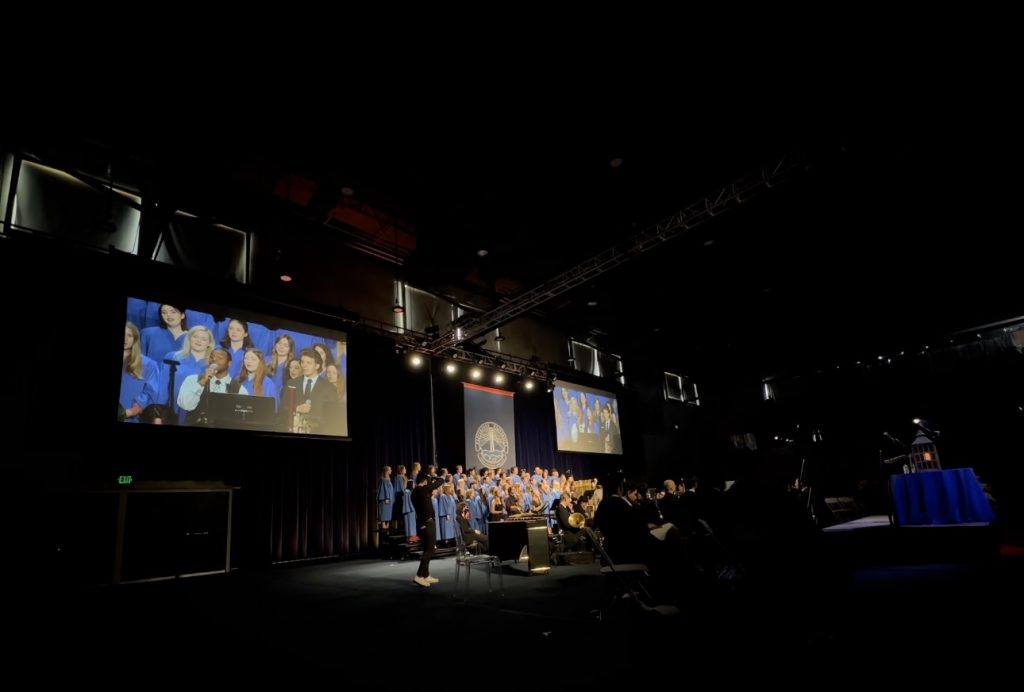 Members of the Pepperdine community, past and present, gathered Wednesday for Pepperdine's annual Founder's Day celebration in Firestone Fieldhouse.
Founder's Day paid homage to the university's founder George Pepperdine and commemorated the beginning of Pepperdine's 87th academic year.
President Jim Gash spoke on the 2023-2024 academic year's theme of "Light." Community members were honored, students read excerpts of George Pepperdine's 1937 dedicatory address and the event featured performances from Pepperdine's Concert Choir.
Michael Sugimoto, SGA president wrote in a Sept. 20 text message to the Graphic, Founder's Day is a special occasion meant to remind students of the people who came before them and the legacy they left behind,.
"Today is a day of both remembrance and celebration," Sugimoto wrote. "A day to reflect upon the rich tapestry of our institution's history and to renew our dedication to the values and principles that have guided us."
George Pepperdine founded the University, opening its doors in 1937, with a vision to cultivate an environment rooted in the pursuit of knowledge, service and leadership, according to Pepperdine's website.
The ceremony began with Olivia Noel Baker, Black Student Association co-president and Seaver College senior, welcoming the students and faculty to the ceremony.
De Anna Smith ('86), chair of the Pepperdine Board of Regents, introduced George Pepperdine's values and admiration for the Pepperdine community and paid a special welcome to the board members and dignitaries.
Myers Mentzer, junior at Seaver College and executive vice president of the Student Government Association, said it is important to remember the history of the university so current students can continue to cultivate a community for those in the future.
"There are so many generations that have gone before us here at Pepperdine that have made it to the place that we're able to be at today," Mentzer said. "We have those same opportunities to do that for students here in the future."
The Alumni Processional March followed with representatives from 1938-2027, as well as a March of Nations led by international student representatives carrying 16 international flags that signified more than 70 countries represented at the university.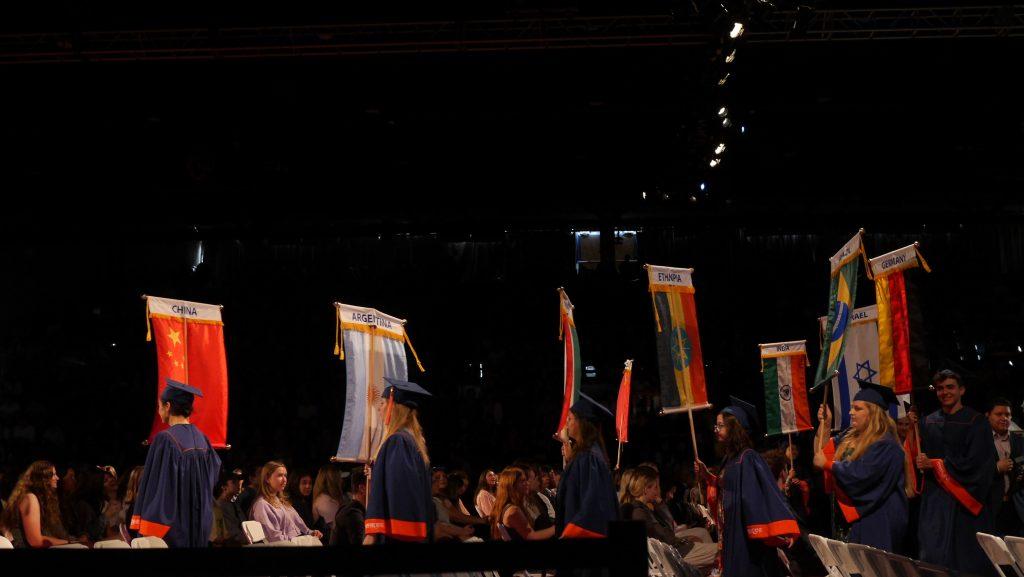 Sofia Reyes, a junior at Seaver College and president of the LatinX Student Alliance, said it means a lot to be invited to be a part of large-scale school events like Founder's Day.
"It makes me feel like the organizations and the communities I represent have a place here at Pepperdine," Reyes said. "[They] have a place speaking at Pepperdine and are just as integral as everything else in Pepperdine's history."
Donna Nofziger Plank, professor of Biology, introduced the faculty processional consisting of representatives from each of the university's five schools and colleges.
Senior Timothy Jackson, the president of Alpha Phi Alpha Fraternity, introduced Pepperdine's Concert Choir, which was led by Dr. Ryan Board, professor of Music and director of choral activities in Seaver College's Fine Arts division. The choir performed a rendition of James Taylor's "Shed A Little Light."
President Jim Gash said the theme for the academic year is "Light." He said he chose this theme because he wants the Pepperdine community to radiate light on and off campus.
"Jesus said He is the light of the world," Gash said. "But, amazingly, he [Jesus] also said, 'You are the light of the world.' The implication is that we are light, as we embody and reflect His light and life, and therein lies our priority."
Gash talked about the university's Christian mission and values. He said he hopes the university is preparing its students holistically.
"The spirit must be prepared as much as the mind and the heart," Gash said. "At Pepperdine, we invite, we don't impose, we don't require, but we unapologetically invite our students to embrace spiritual preparation for the professional and personal lives ahead."
Gash said he hopes to spread light in the community by immersing himself in on-campus events, classrooms, worship and in the lives of students.
"My goal is to be a part of the community," Gash said. "That's some of my favorite part of the job, is to just be with students — to just try and be an encouragement to them wherever they go and in whatever they do."
Mentzer said she hopes students can take away something valuable from today's ceremony and the events that took place.
"I hope students took away from today that there are so many people here that care about them," Mentzer said. "This place that we are on [is] sacred ground and that has been prayed over, it's being prayed for, and it's going to continue to be a place of belonging and a place of growth for all.
Five student representatives from each school lit the symbolic lantern: Micheal Sugimoto from Seaver College, Bailey Greenberg from the Caruso School of Law, Victoria Ka'aha'aina from the Graduate School of Education and Psychology, Amanda Auciello from Graziadio and Michael Henry from the School of Public Policy.
Senior Kimberly Banda, SGA vice president of administration, said the lantern's light is a symbol of guidance.
"The light from the lantern symbolizes many things," Banda said. "Knowledge illuminating our world, a sense of direction, a clarity, a purpose."
The event concluded with Provost and Chief Academic Officer Jay Brewster asking Pepperdine students to promise they will exemplify light. He said the community should remember George Pepperdine's words and remember God's presence so the community may be a light in a dark world.
"As we walk through our busy days and engage with each other and with the world that surrounds our campuses, may we shine, may we radiate God's transforming message of hope," Brewster said.
The event ended with the Concert Choir, and eventually, the crowd, singing the words "yes we will" led by Jace Vandellin, a junior at Seaver College.
To end the ceremony, junior Lauren Brajevich announced the official opening of the 2023 academic school year.
___________________
Follow the Graphic on Twitter: @PeppGraphic
Email Ava Heinert: ava.heinert@pepperdine.edu
Email Emily Chase: emily.chase@pepperdine.edu