Photos Courtesy of Julia Donlon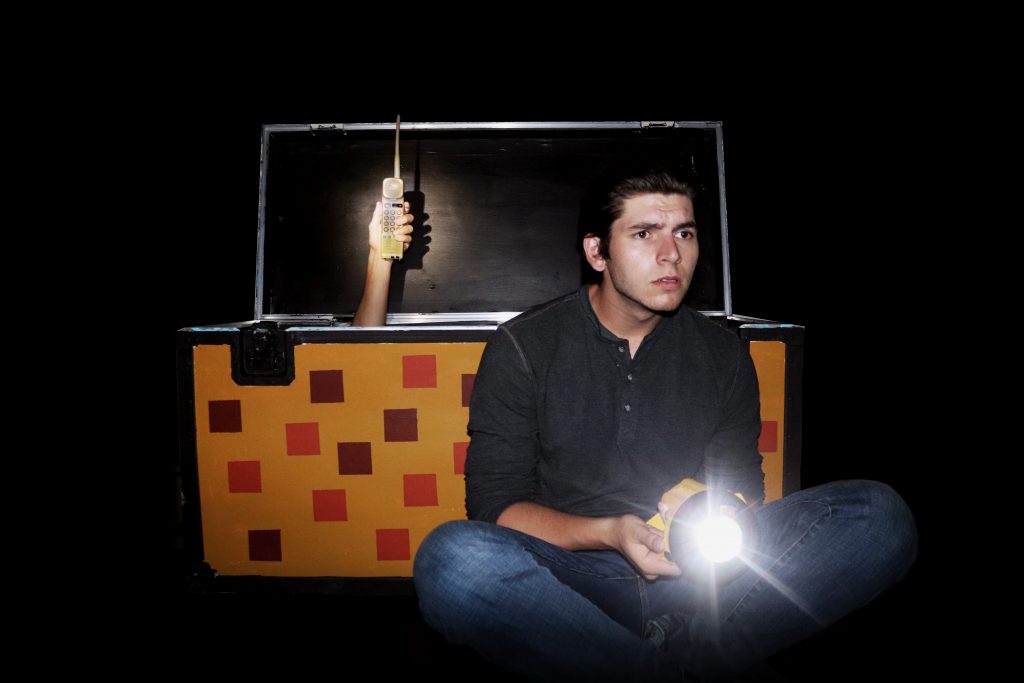 Nate Bartoshuk as Samuel in "The Abode"
This summer, 18 Pepperdine Theatre majors traveled to Scotland for the Pepperdine summer theatre program. For three weeks in August, they performed "The Abode," a play by Scottish playwright Davey Anderson, dealing with contemporary extremism and the alt-right at the Edinburgh Festival Fringe, a three-week-long cultural festival featuring thousands of performers.
Since 2012, Pepperdine Theatre commissions a new work from a Scottish playwright about progressive themes and hot-button issues for each program. In 2016, they debuted "The Interference" by Lynda Radley, which discussed sexual assault on college campuses.
"We always look for work that has a social action and justice component," the program's director Cathy Thomas-Grant said. "It's important for to us know, especially in our country today, how to dialogue with people who don't believe politically what we believe."
Junior Noah Archibald elaborated on the plot.
"'The Abode,' in the simplest description, is an '80s-style adventure story that highlights the rise of neo-Nazism in America, primarily focusing on the recruitment tactics they use to draw young White men into their ranks," Archibald said.
Archibald played Ricky, the face of the alt-right movement, in addition to playing "The Troll King," Ricky's evil alter-ego. On the surface, he is charming and seductive, using his allure to entice the lead, Samuel, played by junior Nathan Bartoshuk, into his group. Senior Kathryn Semple, who played Becky in the production, among several other roles, wrote in an email that it was when her character turned Samuel down that sped up his journey into the alt-right.
Samuel gets drawn into "The Abode," a physical manifestation of an online chatroom, and his sister and social justice activist, Wendy, played by senior Jacquelyn Ferguson, tries to rescue him. Ferguson wrote in an email that it is only through comprehension and communication, not condemnation, that she can do so.
The play comes at a moment where news about alt-right and conservative extremism increasingly pervade news feeds.
Archibald elaborated on the poignancy of the play in today's context, adding that when they performed the play it was the one-year anniversary of Charlottesville. And, while they were in Glasgow, there was an anti-alt right rally and a counter-protest.
Ferguson wrote in an email that this role helped her combine her biggest life passions — theatre and social activism — giving her the opportunity to learn how to collaborate and listen in order to facilitate change. Ferguson wrote that labeling and blaming one another is counterproductive. Rather, civilized discourse is integral.
"I find myself more willing to engage in discussions that I might have previously avoided because, in order to promote change, you have to target the source of conflict and animosity and begin working toward a resolution," Ferguson wrote.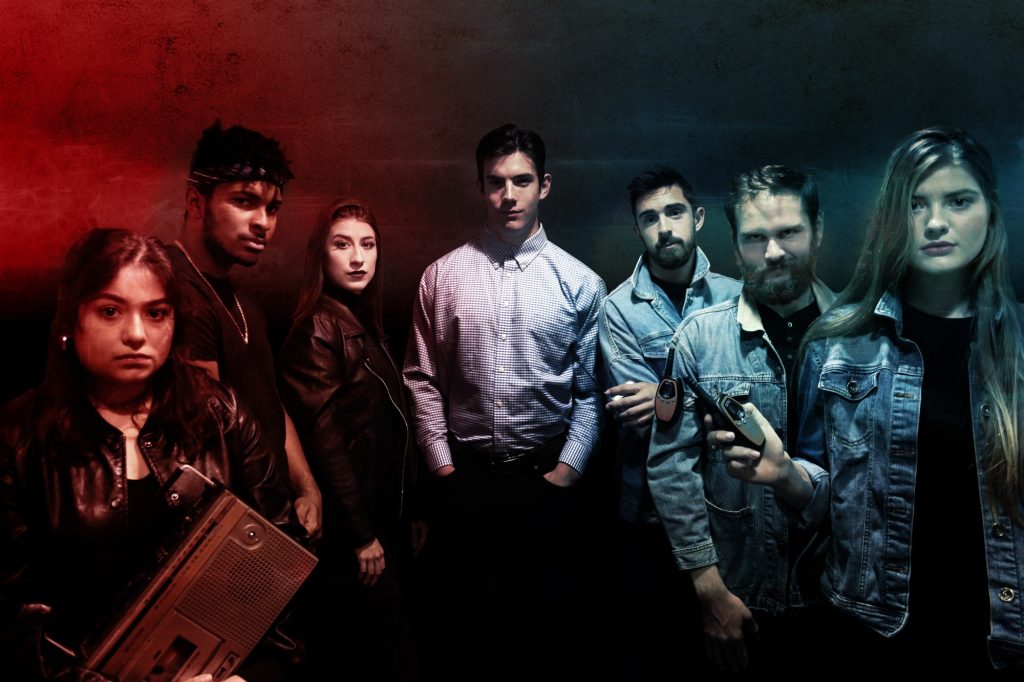 The Ensemble of "The Abode" by Davey Anderson
Those involved shared similar sentiments about the power of art in facilitating further dialogue and inspiring change.
Ferguson wrote that she thinks they have done their jobs if audience members leave the production feeling the need to spark further discussion and create dialogue within our larger society.
"As an artist, I feel as though it is my job to bring awareness to these injustices that people often dismiss," Ferguson wrote. "As a human being, I feel as though it is my job to lessen the disparities within our society."
Semple echoed Ferguson's sentiments.
"As an artist, I've learned that there is no limit to what can be considered art and who to make it, so in the future, I definitely hope to advocate more for self-produced art and art in any form," Semple wrote.
Sophomore Christopher Jerabek, the scenic designer, props master and assistant director, similarly reflected on the power of art.
"Art is a way to almost trick people into listening to challenging topics," Jerabek said. "The moment you set it within the frame of art, people are more receptive to it. The realm of art allows you to reach an audience that otherwise wouldn't necessarily want to confront those difficult subjects being talked about."
Alumnus Will Craig, who participated in the program in 2016 with "The Interference" and played Samuel's father's ghost in this production, among several other roles, said that art is a vehicle where messages can be shared with a much more powerful effect.
"Art is somewhat piercing to the soul; it is able to cut through layers of hurt and pain and negativity, and it is able to stir people's hearts and make them think," Craig said.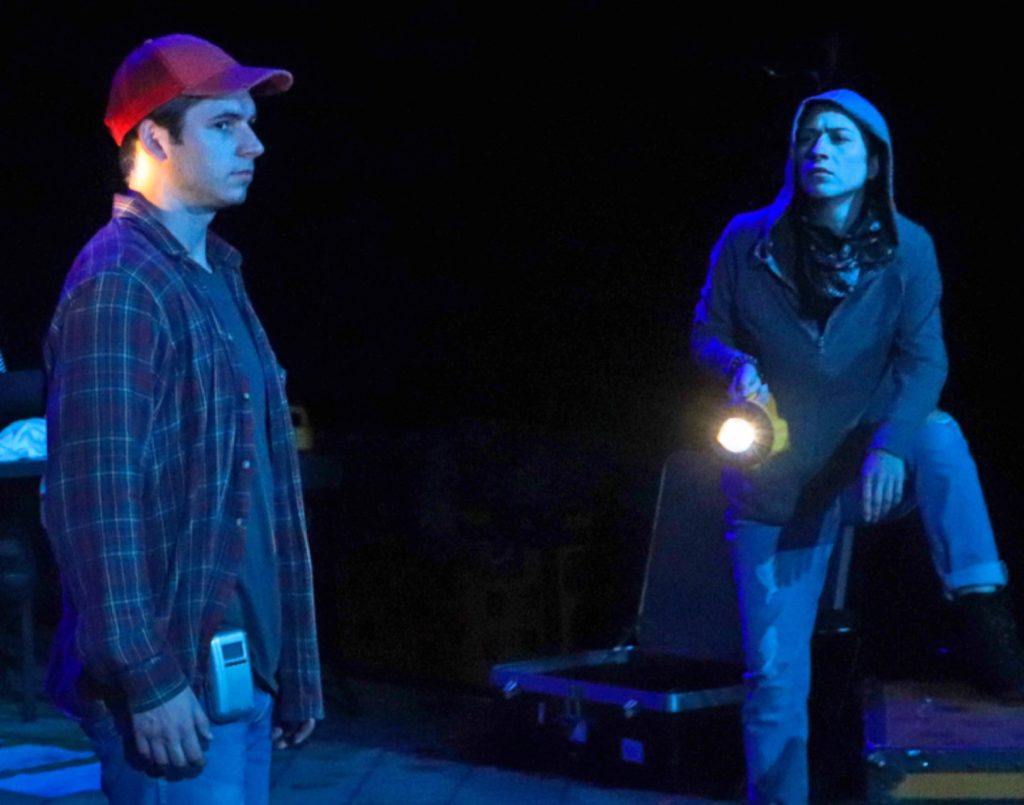 From left to right, Nate Bartoshuk as Samuel, Audrey McKee as Anita in "The Abode"
The play was a feat for many reasons other than what Grant describes as its intense subject matter. Grant also said that this was the first time where four Media Production graduates made a documentary about the project, spending last spring break before the production and then some additional time in Edinburgh to shoot it.
Junior Emma Inglehart, the stage manager for the production, wrote in an email that the show was fast-paced, causing lines between technical jobs to become blurred.
Jerabek said that it was very much a balancing act, particularly with his many roles, but in the process, he learned how to manage a show and make sure everybody is on the same page.
Despite the challenges, Grant reiterated her gratitude and pride in her students.
"Each company member is at a different stage in their development, there was a variety of experience and a variety of knowledge. My hope is that in the end they have felt encouraged by each other and that they really experienced what a truly collaborative effort creating a new work takes," Grant said.
______________
Follow the Pepperdine Graphic on Twitter: @peppgraphic