Photo courtesy of Jackson Hogan
Pepperdine's athletic facilities, such as the ocean-facing Eddy D. Field Stadium and the recently remodeled Raleigh Runnels Memorial Pool, are gorgeous. The student-athletes always have up-to-date, functional uniforms and a fully stocked weight training center. Most of the teams often take trips for competitions, occasionally even overseas.
Of course, none of these amenities are free, and Pepperdine's Athletics Department has a complex method of making sure each sport gets the funds it needs to run smoothly and guarantee a stellar experience for each Waves student-athlete. The budget is funded by a mix of donors, fundraising, the university's own money and other forms of revenue generation, according to various officials involved in the athletic department.
Although fundraising, advertising and ticket sales can help put extra money in the Athletic Department's coffers, the main source of cash for their programs is the university itself, and that many other schools are in a similar situation, according to Matt Kalish, Pepperdine's assistant athletic director of Business Operations.
"As with a lot of [universities] across the country, you have funding models that are ideally a marriage of fund-raised dollars, revenue sources — the most obvious revenue source is ticket sales — and then you also have university funding," Kalish said. "There are very few departments across the country that truly, fully fund themselves, and those are mostly really big football schools."
Kalish said fundraising through events, such as the annual fall golf tournament that the Men's Volleyball team hosts, is typically used for funding non-essential benefits for teams that wouldn't be covered in the budget. An example would be how the women's volleyball team raised money this winter for a European trip.
That type of fundraising, called crowdfunding, is similar to what Pepperdine's cross country coach, Robert Radnoti, uses to take his athletes on pre-season training trips to high-altitude locations like Mammoth or Tahoe. He said Impact, which operates similarly to Kickstarter, has been a very successful method of earning a little extra cash for his team.
Pepperdine's athletic programs also implement department-wide fundraising events to try to make student-athletes' lives a little easier. One of the more prominent was Refuel the Waves in October, which was a student-led and student-run campaign. Senior Jimmy Gehrels, a member of the Men's Volleyball team and a student worker for Pepperdine athletics, said Refuel the Waves helped purchase snacks for busy athletes on the go.
"A lot of our athletes go directly to class, and there's not a whole lot of time to grab meals," Gehrels said. "We really needed more options in our training room down here to really help them."
Another event, the university-wide Give2Pepp day on March 8, helped raise money for various Pepperdine groups and schools. The athletic programs in particular had a successful outing, with their goal of 600 pledged donations being exceeded, reaching a total of 1084 donations.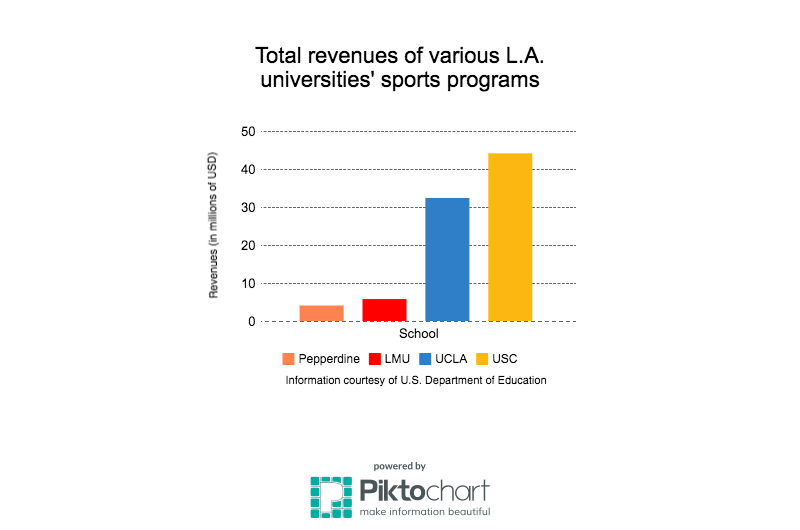 Sam Lagana, Pepperdine's associate vice chancellor, helped run the event, and frequently courts donors for Pepperdine's athletics. He said donations, for sports or otherwise, not only help the university improve itself, but they can also boost the university's image.
"Giving not only helps our bottom line of advancing the university, but, really, it also helps in our rankings and the awareness of people giving back to our institution," Lagana said. "Other schools value that when they're looking at evaluations of one another. How is the alumni giving? How is the [giving] with parents, friends, foundations? All of those things matter in the world of advancing institutions and how we're viewed."
Naturally, donations and fundraising, along with Pepperdine's own fund, isn't the only way Pepperdine's athletic department supports themselves. Athletic Director Steve Potts gave three current examples of new revenue streams they've been working on: They recently sold their multimedia rights to Van Wagner Sports and Entertainment, who will sell sponsorships; Pepperdine has also signed an agreement with Aspire Group, who helps the Waves make more money selling more tickets; and the department is also working on a new fundraising position.
Potts said hopefully, these new deals will help make Pepperdine's athletics a little more self-sufficient financially.
"With those three things, we're going to increase the revenue for the athletic department," Potts said. "That doesn't mean we're not going to ask the university for money, we'll probably make a request every year, but we need to be not-so-dependent on the university for everything that we do."
When it comes to dividing the revenue among the sports teams, Potts said Pepperdine tries to be fair, but that doesn't necessary mean each program gets the exact same funding.
"Some sports have 35 students on their roster, some have eight. Some sports have all kinds of protective equipment, and some have a uniform that could probably fit in a shoebox," Potts said. "It's not about trying to divvy out the money equally, it's about dividing the money equitably."
__________________________
Follow Jackson Hogan on Twitter: @jacksonhogan