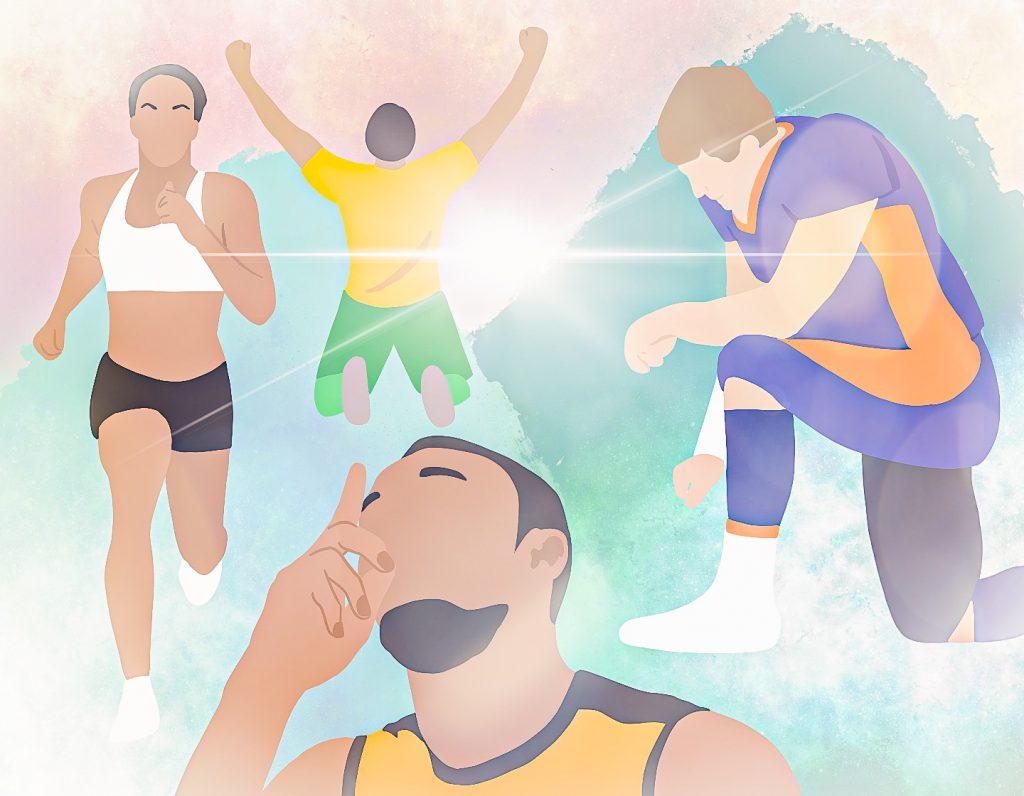 Art by Vivian Hsia
Whether they are on the court or in the classroom, Pepperdine athletes said their faith impacts everything they do.
Student athletes at Pepperdine said their faith has an influence on both their athletic careers and lives as a whole. They said their faith allows them to play for a higher purpose, which helps them to worry less when on the court or field.
"My faith is the one and most important thing in my life," said Tori Waldeck, Pepperdine Women's Soccer junior midfielder/forward. "There's other important things — family, friends, school for sure — but I put the Lord above everything else. If I didn't put the Lord first, I wouldn't be the athlete I am today."
Jake Olson
Jake Olson, Pepperdine Men's Volleyball freshman opposite hitter, said while he grew up in a Christian household, faith started to play a larger role in his life five months ago. Olson said, since then, his life has started to change for the better.
Olson said one Bible verse that means a lot to him is Romans 8:28, which states, "And we know that for those who love God all things work together for good, for those who are called according to His purpose."
Olson said this line has stuck out to him because it helps him keep a positive mindset about his future.
"Some of it I can't fully see now, but the joy and peace I have in knowing the Lord Jesus Christ — I can't even express it," Olson said.
In terms of his athletics, Olson said his faith helps him remain calm and not get too frustrated when on the court.
"It helps me keep a level mindset," Olson said. "I still have some old habits of getting frustrated. Every time I remind myself of the love that Jesus had for me, it gets rid of that really quick."
Emily Hellmuth
Emily Hellmuth, Pepperdine Women's Indoor Volleyball freshman outside hitter, said athletics and religion have been intertwined her whole life.
"My dad's a pastor, so we're in a different boat than a lot of people," Hellmuth said. "My mom runs a volleyball league, so I was working in that league, and then I played for a club volleyball program that was a Christian volleyball club."
Hellmuth said her faith has played a big role in getting her to where she is in her athletic career because her faith serves as a source of motivation.
"It's led me to be able to have the success I've had as an athlete," Hellmuth said. "I would have burnt out, lost hope, gotten too upset with myself, gotten too mad at the sport of volleyball, but it's what keeps me going."
Additionally, Hellmuth said playing for a higher purpose helps her play at her highest level while on the court.
"When you're trying to get to the next level constantly and trying to push yourself past your limits constantly, it gets really hard," Hellmuth said. "If you don't have something else to play for than just yourself, it gets really hard to perform your best."
Tori Waldeck
While she grew up in a Christian household, Waldeck said it was around her junior year of high school when faith started to have a much larger impact on her life. Since then, Waldeck said she tries to praise God in everything she does.
"Just as he does stuff for me, I have to be willing to reciprocate that," Waldeck said. "Read the Word everyday, be in the Bible, go to Church, go to Bible studies or just constantly worship Him in everything I do."
Waldeck said she wasn't specifically looking for a school with a religious environment during the recruiting process because most Division I schools aren't religious. She said she is grateful, though, she was able to end up at Pepperdine because the Pepperdine Women's Soccer Head Coach Tim Ward is also a believer.
"I was blessed enough that Pepperdine does have a religious aspect," Waldeck said. "It's not like I will stick out because we pray before or after games; [Ward] brings up verses and brings up Bible stories and relates them to life in general."
Waldeck also said her faith helps relieve her of stress, which allows her to focus on performing to the best of her abilities.
"In today's culture, we put so much pressure on ourselves to be perfect, and I'm not perfect," Wadleck said. "Knowing that from the Lord helps me just play freely and openly."
Greater Cause
One common theme between these athletes and their journeys with faith is, when they are on the court or field, they are playing for something greater than what is on earth. Hellmuth said her faith helped her realize she doesn't play for herself, which helps her after a tough game.
"The promises that, even if I don't play well or if I'm in a tough situation, that I don't play for myself, and I don't play for the glory of this world," Hellmuth said. "I play for the glory of God and for Him, and he blessed me with these abilities."
Similarly, Waldeck said playing for this greater cause helps her to not worry any time she steps onto the field.
"As I step on the field, I'm playing for God to honor him," Waldeck said. "When I have a hard game, I know he's not going to be disappointed in me because, every time I step on the field, I give it all I got for Him."
As for Olson, he said his faith helps him to move forward after a difficult game because his ultimate goal isn't what is on Earth.
"It just puts everything in perspective," Olson said. "All these worldly things — they're all vanity at the end of the day. I have my eyes set on the kingdom and the future to come."
_________
Follow the Graphic on Twitter @PeppGraphic
Contact Tony Gleason via email: anthony.gleason@pepperdine.edu