Photo by Terra Atwood
You've just been served: the Pepperdine community came together Saturday to participate in the 29th annual Step Forward Day.
Step Forward Day served up a storm after more than 1,000 volunteers gave back to 67 local charities. Students, faculty and alumni came together to serve organizations in both the Ventura and Los Angeles counties.
"The spirit of Step Forward Day feels the same," Pepperdine Volunteer Center's Special Events Director Libby Bucci said. "We don't have a football team so in a sense this is our kick-off to the year, the first Saturday."
Step Forward Day began in 1989 with 150 participants and five service locals in the Malibu area. It has since become an integral part of the community's efforts to give back, with approximately 1,000 people participating every year at more than 65 locations, according to Pepperdine Volunteer Center's web site.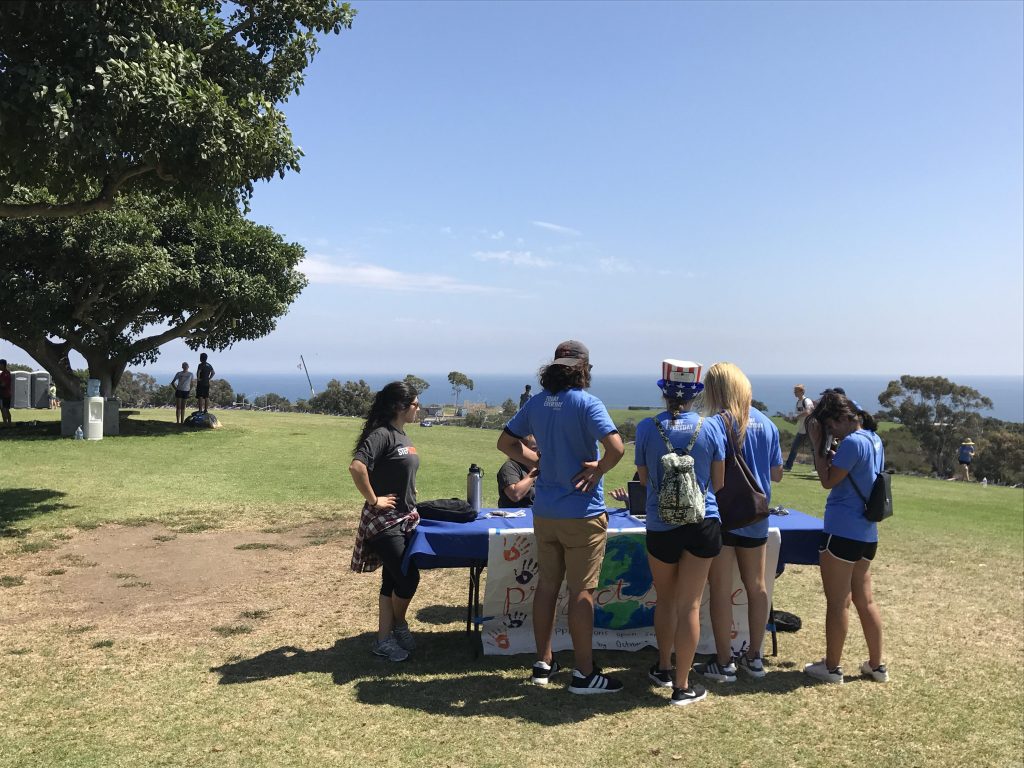 Each year, the Pepperdine community serves over 4,500 hours on Step Forward Day, collectively.
Senior Paige Grittner, an RA, volunteered with a freshman dorm at the Westside Children's Center in Culver City. She has participated in Step Forward Day since her freshmen year and said she loved seeing her residents serve this year.
"It's really eye opening for people to see how there's ways to volunteer with and around our community," Grittner said. "I think it's really cool because a lot of people come out of [Step Forward Day] thinking 'Oh I only got to do two hours of service,' but those places that we went, don't go away. It's a really great way to get connected so you can continue to volunteer."
Freshman Sydney Griffith said she didn't know what to expect during Step Forward Day, but ended up loving her time volunteering at a Veteran's home in Los Angeles.
"I knew I would be with people and meet people and talk to them but I obviously didn't know who I was going to meet," Griffith said. "One of the ladies I met, I had a really good connection with her, and she gave me her necklace. Those are just memories you can't get anywhere else."
Although students, faculty and alumni only volunteer for two to four hours, the campus-wide event takes months to plan, according to junior Paul Cox, the Health and Wellness Coordinator at the Pepperdine Volunteer Center.
"It's been a process for the entire summer," Cox said. "It's something that is very much a Pepperdine student thing where you have students running the day-to-day operation, with students calling and getting the organizations all figured out. So it's been a very long process to get here."
Overall, the day ran smoothly despite fewer volunteers than expected, according to Director of the Volunteer Center Peter Thompson.
"The initial sign ups were lower than usual, " Thompson said. "We're not 100 percent sure why yet, but it is a bummer. We were at least 10 percent down from last year, even with the large freshman class."
In 2015, Step Forward Day consisted of 1,350 volunteers, according to a previous Graphic article by Rachel Littauer. Despite fewer numbers of sign ups this year than in previous years, Thompson said there were still plenty of walk-ups and overall there were still more students who participated than registered.