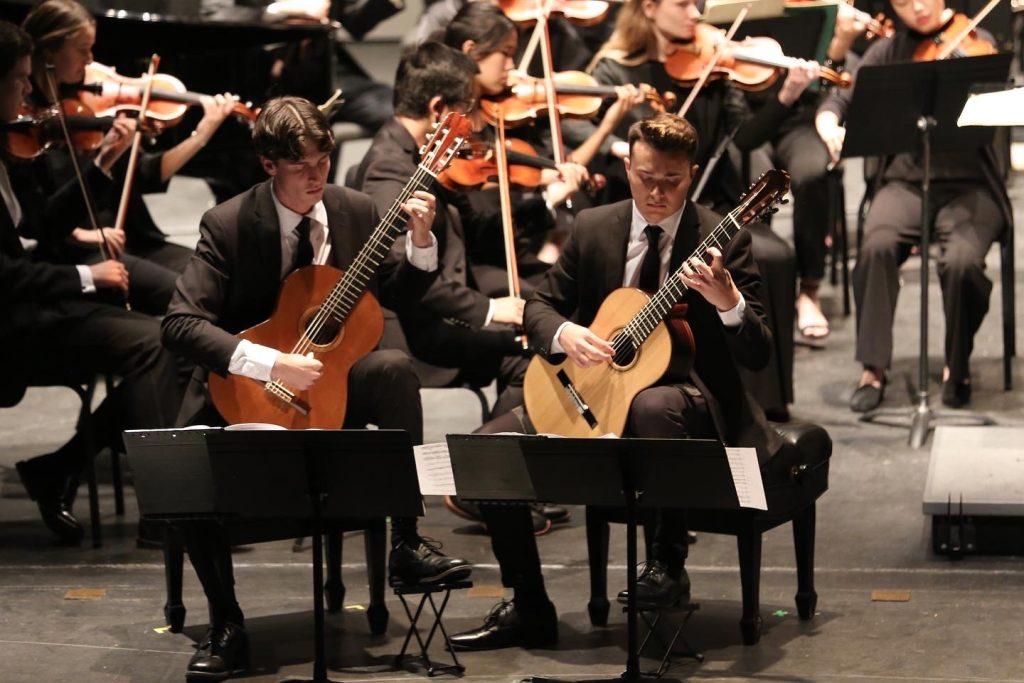 Garrett Podgorski (left) and Nolan Harvel (right) play at the Osborne Concert Competition at Smothers Theatre on Oct. 20. Duo Podgorski and Harvel won the competition and Harvel said it was one of the best days of his life. Photo courtesy of Garrett Podgorski
The Pepperdine Guitar Department, ranked No. 1 in Classical Guitar performance by Music School Central, recently performed their monthly Payson Library concert Feb. 14.
The Department also hosted the Parkening Masterclass on Feb.18, said Christopher Parkening, professor of Music and classical guitarist.
The 12 students in the Guitar Department have performances once a month in the Surfboard Room in Payson Library to practice their pieces for recital season. These shows are followed by a performance at the Malibu Public Library, senior Classical Guitar major Nolan Harvel said.
"We spend so much of our lives devoted to this craft and this art," Harvel said. "For us, playing a concert for people is kind of the summit of our experience. That is why we live and that is why we work so hard to share our music with people."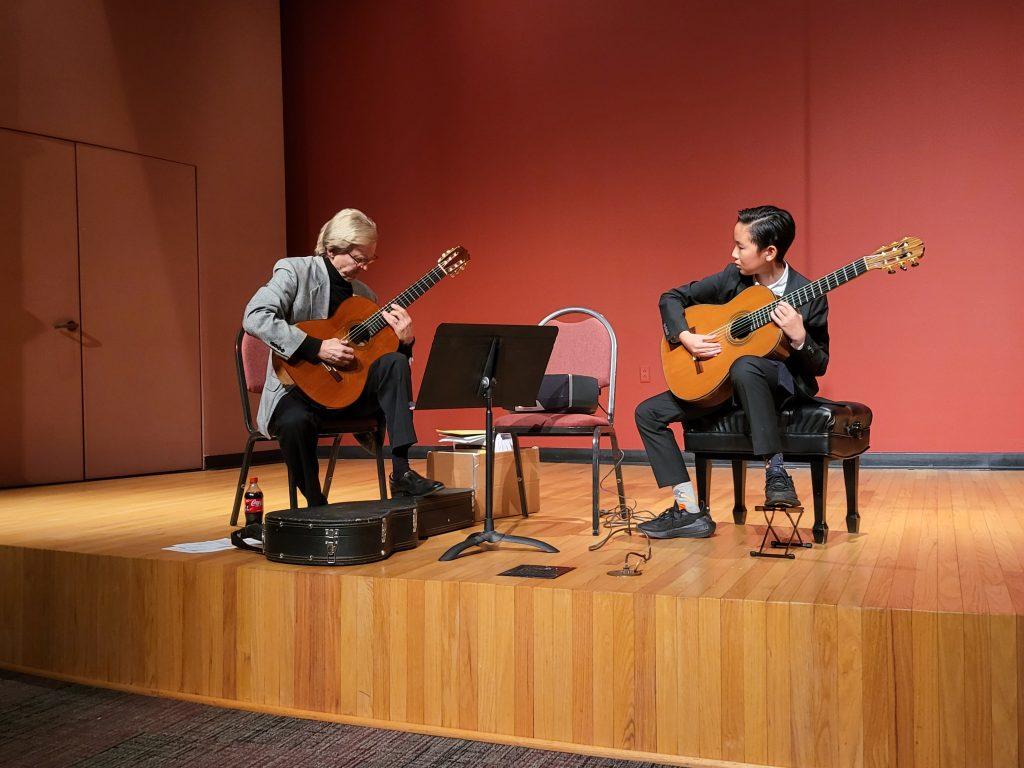 Payson Library Show and Guitar Beginnings
At the Feb. 14 show, they performed nine songs, including "Romanza" arranged by Arr. Jack Marshall and "Etude No. 1" by Heitor Villa-Lobos. Harvel said songs can range anywhere from two to nine minutes and it takes about six months to perfect a song on the guitar at this magnitude.
They then followed the performance with one at the Malibu Library on Feb. 17, for the greater community to be able to enjoy their music, Harvel said.
People can learn instruments at many different ages; Harvel started at just 3 years old. Harvel said his older sister inspired him to play the violin. His grandfather, a musician in a country band in Tennessee, inspired him to play the guitar.
"I always wanted to play guitar and be just like him," Harvel said. "I got my first guitar and I brought it over for him to see and it was really cool. He actually passed away that night from his fifth heart attack; it was very surreal."
Harvel writes music for the Centered on the Arts podcast and recently took home the trophy with fellow senior Garrett Podgorski at the Thomas Osborne Concerto Competition at Smothers Theatre on Oct. 20, playing alongside the Pepperdine Orchestra.
"We worked on their piece a lot and they are both such excellent guitarists that I was very proud they won that competition," Parkening said.
Podgorski said he started playing guitar because of his sister. He was competitive as a child, which inspired him to pick up the electric guitar. Podgorski said he wrote an album at the age of 15 and his mom, who was a fan of Parkening, sent it over to him.
Parkening invited Podgorski to come to Pepperdine, he said, and take one of his masterclasses during his first year of high school. He said he fell in love with a new sound — the classical guitar.
"I was like, 'I can do this, I can go to school here for this,' so I worked really hard to get proficient on the instrument," Podgorski said.
The department has its Payson Library show on the second Tuesday of every month. Podgorski said these shows are particularly bittersweet for him as a graduating senior. He hopes to pursue podcasting and writing music after college as well as being a studio musician, he said.
"I feel like a lot of people don't know what classical guitar is, so if you are looking for something new that you have never seen on guitar before, it is a really cool experience to get to see what the instrument can do," Podgorski said.
Parkening Masterclass
Harvel, who has been practicing for his senior recital on April 15, said he recently performed at the Chris Parkening masterclass Feb. 18. This masterclass happens once a semester, and he said it is for students, prospective students and current guitar students to play for Parkening and get critiques before moving onto the next performer.
"I played my last masterclass, and it was a bittersweet moment for me, but it is really an incredible experience because you get to see up-and-coming guitarists," Harvel said. "We had a 9-year-old play and he was off the charts incredible. I am 22 and I was like, 'OK, well the guitar is in good hands.'"
Fans of Parkening filled the audience, Harvel said. He said he remembered experiences at church where people would stop and ask Parkening for pictures.
Parkening has played gigs ranging from "The Tonight Show" to the "GRAMMYs" in his career as a studio musician — even being offered jobs at many other universities. Parkening said he chose Pepperdine so he could share his Christian faith.
"It kind of shocks you because the classical world is very separate from the rest of mainstream culture, but, yes, there is a level of celebrity with him because he has had so much success," Harvel said.
Harvel said he encourages students to support the guitar program and honor the endless hours spent — perfecting their craft. Podgorski said he practices 10 hours a day.
"It's about wanting to share our music, share our abilities, talents and skills," Harvel said. "It is not 'Look how good I am,' but it's 'Look how beautiful this music is.'"
____________________
Follow the Graphic on Twitter: @PeppGraphic
Email Beth Gonzales: beth.gonzales@pepperdine.edu