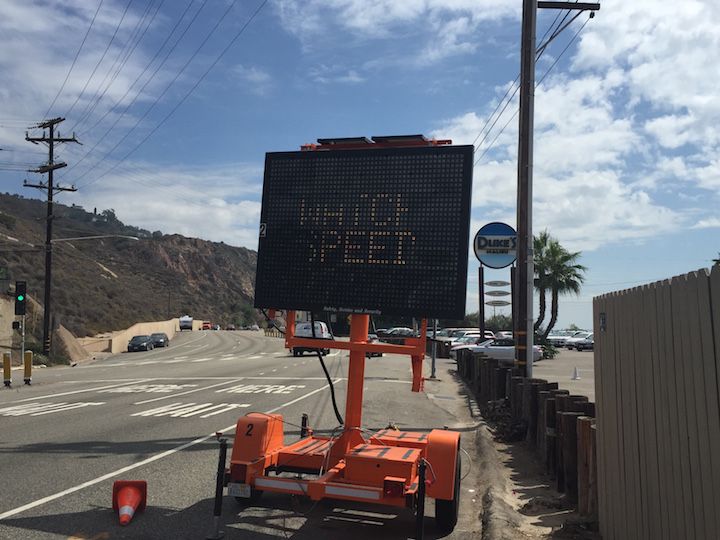 Photo by Alec McPike
Editor's note: This is the second of a two-part series examining safety issues on PCH.
PCH is a hotbed for treacherous driving conditions, making it only fitting that the Malibu City Council and local officials are presenting a number of possible improvements for the safety of the community.
According to the PCH Safety Study report, funding for the approximately $20 million improvements could be provided by federal and state programming or county funding sources, such as Measure R.
There are a number of recommended improvement projects for the area. Some of these improvements include: a thorough assessment of opportunities for additional beach parking, a bicycle hotline for reporting roadway deficiencies, more visible road signs and streetlights at various points of beach access.
Junior Tara Zwart expressed excitement over the idea of potential changes to PCH.
"Improvements along PCH, especially beach parking, would be awesome," she said. "Right now it is very stressful trying to find free or easy parallel parking."
According to the Malibu City Council, the report was presented to and approved by the Council at its regular meeting June 22.
Junior Kendall Jory surfs frequently in Malibu and said she is hopeful about the potential to improve beach parking.
"It's really great to hear that Malibu is hoping to improve beach parking, because it will definitely help reduce traffic backup on PCH," she said. "It will also add some convenience when surfing, because it's never fun to run across PCH with a long board."
Past improvements on PCH have included the development of a more updated truck arrester bed to slow runaway trucks from entering the intersection of PCH and Kanan Dume Road. According to the Malibu City Council website, this project was completed and celebrated in December 2014.
The new safety study plan also proposed changes to the Kanan Dume intersection by installing modified signal phasing to allow more time for the left turn onto Kanan Dume Road.
PCH is still incredibly distracting, posing a problem to all of its users, said Sergeant Hill of the Los Angeles County Sheriff's Department. Hill is posted at the Malibu/Lost Hills station. He offered some advice for Pepperdine students.
"Watch your speed, wear your seat belts, watch out for bikers and people driving way too fast," he said.
He also emphasized the fact that cellphone use is still an issue with drivers. People are continuing to drive without hands-free devices, causing major distractions especially when changing lanes, Hill said.
Aaron Charitan, a paid driver for the car service Uber, frequently drives PCH and was able to shed some light on of the treacherous areas of PCH. In his opinion, the housing south of Malibu Lagoon poses a serious problem for people trying to get out of their driveways.
He also suggested the installment of a crosswalk at First Point Beach, where crossing the street to go the beach can be very dangerous.
In regards to safety measures already present on PCH, Aaron expressed the benefit of having DUI checkpoints.
"There's usually a DUI checkpoint on PCH on the weekends. It's probably good to have a police presence reminding people not to drink and drive," he said. "Maybe they [can] save a life."
City Council member Skylar Peak said Rambla Pacifica is probably one of the most dangerous intersections on PCH, given that the intersection has a lot more accidents than elsewhere.
As a native of Malibu and as a Pepperdine alumnus, Peak advised students to pay attention to the simple things in regards to PCH.
"Don't drive wasted, don't check your cellphone and realize that people drive PCH like it's a freeway," he said.
He also emphasized paying for parking, as it is a far safer option than parking on the street. He offered advice for those deciding to park on the street.
"Park your car and wait until the cars have passed until you get out," he said.
In regards to improvements on PCH, there will always be problems that arise. Traffic adjustments cannot be implemented seamlessly without adding other complications.
"Anytime you add an intersection, you add more potential for accidents," Peak said.
For example, he said, if a Malibu resident has been driving the same road for 30 years, and a new crosswalk is installed, it is likely they may drive right through it the first few times, causing more accidents than before.
In lasting advice to all users of PCH, Peak said, "Pay attention to common sense things."
All proposed PCH improvements can be found online in the PCH Safety Study.
____________
Follow Rachel Littauer on Twitter: @rachelitt23